XAG/USD: general review
13
February
2020, 09:14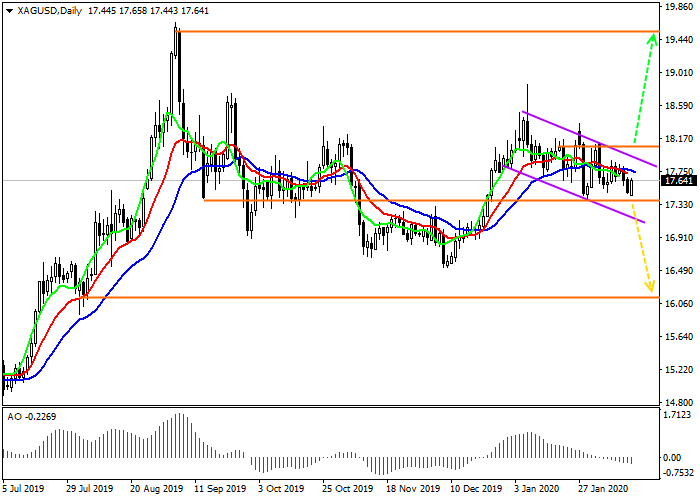 Scenario
Timeframe
Weekly
Recommendation
BUY STOP
Entry Point
18.00
Take Profit
19.50
Stop Loss
17.40
Key Levels
16.10, 17.30, 18.00, 19.50
Alternative scenario
Recommendation
SELL STOP
Entry Point
17.30
Take Profit
16.10
Stop Loss
18.00
Key Levels
16.10, 17.30, 18.00, 19.50
Current trend
The commodity asset continues to consolidate within the narrow lateral channel of the downward direction with the borders of 17.40–18.20. Market uncertainty does not allow investors to make the final choice between risk and protection. Last week's CFTC data confirms this: the number of net speculative positions in silver for the week has not changed and amounted to 67.8K compared to 68.9K a week earlier.
A positive signal for the asset can be considered its relative decorrelation with the USD Index. At the beginning of the year, with its growth, silver quotes steadily declined. However, at the moment, with the growth of the USD Index from 96.500 to 98.700, silver has fallen in price by only 5%, from 18.55 to 17.54.
Silver remains in demand, and if instability continues in global markets, investors will increase their position in the asset.
Support and resistance
The global corrective movement in the asset continues to gain momentum. In the local format, the formation of the Flag pattern is possible, after the implementation of which movement to 19.00 is possible. Both indicators are uncertain and do not give clear signals.
Resistance levels: 18.00, 19.50.
Support levels: 17.30, 16.10.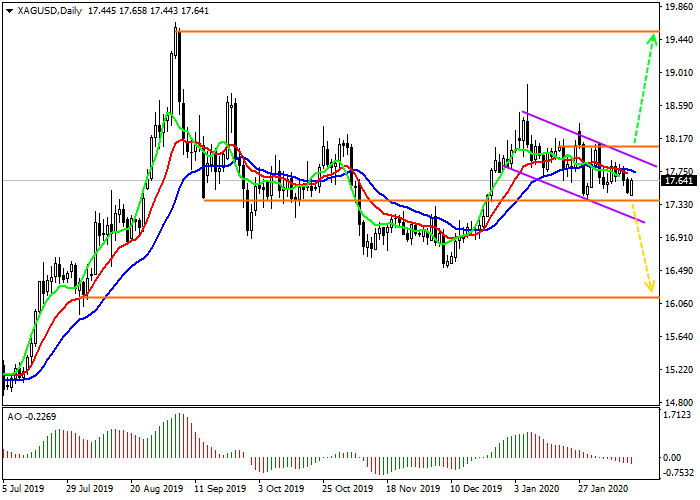 Trading tips
If the pattern is implemented, the asset grows, and the price consolidates above 18.00, buy positions with the target of 19.50 will be relevant. It is advisable to place the stop loss below the local low at around 17.40.
If the asset continues correctional decline, and the price consolidates below the local low at 17.30, short positions can be opened with the target at 16.10 and stop loss at 18.00.
Implementation time: 7 days and more.