USD/CHF: general review
12
February
2020, 09:57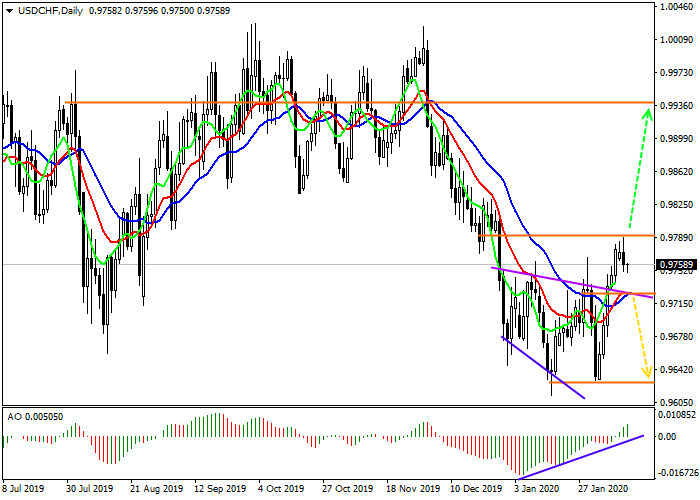 Scenario
Timeframe
Weekly
Recommendation
BUY STOP
Entry Point
0.9790
Take Profit
0.9940
Stop Loss
0.9710
Key Levels
0.9620, 0.9730, 0.9790, 0.9940
Alternative scenario
Recommendation
SELL STOP
Entry Point
0.9720
Take Profit
0.9620
Stop Loss
0.9760
Key Levels
0.9620, 0.9730, 0.9790, 0.9940
Current trend
The USD/CHF pair finally formed a reversal and began an upward correction due to the unexpectedly negative Swiss report on the labor market.
Thus, the unemployment rate in the country reached 2.6%, which corresponds to last March, while analysts' expectations were at 2.4%. The consumer price index for January is still in the negative zone at the level of –0.2%, which negatively affects CHF, despite the coincidence with the expectations of traders.
Another driver of the growth rate was the positive rhetoric of Fed Chairman Jerome Powell's speech. He positively assessed the current monetary policy, which reduced investors' concerns about a possible reduction in rates at the next meeting of the regulator. The USD Index, which shows the ratio of the dollar to the basket of major currencies, is at stable levels near 98.700.
Until Friday's release of macroeconomic data on Swiss manufacturing prices, the pair is likely to continue to consolidate near the level of 0.9800.
Support and resistance
A reversal after a downtrend has fully formed, and all markers are executed. The local "head and shoulders" reversal pattern has fully formed and started the implementations. The Alligator indicator reversed and issued a buy signal. The AO oscillator began to work out a divergence signal.
Resistance levels: 0.9790, 0.9940.
Support levels: 0.9730, 0.9620.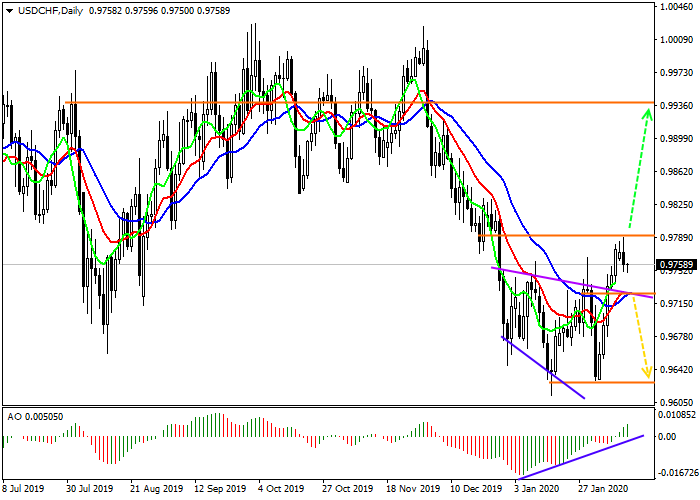 Trading tips
After growth or consolidation above the resistance level 0.9790, buy positions with the target at 0.9940 will be relevant. Stop loss is below the local minimum, around 0.9710.
After a reversal and decrease of consolidation below the local minimum around 0.9720, it is better to open sell positions with a target at 0.9620. Stop loss is at the local minimum, around 0.9760.
Implementation period: 5 days.