GBP/USD: instrument consolidates
13
February
2020, 09:07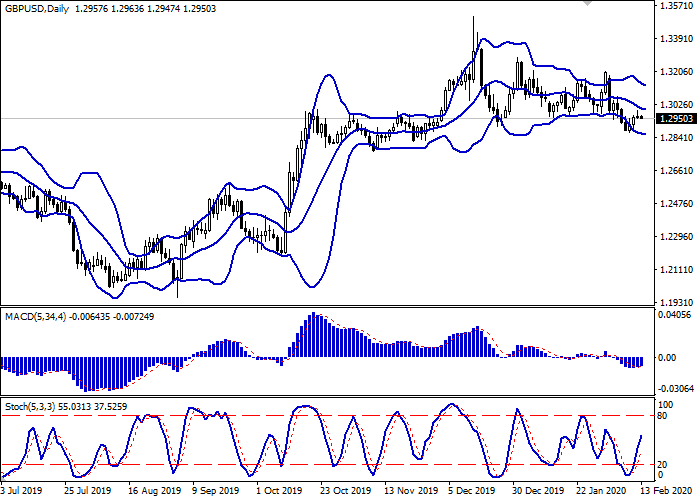 Scenario
Timeframe
Intraday
Recommendation
BUY STOP
Entry Point
1.2985, 1.3005
Take Profit
1.3055
Stop Loss
1.2960, 1.2940
Key Levels
1.2870, 1.2900, 1.2940, 1.3000, 1.3055, 1.3100, 1.3151
Alternative scenario
Recommendation
SELL STOP
Entry Point
1.2935
Take Profit
1.2870, 1.2850
Stop Loss
1.2980, 1.2990
Key Levels
1.2870, 1.2900, 1.2940, 1.3000, 1.3055, 1.3100, 1.3151
Current trend
Today, during the Asian session, the GBP/USD pair is trading horizontally, consolidating after corrective growth at the beginning of the week. Now, the pound has lost about 0.04% and is testing the level of 1.2950 for a breakdown. The British currency is still moderately supported by optimistic macroeconomic data released on Tuesday. UK GDP data indicated that the British economy managed to avoid a recession, which reduces the risks of new stimulus measures by the Bank of England. At the same time, trade negotiations with the EU remain in the spotlight, which may well come to a standstill and lead to negative consequences for the economies of both parties. Until the end of the week, there will be few interesting macroeconomic statistics from the UK, so traders are focused on publications from the USA. On Thursday, in particular, the publication of January statistics on consumer inflation in the United States is expected.
Support and resistance
On the daily chart, Bollinger bands reverse horizontally. The price range narrows from above, reflecting the appearance of ambiguous dynamics in the short term. The MACD indicator has reversed upwards, having formed a poor buy signal (the histogram is above the signal line). Stochastic is showing more active growth and is rapidly approaching its highs.
It is better to keep the current long positions in the short and/or ultra-short term until trading signals are clarified.
Resistance levels: 1.3000, 1.3055, 1.3100, 1.3151.
Support levels: 1.2940, 1.2900, 1.2870.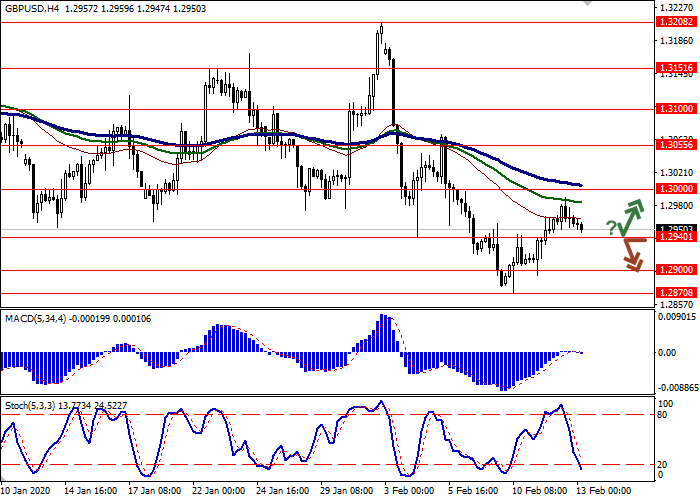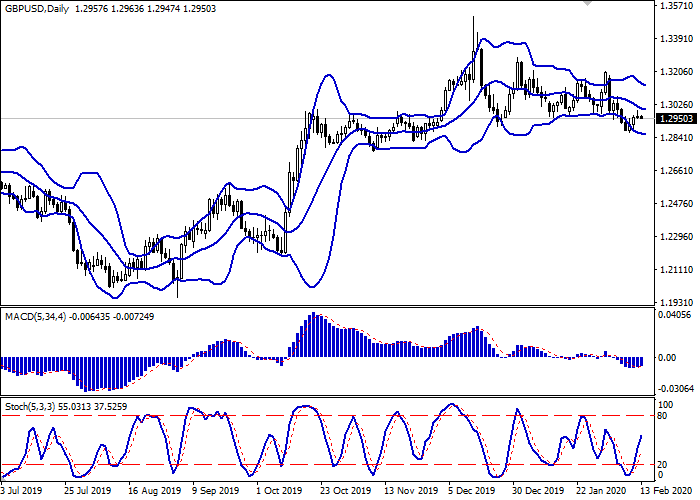 Trading tips
Long positions may be opened after a rebound from 1.2940 and a breakout of 1.2980 or 1.3000 with the target at 1.3055. Stop loss – 1.2960–1.2940.
Short positions may be opened after the breakdown of 1.2940 with the targets at 1.2870–1.2850. Stop loss – 1.2980–1.2990.
Implementation period: 2–3 days.