GBP/USD: general review
14
February
2020, 12:58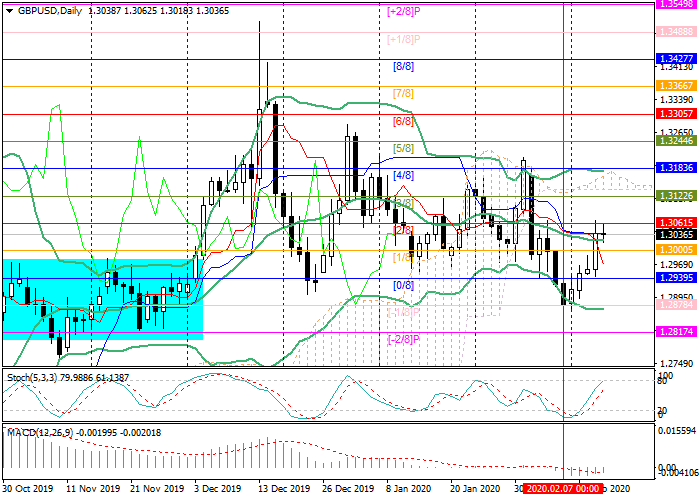 Scenario
Timeframe
Intraday
Recommendation
SELL STOP
Entry Point
1.3000
Take Profit
1.2817, 1.2695
Stop Loss
1.3040
Key Levels
1.2695, 1.2817, 1.2939, 1.3061, 1.3183
Alternative scenario
Recommendation
BUY STOP
Entry Point
1.3065
Take Profit
1.3183
Stop Loss
1.3010
Key Levels
1.2695, 1.2817, 1.2939, 1.3061, 1.3183
Current trend
During the week, GBP was actively strengthening against USD, and yesterday, the price rose to 1.3061 (Murrey [2/8]) amid the resignation of Chancellor of the Treasury Sajid Javid. Officially, the reason for it was Javid's disagreement with the demand of Prime Minister Boris Johnson to replace his advisers, however, experts believe that the reason is deeper and lies in the disagreement of Javid and Johnson regarding the increase in government spending (the former official advocated limiting them). The new Chancellor is the former Chief Secretary to the Treasury Rishi Sunak. The market expects him to move away from his predecessor's policies and increase budget spending, which should stimulate economic growth. A draft of the first budget of Great Britain after Brexit should be submitted in March.
During the day, investors are waiting for the publication of data on retail sales and industrial output in the USA. Retail sales growth is expected to remain at 0.3%, and industrial output may decline for the second consecutive month, this time by another 0.2%, which may put pressure on USD.
Support and resistance
The price is testing 1.3061 and, after consolidation above it, may rise to 1.3183 (Murrey [4/8], the upper line of Bollinger Bands). Otherwise, the decline will resume to 1.2878 (Murrey [−1/8], the midline of Bollinger Bands) and 1.2817 (Murrey [−2/8]). Technical indicators don't provide a clear signal. Stochastic is directed upwards, approaching the overbought zone, which is fraught with a reversal. MACD histogram is declining in the negative zone.
Support levels: 1.2939, 1.2817, 1.2695.
Resistance levels: 1.3061, 1.3183.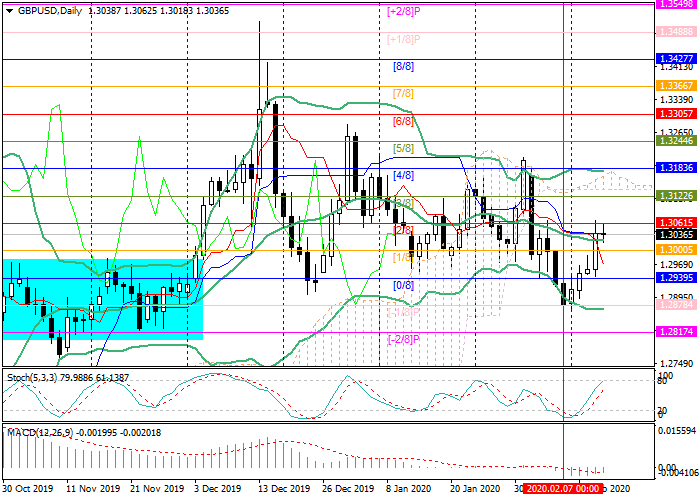 Trading tips
Short positions may be opened from 1.3000 with targets at 1.2817, 1.2695 and stop-loss at 1.3040.
Long positions may be opened above 1.3061 with the target at 1.3183 and stop-loss at 1.3010.
Implementation period: 4-5 days.