Facebook Inc. (FB/NASDAQ): general analysis
13
February
2020, 10:06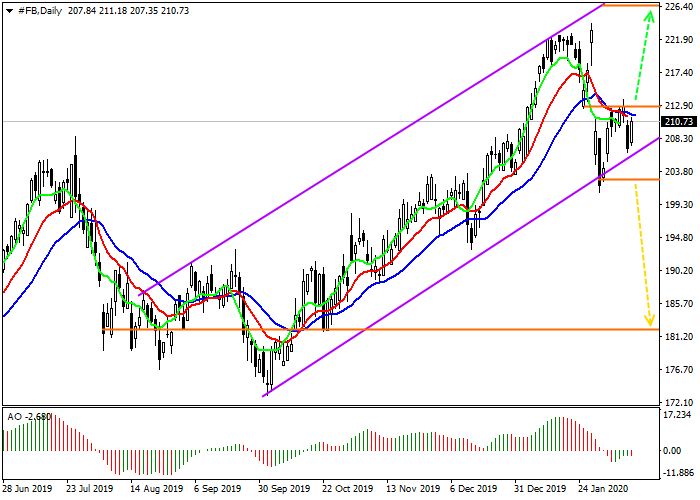 Scenario
Timeframe
Weekly
Recommendation
BUY STOP
Entry Point
213.00
Take Profit
226.00
Stop Loss
203.00
Key Levels
182.0, 202.0, 213.0, 226.0
Alternative scenario
Recommendation
SELL STOP
Entry Point
202.00
Take Profit
182.00
Stop Loss
212.00
Key Levels
182.0, 202.0, 213.0, 226.0
Current trend
The shares of Facebook Inc., the company that owns the largest social network in the world, stay within a global uptrend, being corrected downward locally. The decrease was caused by the ambiguous report of the company for the fourth quarter and the whole of 2019. The company's profit amounted to 18.485 billion, which is significantly lower than 22.112 billion a year earlier. And most importantly, the company's total net debt more than doubled and amounted to 32.322 billion, compared with 13.207 billion a year earlier. The only positive aspect of the report was revenue, which amounted to 70.697 billion, which is higher than 55.838 billion a year earlier.
In addition to poor indicators, the company continues to suffer from a huge number of lawsuits. Recently, Facebook Inc. and satisfied the lawsuit of Illinois citizens in the amount of about $500 million for unauthorized collection of biometric data.
Despite a stable global trend, a deeper downward correction is still possible.
Support and resistance
Despite the correctional decline caused by the company's poor report, the price stays within the global rising channel. Now, a reversal is forming near the support line, and if the Alligator indicator has not yet been determined, a new uptrend is already forming on the AO oscillator.
Resistance levels: 213.0, 226.0.
Support levels: 202.0, 182.0.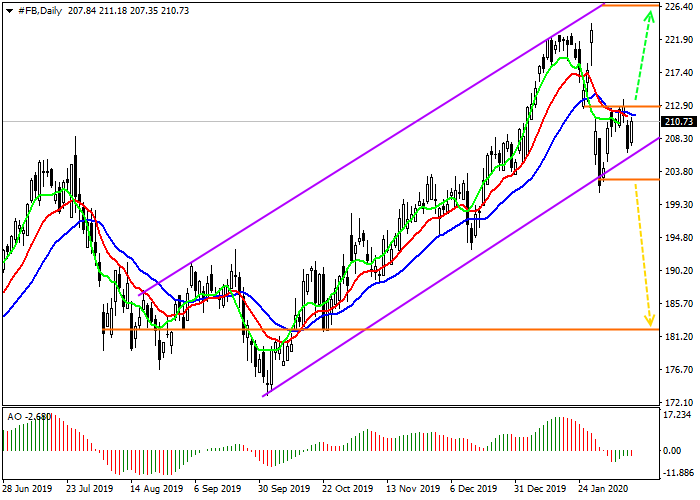 Trading tips
After a reversal and growth or consolidating above the resistance level around 213.0, purchase positions with the target at 226.0 will be relevant. Stop loss is below the support line, around 203.0.
After a decline or consolidation below the local minimum and the channel support line around 202.0, it is better to open sell positions with the target at 182.0 and stop loss 212.0.
Implementation period: 7 days or more.