Brent Crude Oil: oil prices recover
12
February
2020, 08:57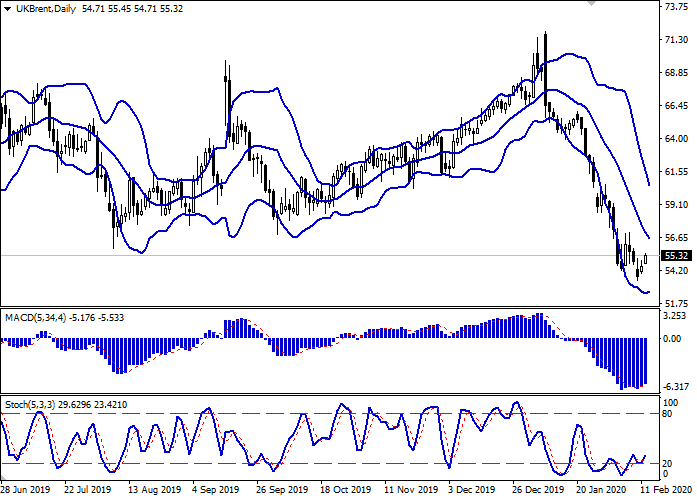 Scenario
Timeframe
Intraday
Recommendation
BUY STOP
Entry Point
56.05
Take Profit
58.00, 59.00
Stop Loss
55.00, 54.20
Key Levels
52.00, 53.46, 54.20, 56.00, 57.06, 59.00, 60.00
Alternative scenario
Recommendation
SELL STOP
Entry Point
54.15
Take Profit
52.00
Stop Loss
55.50
Key Levels
52.00, 53.46, 54.20, 56.00, 57.06, 59.00, 60.00
Current trend
Today, during the Asian session, oil prices are growing moderately, continuing to develop the "bullish" momentum formed yesterday. The quotes were able to deviate from the year's lows amid some improvement in the situation with the spread of coronavirus. Optimism regarding the epidemic was also supported by the chief medical adviser to the PRC government, who suggested that the peak of the virus would occur in February, after which it would be possible to count on a gradual weakening of the epidemic.
In turn, a report published on Tuesday by the American Petroleum Institute prevented a more confident growth of the instrument. In the week of February 7, oil reserves grew by 6 million barrels after rising by 4.18 million barrels over the past period. Today, the official report on oil reserves from the US Department of Energy will be released.
Support and resistance
On the daily chart, Bollinger bands are steadily declining. The price range is narrowing, reflecting the emergence of upward dynamics in the ultra-short term. The MACD indicator is growing, maintaining a poor buy signal (the histogram is above the signal line). Stochastic demonstrates similar dynamics, retreating from its lows, signaling that the instrument is oversold in the ultra-short term.
The developing a full-fledged uptrend is possible in the short and/or ultra-short term.
Resistance levels: 56.00, 57.06, 59.00, 60.00.
Support levels: 54.20, 53.46, 52.00.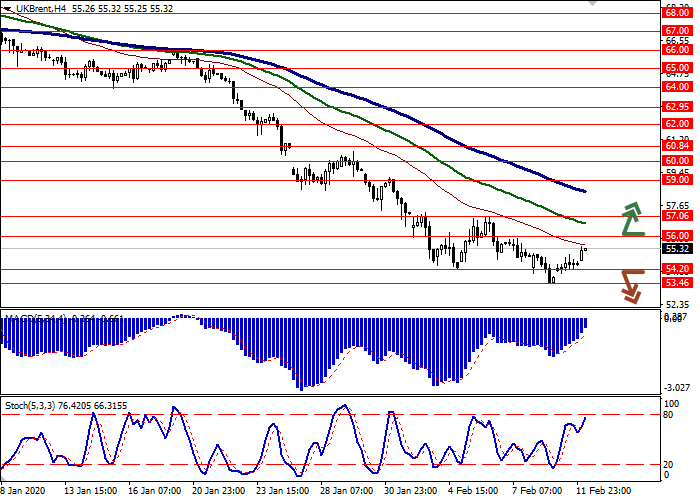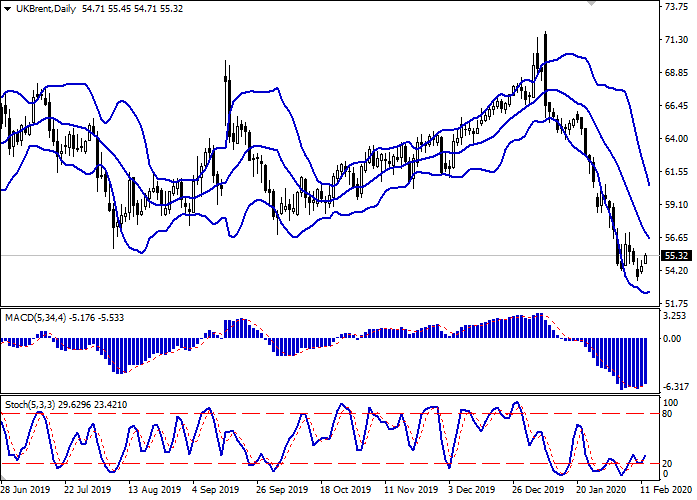 Trading tips
Long positions may be opened after the breakout of the level of 56.00 with the targets at 58.00 or 59.00. Stop loss – 55.00 or 54.20.
Short positions may be opened after the breakdown of the level of 54.20 with the target at 52.00. Stop loss – 55.50.
Implementation period: 2–3 days.