WTI Crude Oil: general review
14
January
2020, 10:19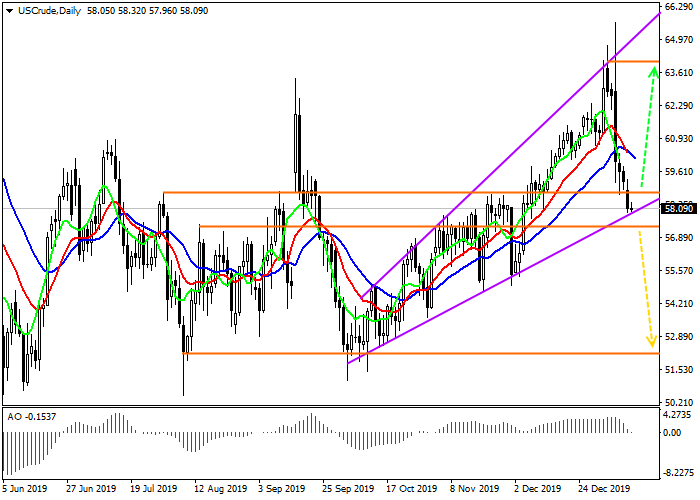 Scenario
Timeframe
Weekly
Recommendation
BUY STOP
Entry Point
58.70
Take Profit
64.00
Stop Loss
57.00
Key Levels
52.30, 57.30, 58.70, 64.00
Alternative scenario
Recommendation
SELL STOP
Entry Point
57.30
Take Profit
52.30
Stop Loss
59.00
Key Levels
52.30, 57.30, 58.70, 64.00
Current trend
Oil prices stabilized after the largest drop in the last six months, the value of which reached 13%. Such a decline in quotes was caused by Donald Trump's statement that the US would not follow an armed response to Iran's missile attacks on US bases in Iraq limiting itself to introducing another package of sanctions against Iran. The international community took this as a step towards peace in the Middle East considering that nothing threatens oil supplies.
The proximity of signing of the first stage of the US-PRC trade deal, whose procedure is due to take place tomorrow at the White House, also speaks in favor of more risky assets, one of which is USD. Earlier it was reported that negotiations on the second phase of the agreement will begin immediately after signing the first.
Oil prices are expected to be stable this week, and a possible consolidation around USD 58 per barrel looks real. However, reaction to data on Weekly Oil Reserves, which will be published tomorrow, can change the trend.
Support and resistance
The downtrend has reached the support line of the global uptrend. This situation is often called the "decision point". The probability of price movement both downwards and upwards is almost equal. However, the Alligator indicator gave a signal for the global sale. The AO oscillator is also close to crossing the zero level.
Resistance levels: 58.70, 64.00.
Support levels: 57.30, 52.30.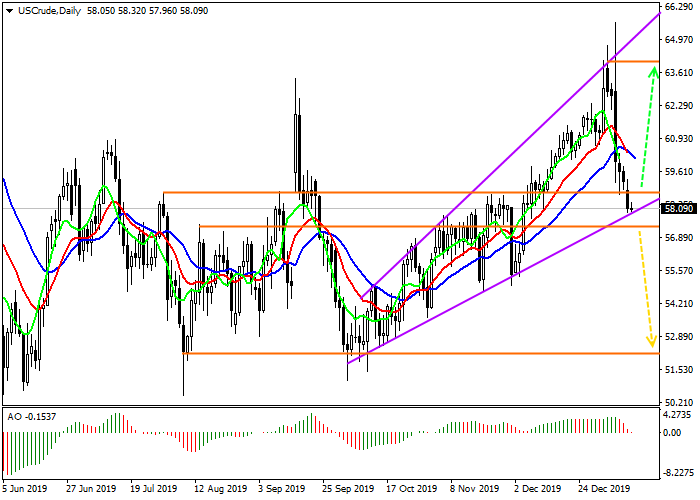 Trading tips
If the price reverses and the asset grows above 58.70, buy positions with target of 64.00 will be relevant. Stop loss – 57.00.
If the asset declines and the price consolidates below the support level at 57.30, short positions can be opened with target at 52.30. Stop loss – 59.00.
Implementation time: 7 days and more.