GBP/USD: general review
15
January
2020, 10:38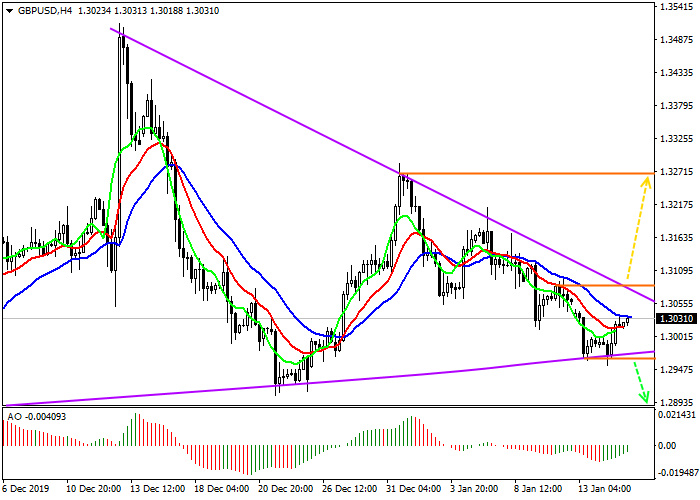 Scenario
Timeframe
Weekly
Recommendation
SELL STOP
Entry Point
1.2950
Take Profit
1.2770
Stop Loss
1.3060
Key Levels
1.2770, 1.2950, 1.3070, 1.3270
Alternative scenario
Recommendation
BUY STOP
Entry Point
1.3070
Take Profit
1.3270
Stop Loss
1.2950
Key Levels
1.2770, 1.2950, 1.3070, 1.3270
Current trend
The pair continues declining. The reason for the last significant drop in GBP was the downtrend in the main macroeconomic indicators. UK November GDP showed a decline of 0.3% compared with a 0.1% increase in the previous month. Industrial Production fell by 1.2% instead of the expected decline of 0.1%. Negative statistics have raised new concerns about interest rate cuts already at the upcoming January 30 meeting of the Bank of England. Last week, a spokeswoman for the UK Monetary Policy Committee Silvana Tenreyro has already announced a high probability of a cut in rates. Today, the data on the Consumer Price Index is expected to be published, and on Friday, statistics on the volume of Retail Sales is expected.
Today, the first stage of the US and Chinese trade deal will be signed. If it is successfully completed, analysts predict strengthening of USD.
Support and resistance
In anticipation of important fundamental events, the volatility in the asset decreased, and the currency pair formed the global Triangle pattern. The moment of the pattern implementation is close and can happen today. The Alligator indicator narrowed the range of fluctuations and is uncertain. Forming positions is only necessary if the price goes beyond the boundaries of the pattern.
Resistance levels: 1.3070, 1.3270.
Support levels: 1.2950, 1.2770.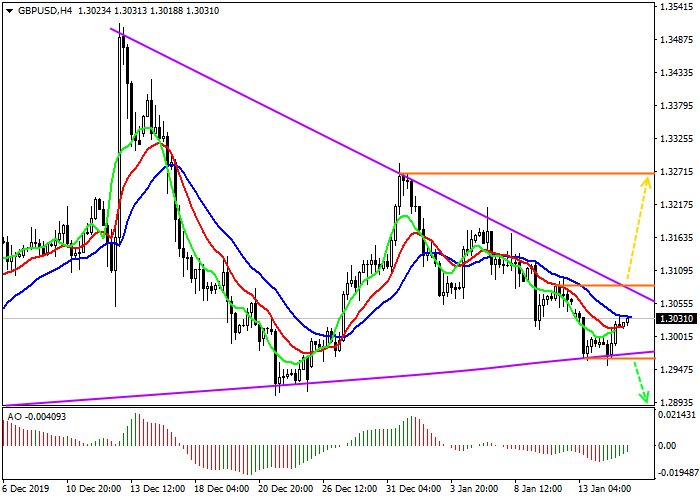 Trading tips
If the asset declines and the price consolidates below the support line at 1.2950, short positions can be opened with the target at 1.2770. Stop loss – 1.3060.
If the asset continues growing and the price consolidates above the resistance line at 1.3070, buy positions will be relevant with target at 1.3270. Stop loss – 1.2950.
Implementation time: 5 days and more.