Brent Crude Oil: general review
13
January
2020, 12:23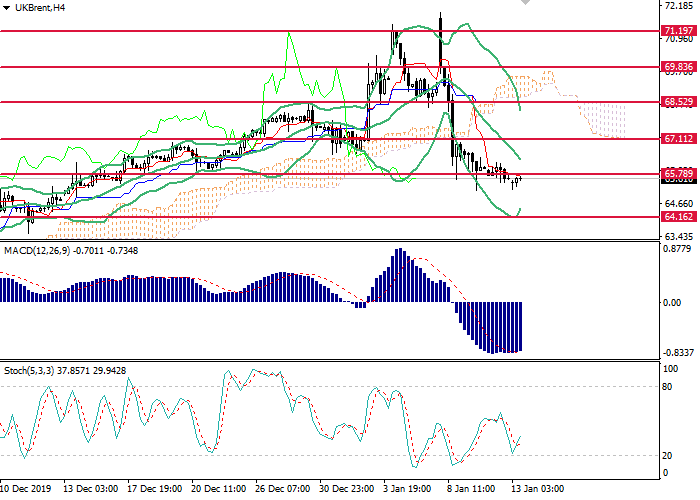 Scenario
Timeframe
Intraday
Recommendation
SELL
Entry Point
65.60
Take Profit
63.65
Stop Loss
66.50
Key Levels
55.70, 57.28, 59.39, 60.77, 62.34, 64.49, 66.35
Alternative scenario
Recommendation
BUY STOP
Entry Point
67.35
Take Profit
70.00
Stop Loss
66.80
Key Levels
55.70, 57.28, 59.39, 60.77, 62.34, 64.49, 66.35
Current trend
Last week, the assassination of General Qasem Suleimani by the US Air Force missile and Iran's response to that caused a sharp rise in prices. However, when it became clear that the parties were not ready for a full-scale war, the instrument showed the most significant fall since August.
Currently, geopolitical risks are the main factor affecting pricing. Large non-OPEC producers such as Brazil, Guyana, and Norway are ready to ramp up production to replace a substantial share of supplies in the event of a full-blown Middle East conflict. The emergence of new players that are not regulated by the cartel puts pressure on Brent crude oil quotes.
Tomorrow at 22:30 (GMT+2), data on the weekly change in reserves of commercial oil in the USA will be published. Further stocks growth will contribute to prices lowering to the pre-crisis level.
Support and resistance
The H4 chart shows the downtrend correction. Bollinger Bands are directed downwards, and the price range has slightly decreased, indicating the continuation of correctional dynamics. MACD histogram keeps a strong sell signal. Stochastic reversed down at the border of the oversold zone, confirming a correction.
Support levels: 60.77, 59.39, 57.28, 55.70.
Resistance levels: 62.34, 64.49, 66.35.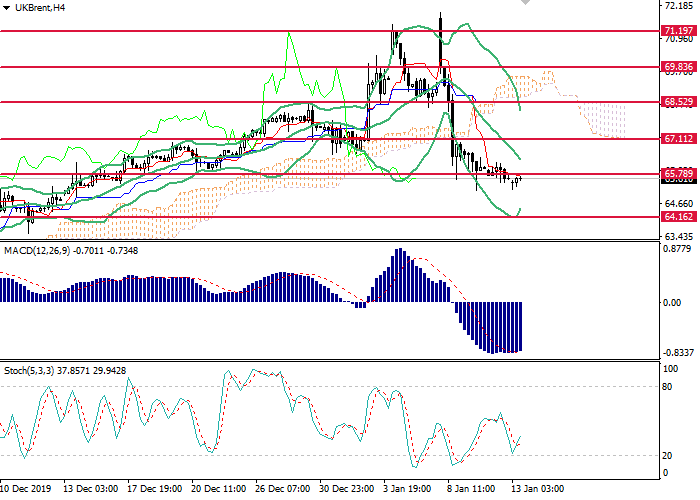 Trading tips
Short positions may be opened from the current level with the target at 63.65 and stop-loss at 66.50.
Long positions may be opened above 67.30 with the target at 70.00 and stop-loss at 66.80.
Implementation period: 2-4 days.