AUD/USD: the instrument shows ambiguous dynamics
14
January
2020, 09:23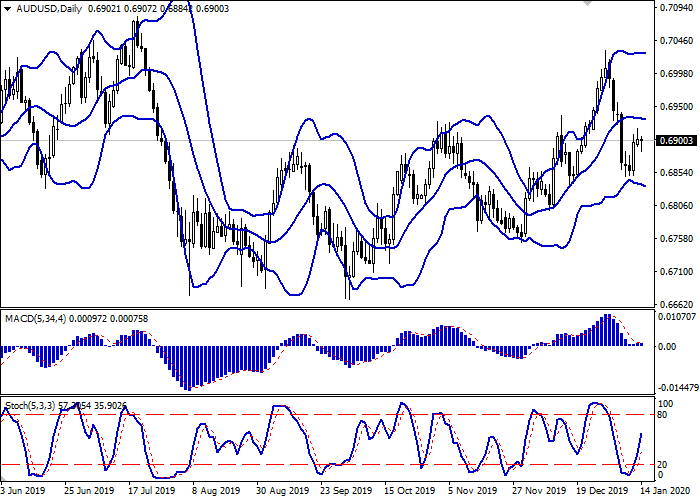 Scenario
Timeframe
Intraday
Recommendation
BUY STOP
Entry Point
0.6920
Take Profit
0.6955, 0.6970, 0.6984
Stop Loss
0.6900, 0.6884
Key Levels
0.6820, 0.6837, 0.6856, 0.6884, 0.6918, 0.6937, 0.6955, 0.6984
Alternative scenario
Recommendation
SELL STOP
Entry Point
0.6880
Take Profit
0.6837, 0.6820
Stop Loss
0.6918
Key Levels
0.6820, 0.6837, 0.6856, 0.6884, 0.6918, 0.6937, 0.6955, 0.6984
Current trend
AUD shows multidirectional trading dynamics during today's Asian session, consolidating after updating local highs of January 7 the day before. The instrument is trading near the opening level, testing 0.6900 for a breakdown. Investors focus on the block of statistics on exports and imports from China. In addition, traders expect the imminent signing of a trade agreement between the United States and China, which provides significant support to the pair. Exports from China in December grew by 7.6% YoY after a decline of 1.3% YoY a month earlier. Experts expected an increase of 3.2% YoY. Imports for the same period rose sharply by 16.3% YoY after rising by 0.5% YoY in November. The indicator also turned out to be significantly better than its forecasts of 9.6% YoY.
Support and resistance
In the D1 chart, Bollinger Bands are reversing horizontally. The price range is slightly expanded from below, remaining spacious enough for the current activity level in the market. The MACD indicator is gradually reversing upwards and forming a new weak buy signal (trying to consolidate above the zero level). Stochastic shows much more aggressive growth, which, however, weakly correlates with the trading dynamics on the market.
It is worth looking into the possibility of further uptrend development in the short and/or ultra-short term.
Resistance levels: 0.6918, 0.6937, 0.6955, 0.6984.
Support levels: 0.6884, 0.6856, 0.6837, 0.6820.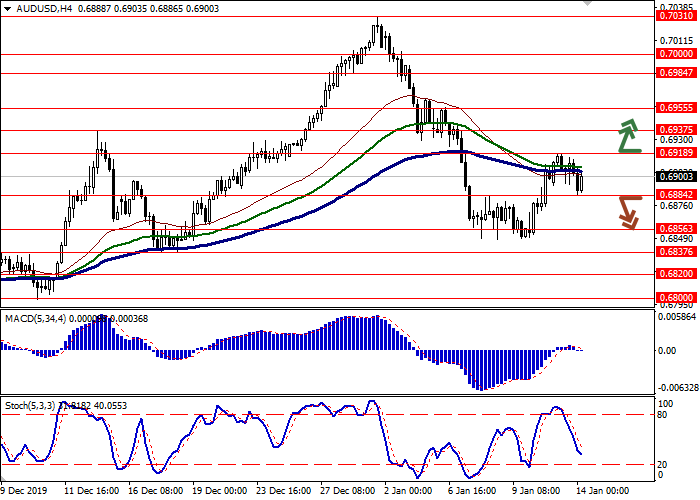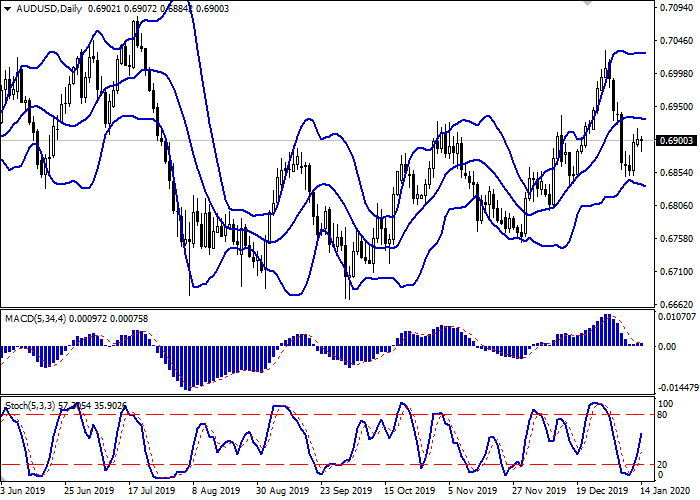 Trading tips
To open long positions, one can rely on the breakout of 0.6918. Take profit – 0.6955 or 0.6970, 0.6984. Stop loss – 0.6900 or 0.6884.
A breakdown of 0.6884 may be a signal for new sales with target at 0.6837 or 0.6820. Stop loss – 0.6918.
Implementation time: 2-3 days.