USD/JPY: general review
02
December
2019, 09:53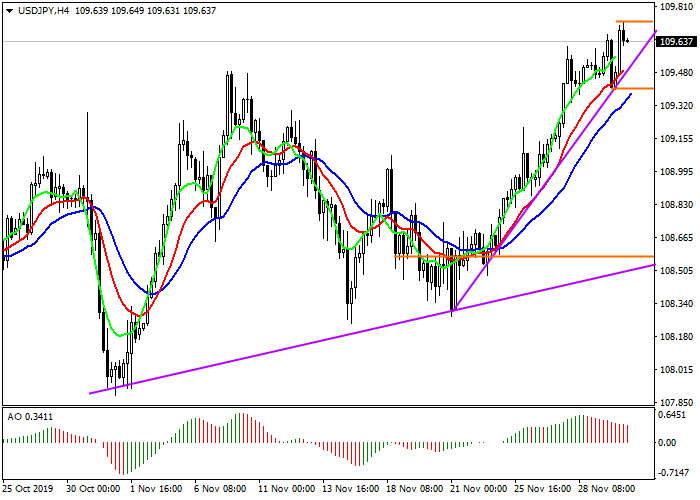 Scenario
Timeframe
Weekly
Recommendation
BUY STOP
Entry Point
109.70
Take Profit
110.50
Stop Loss
109.40
Key Levels
108.60, 109.40, 109.70, 110.50
Alternative scenario
Recommendation
SELL STOP
Entry Point
109.40
Take Profit
108.60
Stop Loss
109.70
Key Levels
108.60, 109.40, 109.70, 110.50
Current trend
Speech by a Bank of Japan board member Makoto Sakurai last week not only failed to clarify the situation in monetary policy, but also weakened the position of the yen. The main topic was the statement that the regulator does not intend to take any steps until the trade dispute between the United States and China is resolved, and even in this case, the Bank of Japan will need time to make a decision. After this statement, the yen fell significantly against a basket of world currencies.
Another indicator of stagnation was weak statistics from Japan. Retail Sales decreased by 7.1% from 9.2%, with the forecast of 3.8%. Industrial Production fell by 4.2% after rising by 1.7% over the past period. Based on such statistics, the yen will continue to weaken against the US dollar.
Support and resistance
As expected, the signal for continued growth has paid off. The price overcame local highs and consolidated above 109.50. The prospects for further growth are high, since the Alligator indicator has again begun to show the divergence of signal EMAs, which indicates an increase in the trend potential. One can talk about sales only if the price breaks the support line.
Resistance levels: 109.70, 110.50.
Support levels: 109.40, 108.60.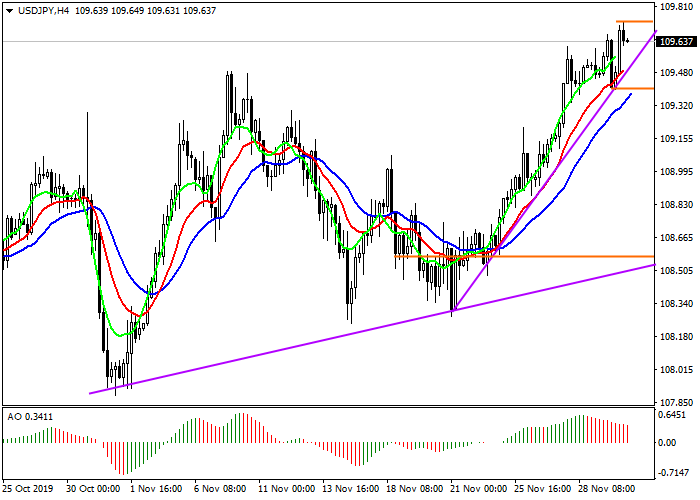 Trading tips
If the asset continues growing and the price consolidates above the local high at 109.70, buy positions will be relevant with target at 110.50. It is advisable to place the stop loss below the local low at around 109.40.
If the asset declines and the price consolidates below the local low and the support line at 109.40, short positions can be opened with the target at 108.60. Stop loss should be placed beyond the local high, at 109.70.
Implementation time: 7 days and more.