USD/CHF: general review
02
December
2019, 09:50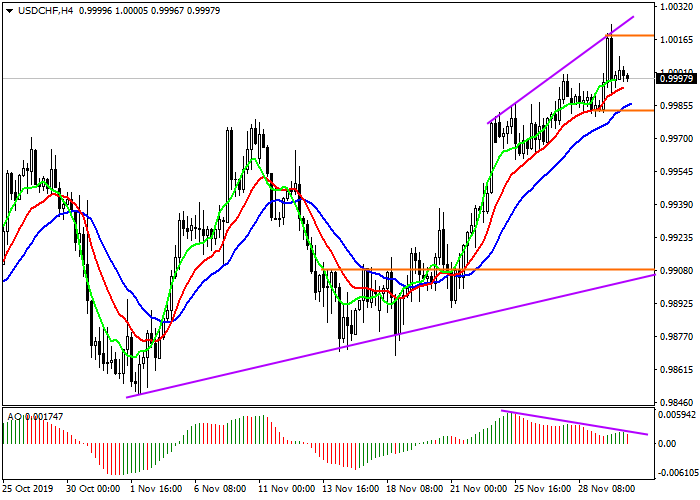 Scenario
Timeframe
Weekly
Recommendation
SELL STOP
Entry Point
0.9980
Take Profit
0.9900
Stop Loss
1.0010
Key Levels
0.9900, 0.9980, 1.0015, 1.0050
Alternative scenario
Recommendation
BUY STOP
Entry Point
1.0015
Take Profit
1.0050
Stop Loss
0.9980
Key Levels
0.9900, 0.9980, 1.0015, 1.0050
Current trend
The growth of the USD/CHF pair, which prevailed over the last week, was caused by unexpectedly positive statistics on Swiss GDP. Thus, the annual indicator fixed around 1.1%, which is higher than the forecasts of analysts who expected the value of 0.8%, and the previous indicator of 0.2%. Quarterly GDP also increased from 0.3% in the last quarter to 0.4%.
Thus, despite the Friday decline in the USD Index from 98.5 to 98.2 points, the price did not decrease but, on the contrary, indicated growth. The effect of the positive statistics of Switzerland is not yet exhausted, and the further growth of the franc looks real.
Support and resistance
After the growth due to the decline in the USD Index, a very strong divergence signal has formed on the price chart and the AO oscillator, which can start working out in the near future. ЕМА on the Alligator indicator begin to converge, which indicates a decrease in the upward potential.
Resistance levels: 1.0015, 1.0050.
Support levels: 0.9980, 0.9900.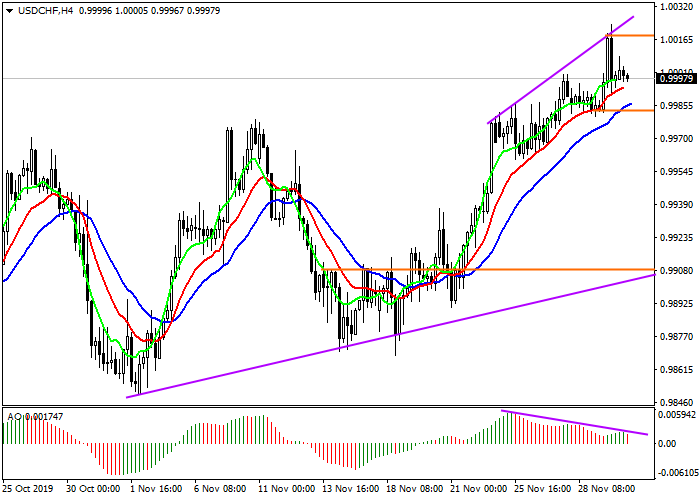 Trading tips
In the case of a reversal and decrease in the asset, as well as fixing the price below the local minimum at the level of 0.9980, it is better to open sell positions with a possible target of 0.9900. In this case, the stop loss should be set beyond the local maximum, at the level of 1.0010.
If the asset continues to grow and the price consolidates above the level of 1.0015, short-term buy positions with the target at 1.0050 will be relevant. In this case, it is better to set stop loss below a local minimum at 0.9980.
Implementation period: 7 days or more.