Brent Crude Oil: prices decrease
02
December
2019, 09:46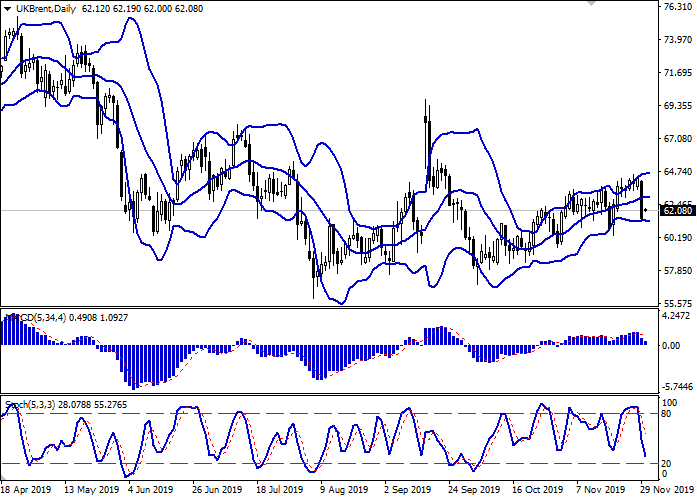 Scenario
Timeframe
Intraday
Recommendation
BUY STOP
Entry Point
62.35
Take Profit
63.50
Stop Loss
61.50
Key Levels
60.00, 60.84, 61.29, 62.00, 62.33, 62.95, 63.50, 64.00
Alternative scenario
Recommendation
SELL STOP
Entry Point
61.95
Take Profit
60.84
Stop Loss
62.50, 62.60
Key Levels
60.00, 60.84, 61.29, 62.00, 62.33, 62.95, 63.50, 64.00
Current trend
Today, during the Asian session, oil prices are stable, consolidating after declining by almost 4% during the trading session last Friday. The markets reacted violently to the news of the resignation of Iraqi Prime Minister Adil Abdul-Mahdi after several weeks of protests, which significantly influenced forecasts of oil supplies to the world market. However, the resignation of the prime minister does not mean the end of all protests, so the volatility of the "black gold" is likely to remain high.
Investors are also focusing on the upcoming OPEC+ meeting at the end of the week. The cartel is expected to announce the extension of the current agreement to reduce oil production by 1.2 million barrels per day. Negativity to the upcoming meeting adds Russia, whose oil companies are in favor of maintaining current quotas for oil production.
Support and resistance
On the daily chart, Bollinger bands move flat. The price range remains virtually unchanged but is spacious enough for the current level of activity in the market. The MACD indicator goes down, maintaining a strong sell signal (the histogram is below the signal line). Stochastic is declining steadily, quickly approaching its lows, which signals that the instrument is oversold in the ultra-short term.
It is better to keep the current short positions in the short and/or ultra-short term until the market situation is clarified.
Resistance levels: 62.33, 62.95, 63.50, 64.00.
Support levels: 62.00, 61.29, 60.84, 60.00.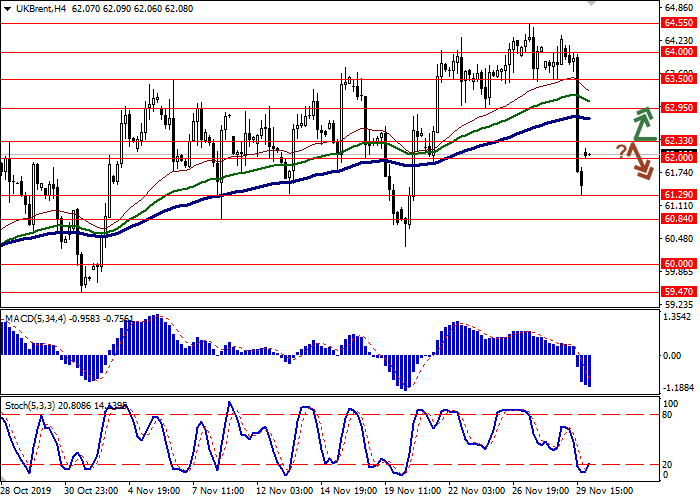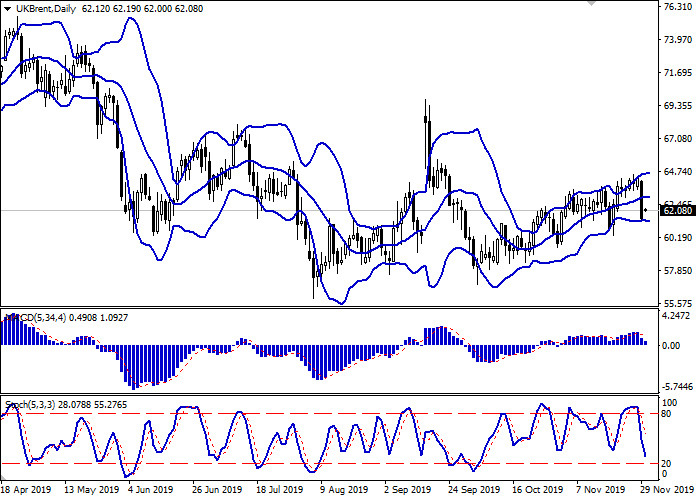 Trading tips
Long positions may be opened after the breakout of 62.33 with the target at 63.50. Stop loss – 61.50. Implementation period: 2–3 days.
Short positions may be opened after a rebound from 62.33 and a breakdown of 62.00 with the target at 60.84. Stop loss – 62.50–62.60. Implementation period: 1–2 days.