Bitcoin: technical analysis
02
December
2019, 09:55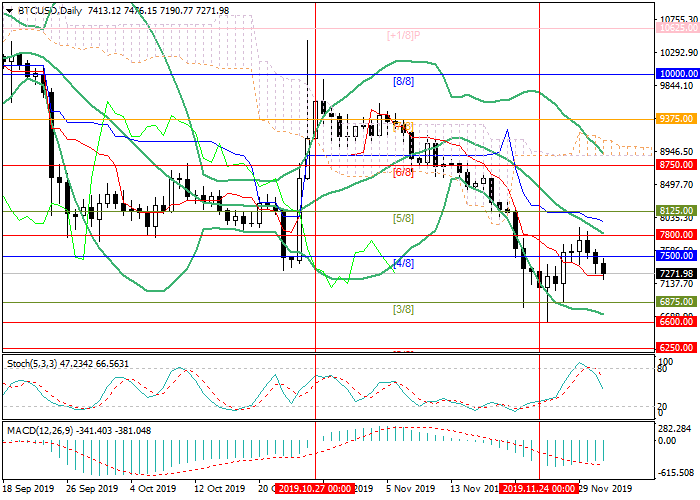 Scenario
Timeframe
Weekly
Recommendation
SELL
Entry Point
7263.39
Take Profit
6875.00, 6600.00, 6250.00
Stop Loss
7550.00
Key Levels
6250.00, 6600.00, 6875.00, 7500.00, 7800.00, 8750.00
Alternative scenario
Recommendation
BUY STOP
Entry Point
7860.00
Take Profit
8750.00
Stop Loss
7360.00
Key Levels
6250.00, 6600.00, 6875.00, 7500.00, 7800.00, 8750.00
Current trend
Last week's BTC price increase turned out to be corrective and did not lead to a downward trend reversal. It is likely that this week, quotes will continue to decline to the levels of 6875.00 (Murrey [3/8]), 6600.00 (November lows), 6250.00 (Murrey [2/8]). A serious price increase will be possible when the price returns to the positive zone of the Murrey trading range and breakout the middle line of Bollinger bands around 7800.00. In this case, quotes will be able to rise to around 8750.00 (Murrey [6/8], the upper line of Bollinger bands). However, this version of the movement seems less likely, since technical indicators reflect a decrease. Bollinger Bands and Stochastic are directed downwards. The MACD histogram is stable in the negative zone.
Support and resistance
Resistance levels: 7500.00, 7800.00, 8750.00.
Support levels: 6875.00, 6600.00, 6250.00.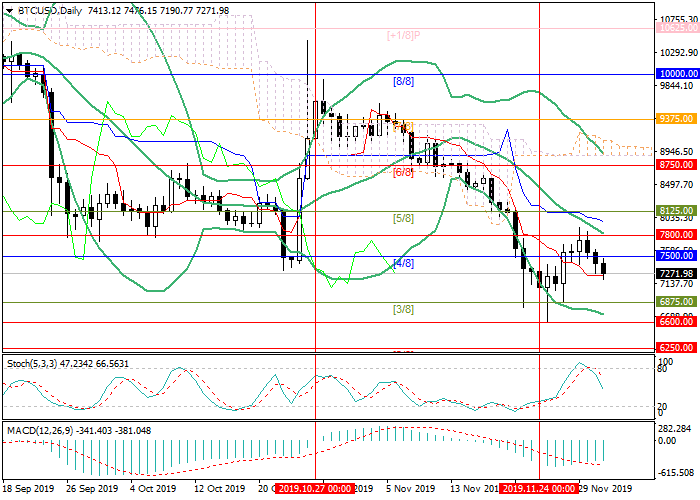 Trading tips
Short positions may be opened from the current level with the targets at 6875.00, 6600.00, 6250.00 and stop loss 7550.00.
Long positions may be opened above the level of 7800.00 with the target at 8750.00 and stop loss 7360.00.
Implementation period: 4–5 days.