XAU/USD: instrument moves flat
07
November
2019, 09:12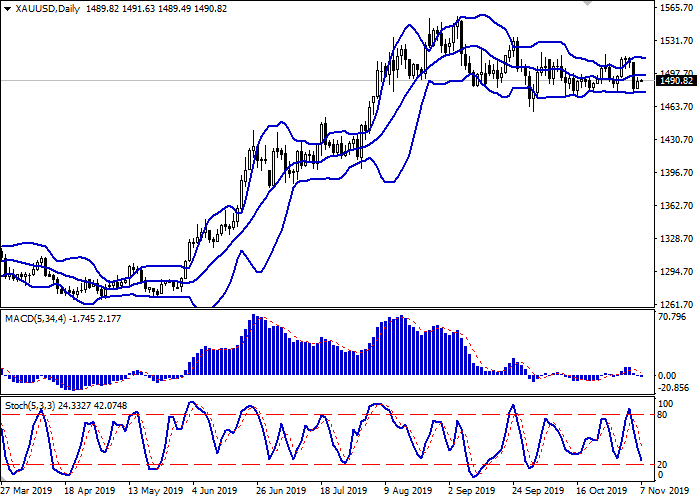 Scenario
Timeframe
Intraday
Recommendation
BUY STOP
Entry Point
1493.90
Take Profit
1510.11
Stop Loss
1482.00
Key Levels
1473.73, 1480.57, 1486.81, 1493.88, 1500.00, 1510.11, 1517.66
Alternative scenario
Recommendation
SELL STOP
Entry Point
1486.75
Take Profit
1480.57, 1473.73
Stop Loss
1500.00, 1503.00
Key Levels
1473.73, 1480.57, 1486.81, 1493.88, 1500.00, 1510.11, 1517.66
Current trend
Yesterday, the XAU/USD pair was growing uncertainly, recovering slightly after an active decline last Tuesday. Some stabilization of the market situation was facilitated by the end of an active rally on stock exchanges, as well as a further increase in the uncertainty surrounding US-Chinese trade negotiations. The parties still did not agree on the time and place for signing the preliminary agreement, while China continues to insist on the abolition of previously introduced import duties and its planned increase in December. Washington is in no hurry to agree, considering the planned increase in fees in December as a guarantee that China will be forced to make a deal.
Support and resistance
On the daily chart, Bollinger bands are moving flat. The price range consolidated within narrow boundaries that correspond to the currently observed market dynamics. The MACD indicator goes down, maintaining a poor sell signal (the histogram is below the signal line), and is trying to consolidate below the zero line. Stochastic is going downwards, quickly approaching the level of 20, which is the formal border of the oversold zone in the ultra-short term.
To open new trading positions, it is better to wait for the signals from technical indicators to be clarified and keep some short positions in the short term for some time.
Resistance levels: 1493.88, 1500.00, 1510.11, 1517.66.
Support levels: 1486.81, 1480.57, 1473.73.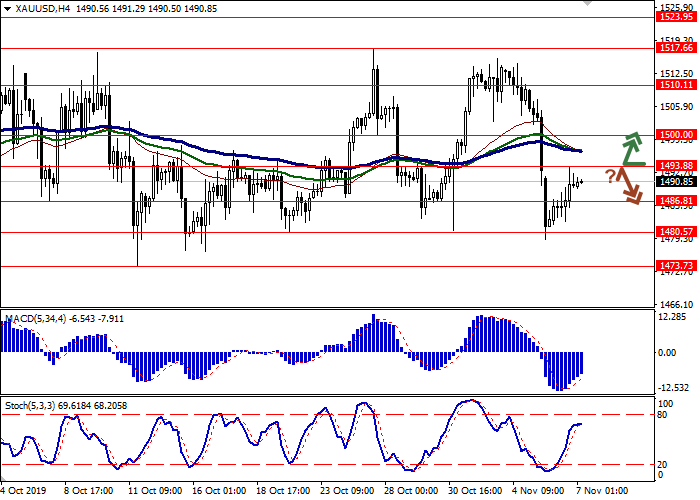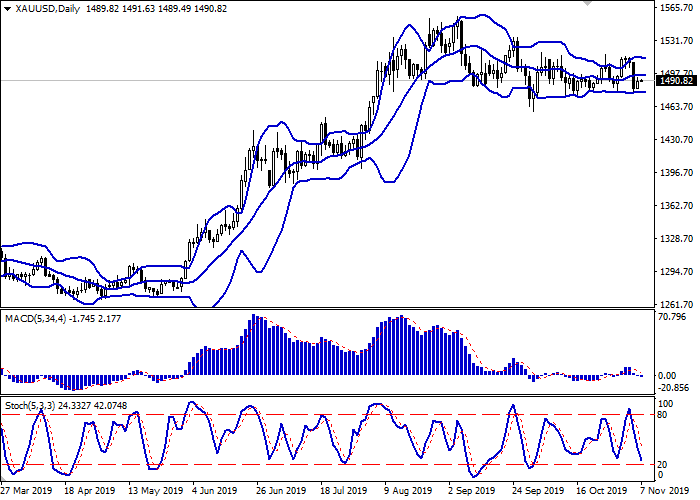 Trading tips
Long positions may be opened after the breakout of the level of 1493.88 with the target at 1510.11. Stop loss – 1482.00.
Short positions can be opened after the rebound from the level of 1493.88 as from resistance, followed by a breakdown of 1486.81. Take profit – 1473.73. Stop loss - 1493.88.
Implementation time: 2-3 days.