USD/JPY: USD is strengthening
08
November
2019, 09:28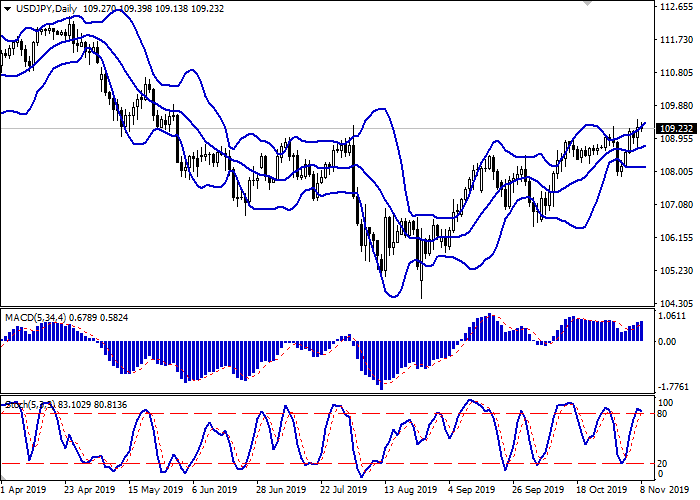 Scenario
Timeframe
Intraday
Recommendation
BUY STOP
Entry Point
109.50
Take Profit
110.00
Stop Loss
109.15
Key Levels
108.24, 108.46, 108.71, 109.05, 109.47, 109.73, 110.00
Alternative scenario
Recommendation
SELL STOP
Entry Point
109.00
Take Profit
108.24, 108.02
Stop Loss
109.47, 109.60
Key Levels
108.24, 108.46, 108.71, 109.05, 109.47, 109.73, 110.00
Current trend
USD rose against JPY on Thursday, updating local highs of May 31. The development of the "bullish" dynamics of the instrument was facilitated by the depreciation of JPY against the background of an upbeat sentiment regarding the conclusion of a trade agreement between the US and China. Despite the fact that currently the new terms for signing the preliminary agreement have not been agreed upon, the comments of the officials show real progress in the ongoing negotiations.
Today, the pair is trading in both directions. JPY is moderately supported by the Japanese macroeconomic data. Household Spending in September grew by 9.5% YoY after growth by 1.0% YoY a month earlier. Analysts had expected growth by 7.8% YoY. Overall wage income of employees in September rose by 0.8% YoY after a decrease of 0.1% YoY in the previous month, with a forecast of +0.4% YoY.
Support and resistance
Bollinger Bands in D1 chart grow moderately. The price range is expanding, but it fails to catch the development of "bullish" trend at the moment. MACD indicator is growing preserving a buy signal (located above the signal line). Stochastic, having approached its highs tends to reverse into a horizontal plane, indicating the risks of overbought dollar in the ultra-short term.
Existing long positions should be kept in the short and/or ultra-short term until the situation is clear.
Resistance levels: 109.47, 109.73, 110.00.
Support levels: 109.05, 108.71, 108.46, 108.24.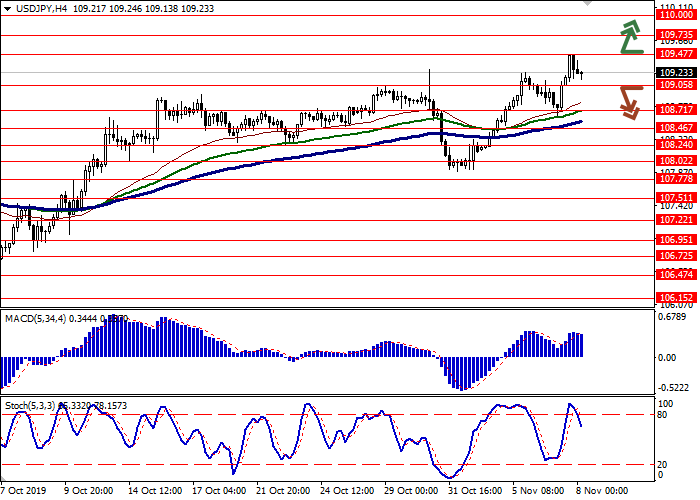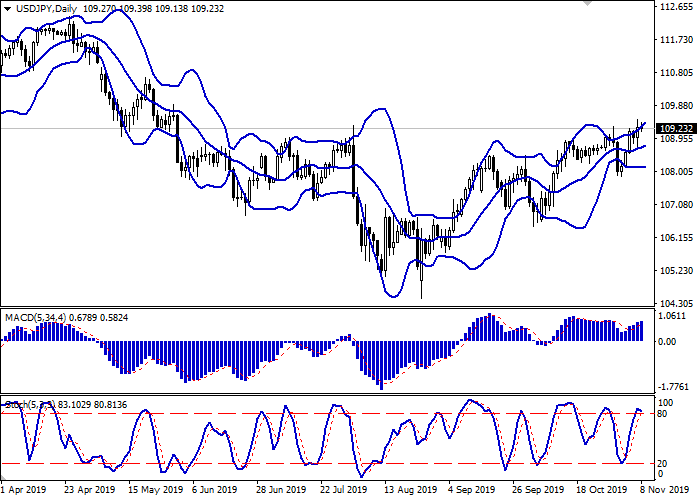 Trading tips
To open long positions, one can rely on the breakout of 109.47. Take profit – 110.00. Stop loss – 109.15. Implementation time: 1-2 days.
A more likely scenario at the moment is a breakdown of 109.05, which can be a signal for new sales with target at 108.24 or 108.02. Stop loss – 109.47 or 109.60. Implementation time: 2-3 days.