USD/CAD: instrument consolidates
08
November
2019, 09:29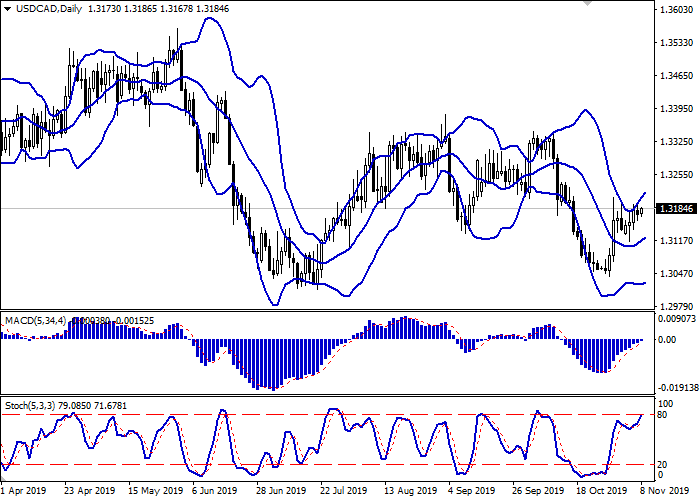 Scenario
Timeframe
Intraday
Recommendation
BUY STOP
Entry Point
1.3200
Take Profit
1.3267, 1.3289
Stop Loss
1.3159, 1.3145
Key Levels
1.3070, 1.3100, 1.3132, 1.3159, 1.3196, 1.3224, 1.3244, 1.3267
Alternative scenario
Recommendation
SELL STOP
Entry Point
1.3155
Take Profit
1.3070
Stop Loss
1.3196
Key Levels
1.3070, 1.3100, 1.3132, 1.3159, 1.3196, 1.3224, 1.3244, 1.3267
Current trend
Yesterday, the USD/CAD pair rose moderately, renewing local highs since October 30. Nevertheless, the American currency did not manage to consolidate at new highs, and by the time the afternoon session closed, the instrument returned to the red zone. Moderate support for the course was provided by optimistic news regarding the process of trade negotiations between the United States and China but so far the specifics are not enough.
Today, during the Asian session, the US dollar is again trading in an upward direction, waiting for the appearance of new drivers on the market. Investors are focused on the October Canadian Labor Market Report. The University of Michigan consumer confidence index will be released in the United States. In addition, investors are awaiting a speech by member of the US Federal Open Market Committee Lael Brainard.
Support and resistance
On the daily chart, Bollinger bands are growing moderately. The price range is expanding, letting the "bulls" renew local highs. The MACD indicator is growing, maintaining a relatively strong buy signal (the histogram is above the signal line). Stochastic is directed upwards but is approaching its highs, which indicates the risks that USD is overbought in the ultra-short term.
Current readings of technical indicators do not contradict further growth of the instrument in the short and/or ultra-short term.
Resistance levels: 1.3196, 1.3224, 1.3244, 1.3267.
Support levels: 1.3159, 1.3132, 1.3100, 1.3070.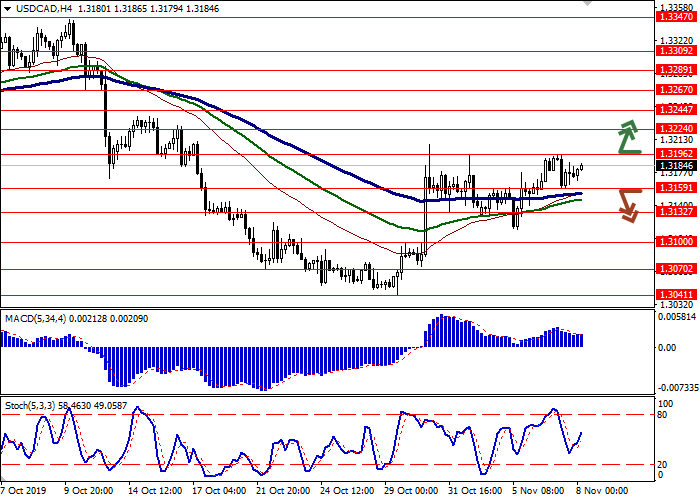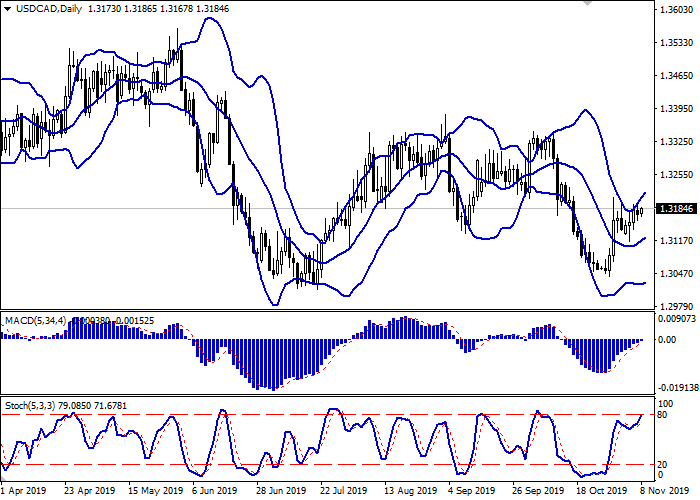 Trading tips
Long positions may be opened after the breakout of the level of 1.3196 with the target at 1.3267 or 1.3289. Stop loss – 1.3159–1.3145.
Short positions may be opened after the breakdown of the level of 1.3159 with the target at 1.3070. Stop loss – 1.3196.
Implementation period: 2–3 days.