NZD/USD: New Zealand dollar declines
07
November
2019, 09:15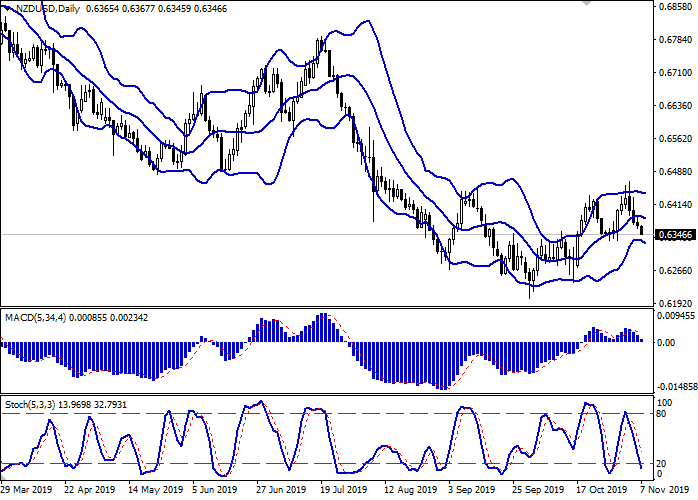 Scenario
Timeframe
Intraday
Recommendation
BUY STOP
Entry Point
0.6365
Take Profit
0.6400, 0.6430, 0.6440
Stop Loss
0.6332, 0.6320
Key Levels
0.6265, 0.6282, 0.6313, 0.6332, 0.6361, 0.6374, 0.6400, 0.6440
Alternative scenario
Recommendation
SELL STOP
Entry Point
0.6325
Take Profit
0.6282, 0.6265
Stop Loss
0.6361
Key Levels
0.6265, 0.6282, 0.6313, 0.6332, 0.6361, 0.6374, 0.6400, 0.6440
Current trend
Yesterday, the NZD/USD pair slightly decreased, continuing the development of the "bearish" impulse formed at the beginning of the week. On Wednesday, the instrument was under pressure due to the New Zealand ambiguous data. Thus, Q3 unemployment rate rose sharply from 3.9% to 4.2%, which was higher than analysts' forecasts of 4.1%. Q3 employment rate slowed from +0.6% to +0.2% with a forecast of +0.3%. At the same time, the share of labor in the total population over the same period increased from 70.3% to 70.4%, which turned out to be better than the neutral forecast.
Support and resistance
On the daily chart, Bollinger bands are moderately falling. The price range is expanding slightly below, letting the "bears" to renew local lows. The MACD indicator decreases, while maintaining a relatively strong sell signal (the histogram is below the signal line), and is preparing to test the zero line for breakdown. Stochastic maintains a confident downward trend but is quickly approaching its lows, which indicates oversold risks in the short-term.
It is better to keep the current short positions until the market situation becomes clear.
Resistance levels: 0.6361, 0.6374, 0.6400, 0.6440.
Support levels: 0.6332, 0.6313, 0.6282, 0.6265.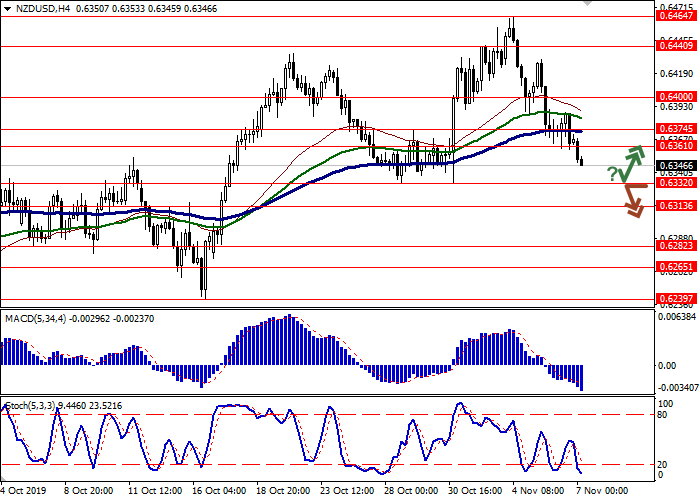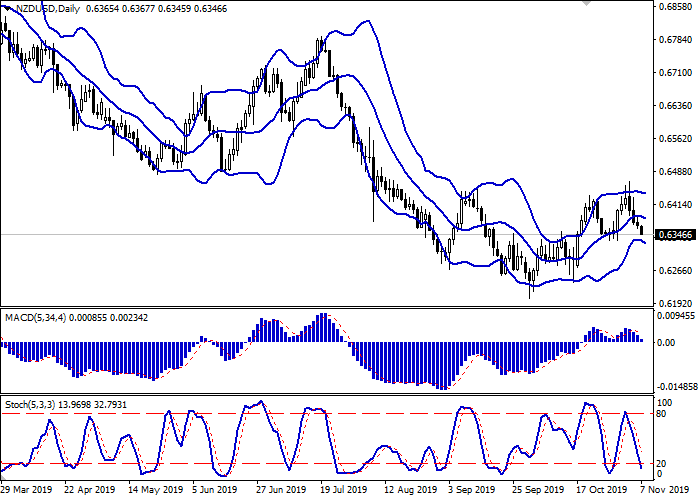 Trading tips
Long positions may be opened after a rebound from the level of 0.6332 and a breakout of the level of 0.6361 with the targets at 0.6400 or 0.6430–0.6440. Stop loss – 0.6332–0.6320.
Short positions may be opened after the breakdown of the level of 0.6332 with the target at 0.6282 or 0.6265. Stop loss – 0.6361.
Implementation period: 2–3 days.