EUR/USD: general review
07
November
2019, 10:05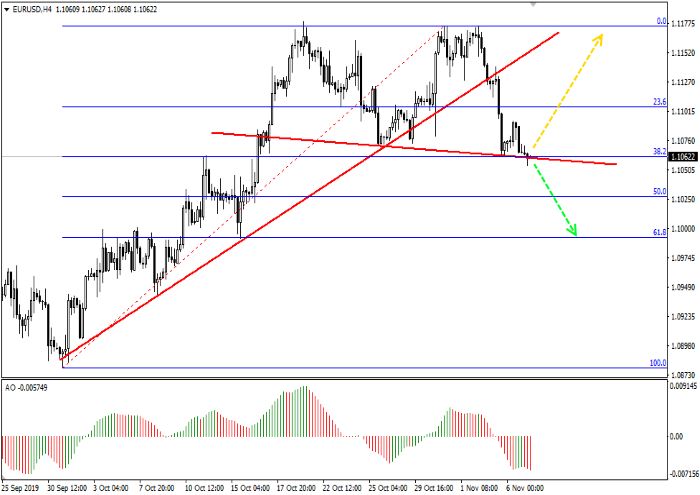 Scenario
Timeframe
Intraday
Recommendation
SELL STOP
Entry Point
1.1055
Take Profit
1.0990
Stop Loss
1.1090
Key Levels
1.0990, 1.1055, 1.1090, 1.1170
Alternative scenario
Recommendation
BUY STOP
Entry Point
1.1090
Take Profit
1.1170
Stop Loss
1.1050
Key Levels
1.0990, 1.1055, 1.1090, 1.1170
Current trend
Yesterday's speech by the Vice President of the ECB, Luis De Guindos, could not answer the main questions regarding business activity decline in the Eurozone. One of the reasons for this is the decrease in retail sales, which is an echo of the situation with Brexit. Despite ongoing debate in the UK, EU officials prefer to ignore direct questions related to Brexit. Thus, from a statement by the European regulator official, it became clear that there are no changes in monetary policy planned, and the interest rate would remain in the negative zone.
Based on the neutral situation at the market, long-term purchase-oriented investors prefer to continue ignoring EUR, which leads to a lack of liquidity and to the consolidation of quotations in the 1-2% corridor.
Support and resistance
Since mid-October, the asset has been in zero consolidation. A monthly option lost its time value, bringing profit only to sellers. The pair is under outer pressure, and investors are waiting for the resolution of the situation with Brexit. On the H4 chart, the formation of a Double top pattern is possible. At least the support line of the uptrend was broken through, and the pattern is where it should be. If it is implemented, a decrease in quotations within 1-2% is expected.
Resistance levels: 1.1090, 1.1170.
Support levels: 1.1055, 1.0990.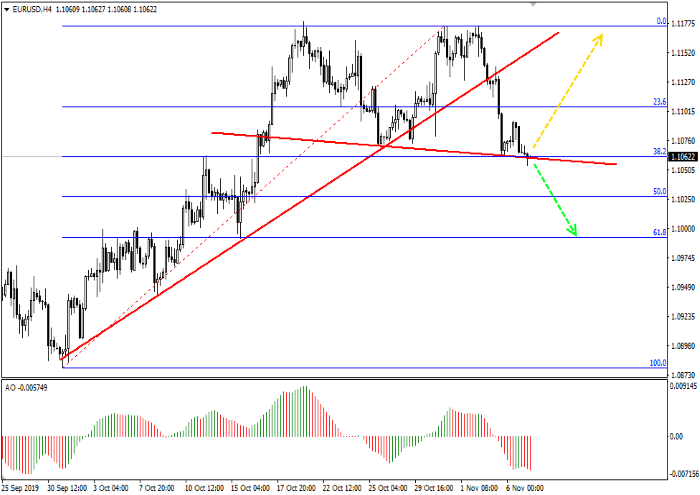 Trading tips
If the asset continues to decline, and the price consolidates below the local low at 1.1055, short positions can be opened with target at 1.0990. Stop loss should be placed beyond the local high, at 1.1090.
If the price reverses, the asset grows, and the price consolidates above 1.1090, buy positions with target of 1.1170 will be relevant. Stop loss should be placed below the local low, at 1.1050.
Implementation time: 1-2 days.