EUR/USD: EUR is declining
08
November
2019, 09:30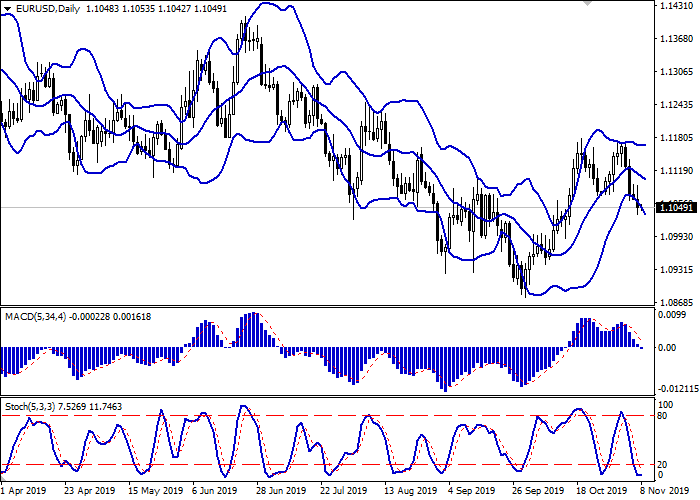 Scenario
Timeframe
Intraday
Recommendation
BUY STOP
Entry Point
1.1065, 1.1075
Take Profit
1.1117, 1.1138
Stop Loss
1.1035
Key Levels
1.0947, 1.0982, 1.1000, 1.1035, 1.1071, 1.1091, 1.1117, 1.1138
Alternative scenario
Recommendation
SELL STOP
Entry Point
1.1030
Take Profit
1.1000, 1.0982
Stop Loss
1.1060, 1.1071
Key Levels
1.0947, 1.0982, 1.1000, 1.1035, 1.1071, 1.1091, 1.1117, 1.1138
Current trend
EUR showed a decline against USD on Thursday, updating local lows of October 16. Pressure on EUR was exerted by moderate growth in the US currency amid improved prospects for a trade agreement between the US and China. There was information in the media that the parties are ready to mutually cancel part of the previously imposed higher import duties, which indicates some progress in the negotiations. However, the timing and venue of signing are still unknown.
Yesterday's macroeconomic statistics from Germany had an additional negative impact on EUR. Industrial Production in September decreased by 0.6% MoM after an increase of 0.4% MoM a month earlier. Analysts had expected decline by 0.4% MoM. In annual terms, the decline has accelerated from –3.9% YoY to –4.3% YoY, with the forecast of –2.9% YoY.
Support and resistance
Bollinger Bands in D1 chart decrease steadily. The price range expands from below, making way for new local lows for the "bears". MACD is going down preserving a stable sell signal (located below the signal line). In addition, the indicator is trying to consolidate below the zero level. Stochastic, having approached its lows, reversed into a horizontal plane, indicating risks of oversold EUR in the ultra-short term.
It is worth looking into the possibility of corrective growth in the short and/or ultra-short term.
Resistance levels: 1.1071, 1.1091, 1.1117, 1.1138.
Support levels: 1.1035, 1.1000, 1.0982, 1.0947.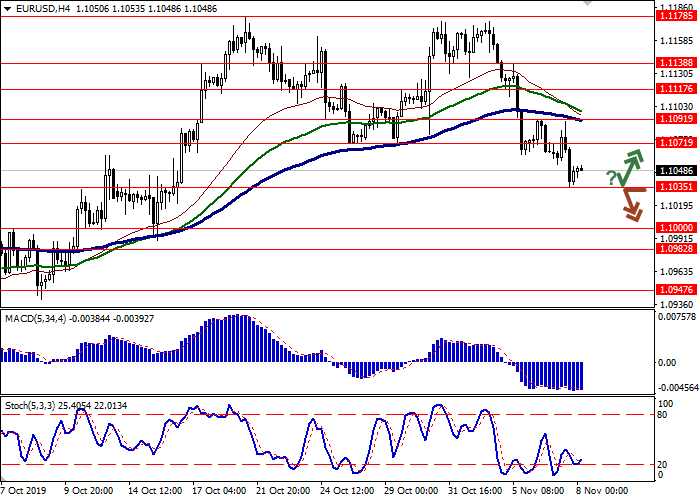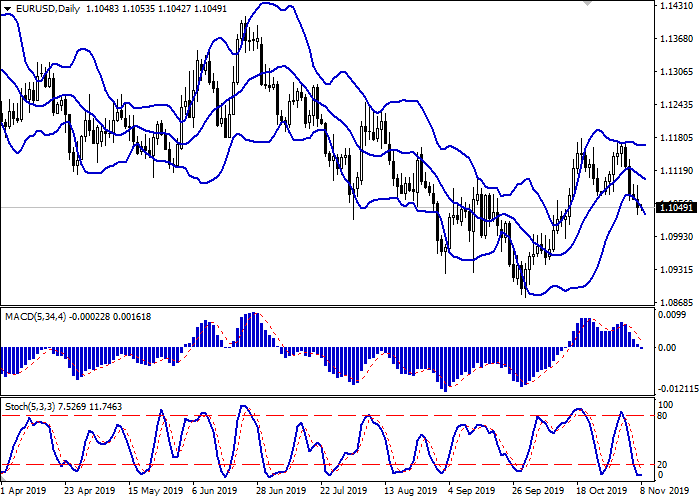 Trading tips
To open long positions, one can rely on the rebound from the support level of 1.1035 with subsequent breakout of 1.1060 or 1.1071. Take profit – 1.1117 or 1.1138. Stop loss – 1.1035. Implementation time: 2-3 days.
A breakdown of 1.1035 may be a signal for new sales with target at 1.1000 or 1.0982. Stop loss – 1.1060 or 1.1071. Implementation time: 1-2 days.