AUD/USD: the pair is trading in both directions
06
November
2019, 09:26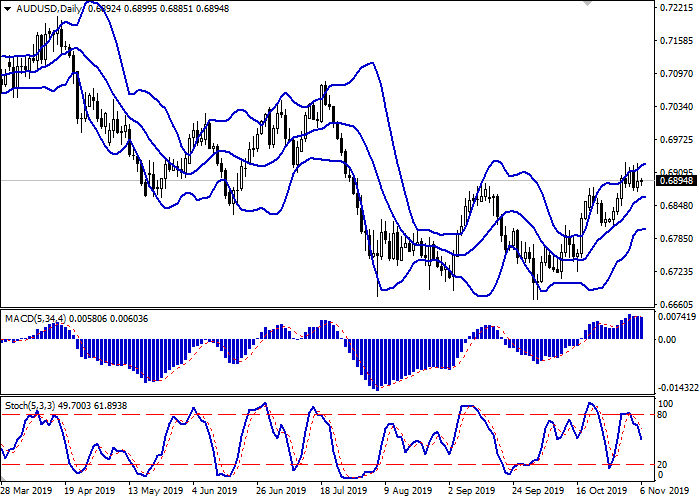 Scenario
Timeframe
Intraday
Recommendation
BUY STOP
Entry Point
0.6935
Take Profit
0.7000
Stop Loss
0.6900
Key Levels
0.6808, 0.6829, 0.6864, 0.6881, 0.6900, 0.6928, 0.6955
Alternative scenario
Recommendation
SELL STOP
Entry Point
0.6875, 0.6860
Take Profit
0.6808, 0.6779
Stop Loss
0.6900, 0.6915
Key Levels
0.6808, 0.6829, 0.6864, 0.6881, 0.6900, 0.6928, 0.6955
Current trend
AUD showed strong growth on Tuesday, updating local highs of October 31. However, the instrument failed to consolidate at new highs, and by the time the US trading session opened, it had lost most of its gains. AUD was supported by the results of the RBA meeting and the comments of the head of the regulator. As expected, the RBA kept its key interest rate at 0.75%. At the same time, investors hope that in the near future the regulator will not change the parameters of monetary policy significantly. RBA head Philip Lowe supported such sentiments, noting that the period of low interest rates will be quite long.
Correction of the instrument was facilitated by the publication of ISM Services PMI with the opening of the American trading session. In October, the index showed growth from 52.6 to 54.7 points, which turned out to be better than market expectations of 53.5 points.
Support and resistance
In the D1 chart, Bollinger Bands are reversing horizontally. The price range is trying to consolidate, reflecting the ambiguous nature of trading in the short/ultra-short term. MACD is declining keeping a weak sell signal (located below the signal line). Stochastic is showing slightly more stable decline and is located in the middle of its area.
The development of a full-fledged downtrend is possible in the short and/or ultra-short term.
Resistance levels: 0.6900, 0.6928, 0.6955.
Support levels: 0.6881, 0.6864, 0.6829, 0.6808.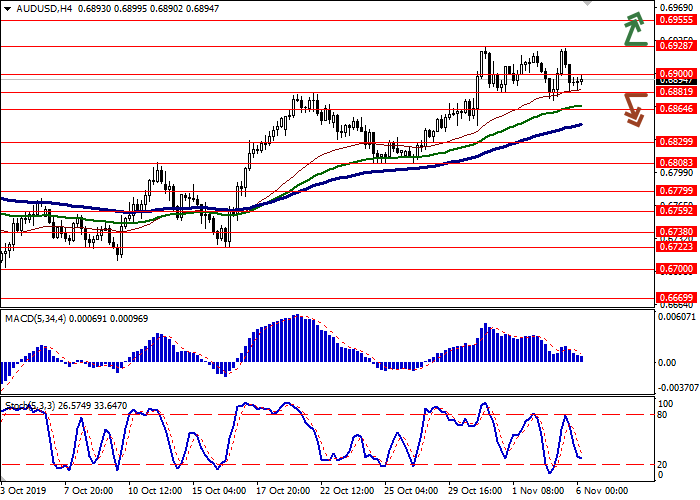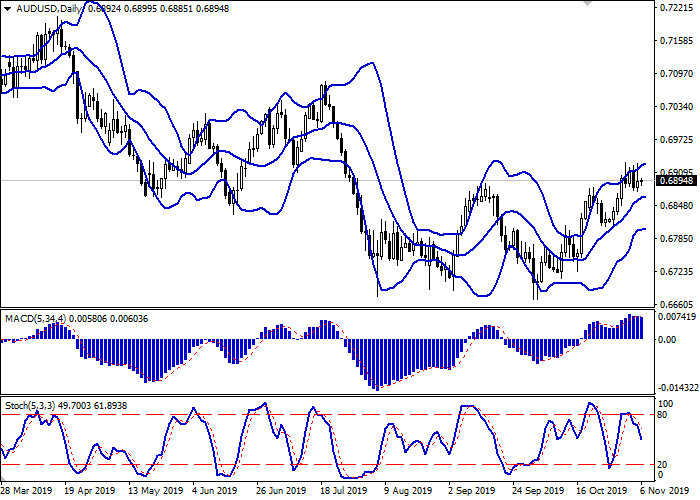 Trading tips
To open long positions, one can rely on the breakout of 0.6928. Take profit – 0.7000. Stop loss should be placed no further than 0.6900.
A breakdown of 0.6881 or 0.6864 may be a signal for new sales with target at 0.6808 or 0.6779. Stop loss – 0.6900 or 0.6915.
Implementation time: 2-3 days.