USD/JPY: the dollar is correcting
18
October
2019, 10:19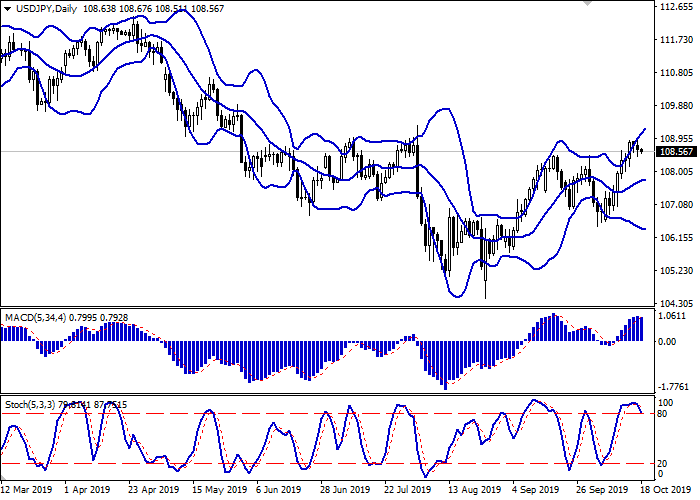 Scenario
Timeframe
Intraday
Recommendation
BUY STOP
Entry Point
109.00
Take Profit
109.50, 109.70
Stop Loss
108.60
Key Levels
107.77, 108.02, 108.24, 108.46, 108.74, 108.98, 109.30
Alternative scenario
Recommendation
SELL STOP
Entry Point
108.40
Take Profit
107.77, 107.51
Stop Loss
108.98
Key Levels
107.77, 108.02, 108.24, 108.46, 108.74, 108.98, 109.30
Current trend
The US dollar showed a slight decline against the Japanese yen on Thursday, retreating from local highs of early August, updated on the same day. The depreciation of USD was facilitated by the ambiguous macroeconomic statistics from the United States. Industrial Production in September decreased by 0.4% MoM after an increase of 0.8% MoM in August. Philadelphia Fed Manufacturing Index in October fell from 12.0 to 5.6 points, which was worse than market expectations of 8.0 points. Housing Starts fell by 9.4% MoM in September after rising by 15.1% MoM a month earlier. Analysts had expected decline by 8.6% MoM.
Today, the pair maintains negative dynamics; however, weak data from Japan hinder the more confident growth of the yen. Japan's National Consumer Price Index in September showed a slowdown from +0.3% to +0.2% YoY, while the forecast assumed an increase to +0.4% YoY.
Support and resistance
In the D1 chart, Bollinger Bands are reversing horizontally. The price range is expanding, while remaining too spacious for the current activity level in the market. MACD is gradually reversing downwards keeping a previous buy signal (located above the signal line). Stochastic shows similar dynamics forming a sell signal in the ultra-short term.
It is worth looking into the possibility of corrective decline in the short and/or ultra-short term.
Resistance levels: 108.74, 108.98, 109.30.
Support levels: 108.46, 108.24, 108.02, 107.77.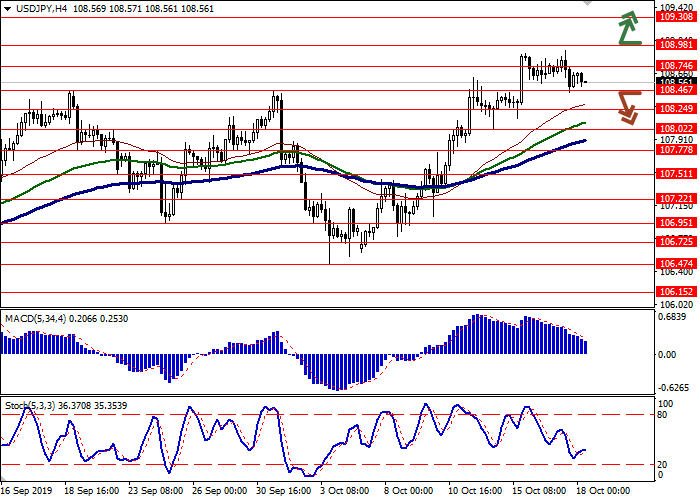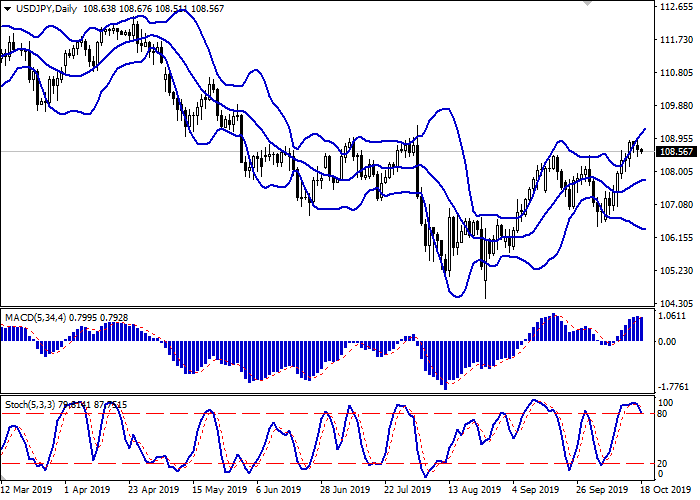 Trading tips
To open long positions, one can rely on the breakout of 108.98. Take profit — 109.50 or 109.70. Stop loss — 108.60.
A breakdown of 108.46 may be a signal for new sales with target at 107.77 or 107.51. Stop loss — 108.98.
Implementation time: 2-3 days.