USD/CAD: the pair is trading in both directions
10
October
2019, 10:35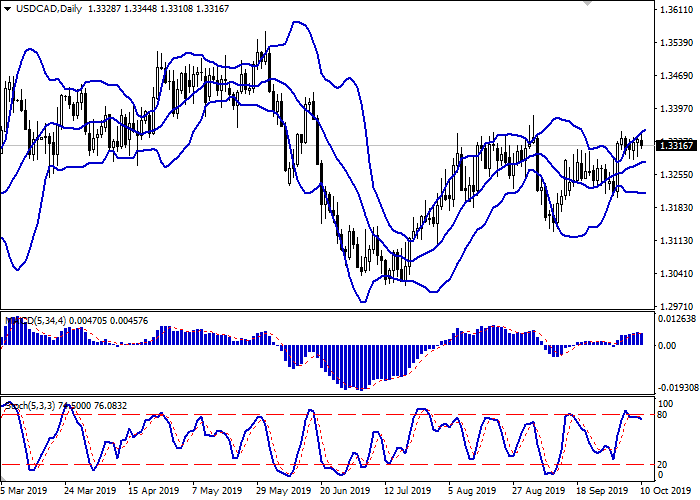 Scenario
Timeframe
Intraday
Recommendation
BUY STOP
Entry Point
1.3355, 1.3365
Take Profit
1.3400
Stop Loss
1.3330, 1.3320
Key Levels
1.3244, 1.3267, 1.3289, 1.3309, 1.3347, 1.3360, 1.3381, 1.3400
Alternative scenario
Recommendation
SELL STOP
Entry Point
1.3300, 1.3280
Take Profit
1.3224, 1.3200
Stop Loss
1.3320, 1.3347
Key Levels
1.3244, 1.3267, 1.3289, 1.3309, 1.3347, 1.3360, 1.3381, 1.3400
Current trend
USD rose insignificantly against CAD on Wednesday, continuing the development of the "bullish" momentum formed the day before. However, USD remained under pressure from the Fed Chairman Jerome Powell's speech and the publication of the FOMC minutes. Powell spoke out in favor of resuming the asset purchase program, but emphasized that this was not a new round of quantitative easing. The Fed sees obvious problems in the US economy and is preparing for new stimulation measures that will negatively affect USD. FOMC Minutes also put pressure on the instrument. As expected, the results were contradictory: 7 regulator officials called for a further reduction in rates by the end of the year, while 5 people expect them to remain at current levels. The remaining 5 Fed members do not exclude rate hikes in the range of 2.00%–2.25%.
Support and resistance
Bollinger Bands in D1 chart show moderate growth. The price range expands from above, freeing for the "bulls" a path to new local highs of early September. MACD indicator is reversing downwards and is about to form a new sell signal (it has to consolidate below the signal line). Stochastic has similar dynamics, retreating from its highs, indicating the risks of overbought USD in the ultra-short term.
The development of the correctional downtrend is possible in the short and/or ultra-short term.
Resistance levels: 1.3347, 1.3360, 1.3381, 1.3400.
Support levels: 1.3309, 1.3289, 1.3267, 1.3244.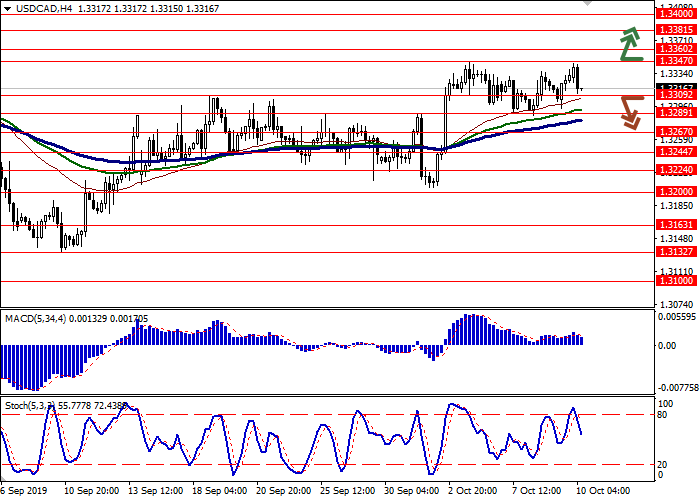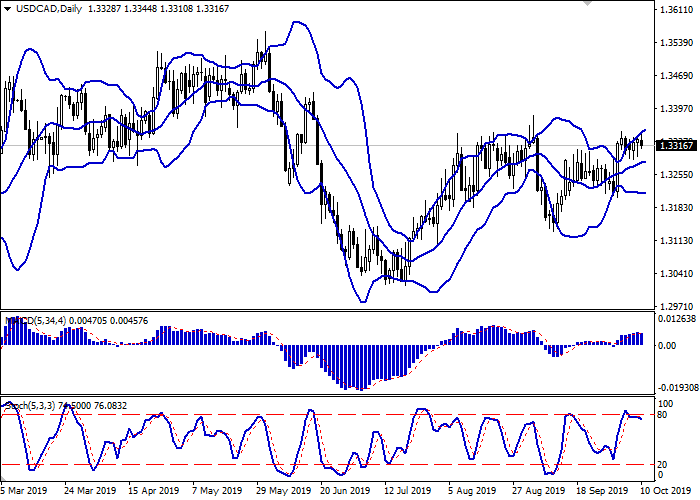 Trading tips
To open long positions, one can rely on the breakout of 1.3347 or 1.3360. Take profit — 1.3400. Stop loss — 1.3330 or 1.3320. Implementation time: 1-2 days.
A breakdown of 1.3309 or 1.3289 may be a signal for new sales with target at 1.3224 or 1.3200. Stop loss — 1.3320 or 1.3347. Implementation time: 2-3 days.