GBP/USD: GBP is consolidating
10
October
2019, 10:06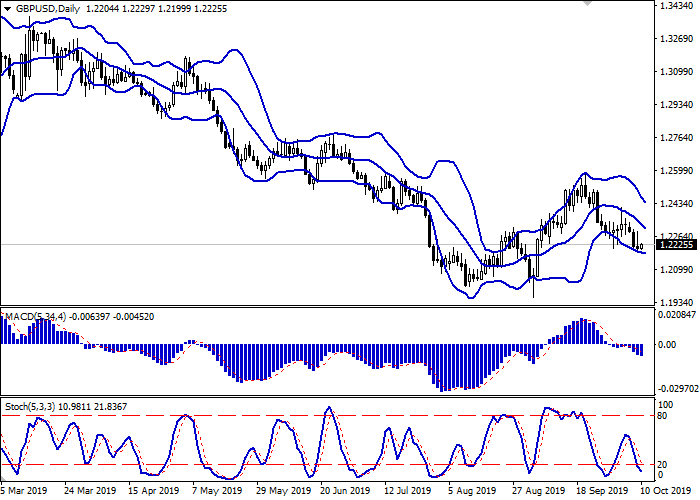 Scenario
Timeframe
Intraday
Recommendation
BUY STOP
Entry Point
1.2260
Take Profit
1.2384, 1.2412
Stop Loss
1.2180
Key Levels
1.2037, 1.2077, 1.2154, 1.2200, 1.2253, 1.2343, 1.2384, 1.2412
Alternative scenario
Recommendation
SELL STOP
Entry Point
1.2190
Take Profit
1.2037
Stop Loss
1.2280
Key Levels
1.2037, 1.2077, 1.2154, 1.2200, 1.2253, 1.2343, 1.2384, 1.2412
Current trend
GBP showed ambiguous dynamics of trading against USD on Wednesday, but ended the afternoon session in the red zone, updating local lows of September 4. GBP was supported yesterday by news about possible EU concessions to Great Britain on the issue of back-stop on the Irish border. However, comments by the Democratic Unionist Party of Northern Ireland representatives made the instrument return to a downtrend. The party will not support the agreement, which, according to them, will lead to the creation of new customs barriers on the UK border.
Today, the pair is growing. Investors expect the publication of data from the UK on the dynamics of industrial production and manufacturing production. In addition, the market is waiting for the release of updated estimates of UK GDP for August and the Bank of England Governor Mark Carney speech.
Support and resistance
Bollinger Bands in D1 chart decreases gradually. The price range is narrowing, reflecting the propensity of the instrument to ambiguous trading in the short term. MACD is going down keeping a fairly stable sell signal (located below the signal line). Stochastic retains steady downward direction but is located in close proximity to its lows, which indicates the risks of oversold pound in the ultra-short term.
One should keep the existing short positions in the short and/or ultra-short term until the situation is clear.
Resistance levels: 1.2253, 1.2343, 1.2384, 1.2412.
Support levels: 1.2200, 1.2154, 1.2077, 1.2037.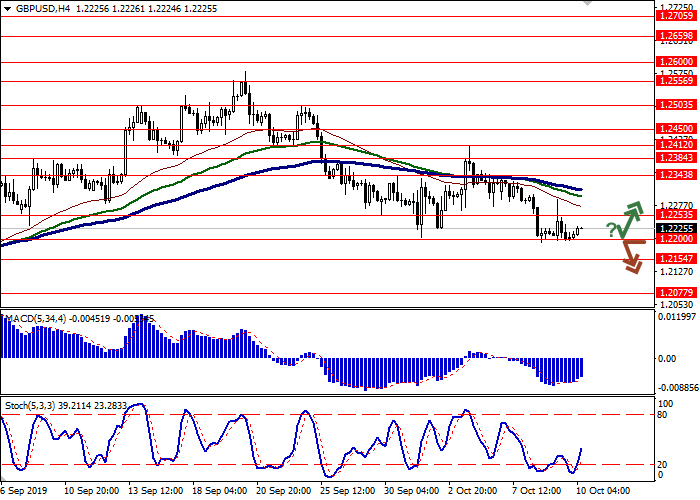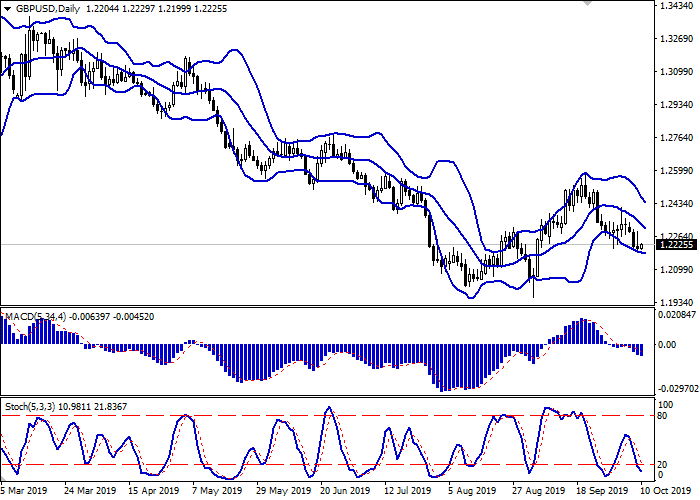 Trading tips
To open long positions, one can rely on the rebound from the support level of 1.2200 with the subsequent breakout of 1.2253. Take profit — 1.2384 or 1.2412. Stop loss — 1.2180.
The breakdown of 1.2200 may serve as a signal to new sales with the target at 1.2037. Stop loss — 1.2280.
Implementation time: 2-3 days.