EUR/USD: the euro is declining
09
October
2019, 09:59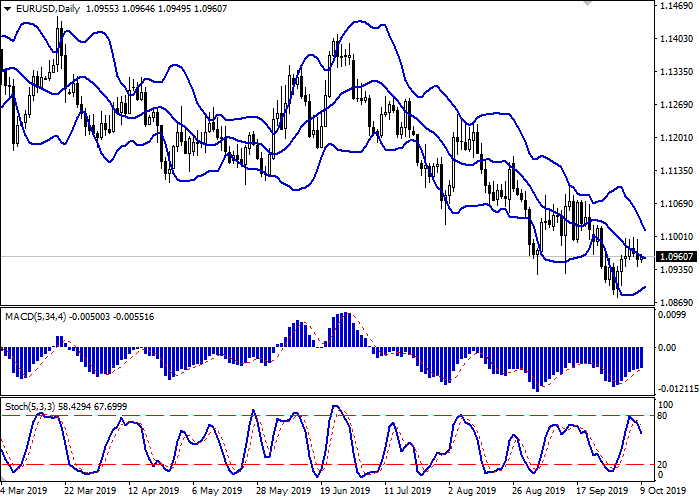 Scenario
Timeframe
Intraday
Recommendation
BUY STOP
Entry Point
1.0990
Take Profit
1.1050
Stop Loss
1.0950
Key Levels
1.0878, 1.0903, 1.0924, 1.0947, 1.0982, 1.1000, 1.1028, 1.1050
Alternative scenario
Recommendation
SELL STOP
Entry Point
1.0940
Take Profit
1.0878
Stop Loss
1.0982
Key Levels
1.0878, 1.0903, 1.0924, 1.0947, 1.0982, 1.1000, 1.1028, 1.1050
Current trend
The European currency showed a moderate decline against the US dollar on Tuesday, continuing to develop a "bearish" impulse formed the day before. Pressure on the euro was exerted by ambiguous statistics on industrial production in Germany. On a monthly basis, production grew by 0.3% MoM in August after a decrease of 0.4% MoM in the previous month. Analysts had expected a decline of 0.3% MoM. However, in annual terms, production volumes only accelerated their decline from the previous –3.9% YoY to –4.0% YoY, which turned out to be significantly worse than expectations of –2.7% YoY.
Another negative factor for the instrument remains the situation around the Brexit process. It became known the day before that Germany opposed Boris Johnson's new plan to solve the problem with the Irish border, which significantly reduces the chances of concluding a final agreement before the end of October.
Support and resistance
Bollinger Bands in D1 chart demonstrate a stable decrease. The price range is narrowing, reflecting the emergence of ambiguous dynamics of trading in the short term. MACD is gradually reversing downwards keeping a previous buy signal (located above the signal line). Stochastic is quite actively decreasing, having rebounded from the "80" level. The indicator signals in favor of the development of corrective decline in the ultra-short term.
It is worth looking into the possibility of the downtrend development in the short and/or ultra-short term.
Resistance levels: 1.0982, 1.1000, 1.1028, 1.1050.
Support levels: 1.0947, 1.0924, 1.0903, 1.0878.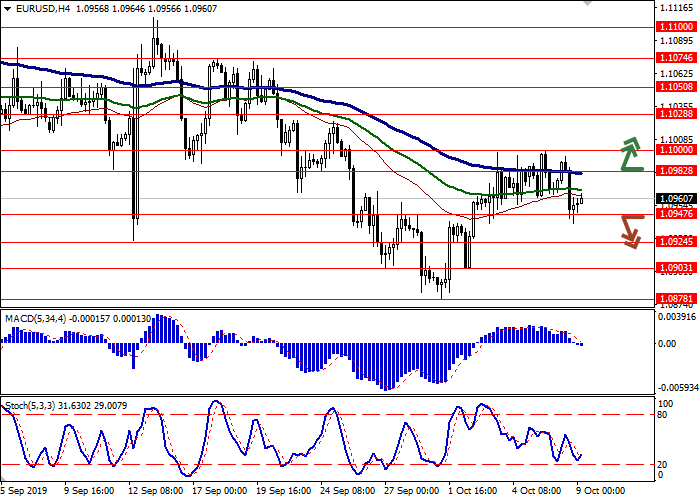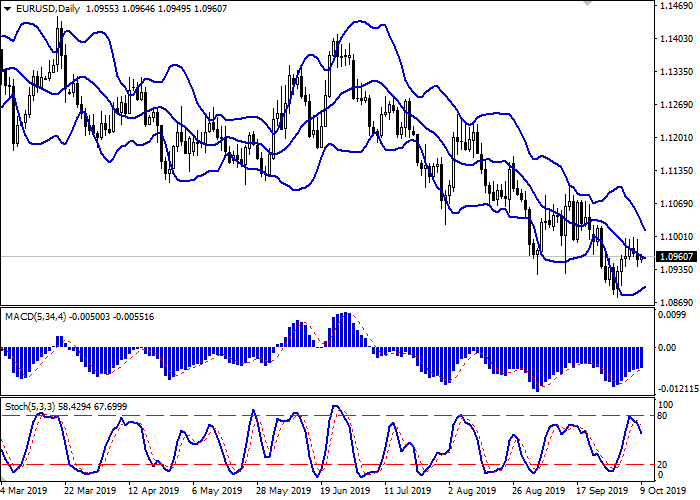 Trading tips
To open long positions, one can rely on the breakout of 1.0982. Take profit — 1.1050. Stop loss — 1.0950.
The return of "bearish" trend with the breakdown of 1.0947 may become a signal for new sales with the target at 1.0878. Stop loss — 1.0982.
Implementation time: 2-3 days.