Brent Crude Oil: general analysis
08
October
2019, 10:59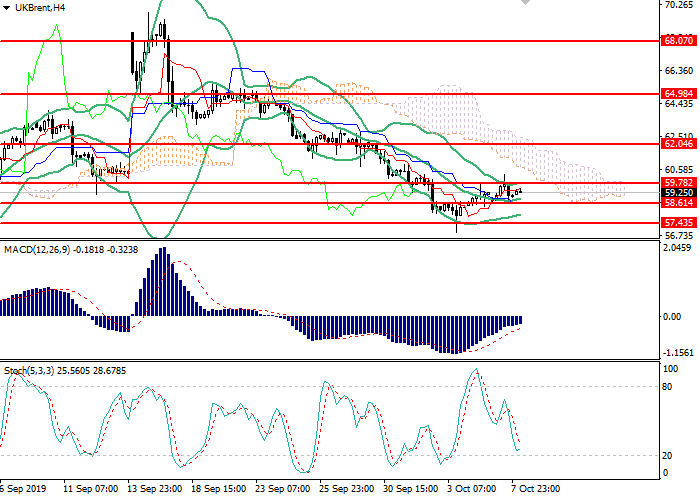 Scenario
Timeframe
Intraday
Recommendation
BUY STOP
Entry Point
60.10
Take Profit
64.40
Stop Loss
57.45
Key Levels
56.03, 57.43, 58.61, 59.78, 62.04, 64.98, 68.07
Alternative scenario
Recommendation
SELL STOP
Entry Point
57.40
Take Profit
56.05
Stop Loss
58.00
Key Levels
59.78, 62.04, 64.98, 68.07
Current trend
Yesterday and today, oil prices have strengthened slightly in anticipation of US-China trade negotiations this week.
Investors expect that after a long break, negotiations will be held in a positive way. However, the head of the Chinese delegation notified the American side of his unwillingness to discuss the topic of reforming industrial policy and government subsidies, and now market participants are waiting for a reaction from Washington. At the moment, short-term support for the course is formed against the backdrop of anti-government rallies in Iraq and Ecuador. Political instability in two OPEC member countries has raised concerns about reduced production and continues to support the market.
Today at 19:50 (GMT+2), Fed Chairman Powell is scheduled to speak. At 22:30 (GMT+2), the API will publish a weekly report on US stocks of raw materials. The key event of this week is the start of talks between the US and China on October 10. Also, OPEC and IEA will update oil market forecasts at the end of the week.
Support and resistance
On the 4-hour chart there, is an uptrend correction. Bollinger Bands are directed horizontally, and the price range remains limited with a "bullish" bias, which indicates the continuation of correctional dynamics. The MACD histogram is in the negative zone, keeping a poor sell signal. Stochastic is corrected at the borders of the oversold zone.
Resistance levels: 59.78, 62.04, 64.98, 68.07.
Support levels: 58.61, 57.43, 56.03.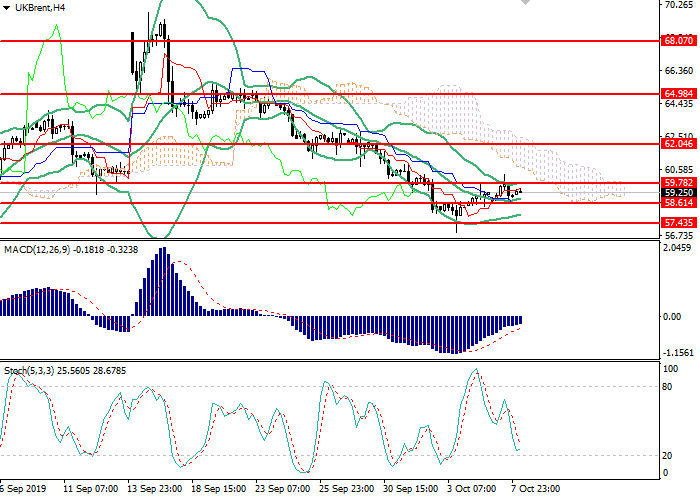 Trading tips
Long positions can be opened above the level of 60.00 with the target at 64.40 and stop loss 57.45. Implementation period: 2–4 days.
Short positions can be opened below the level of 57.45 with the target at 56.05 and stop loss 58.00. Implementation period: 1–3 days.