USD/JPY: upward momentum maintains
20
September
2019, 14:15
Scenario
Timeframe
Weekly
Recommendation
BUY
Entry Point
107.97
Take Profit
109.30
Stop Loss
107.20
Key Levels
105.45, 106.40, 106.70, 107.15, 107.50, 108.40, 108.60, 109.00, 109.30
Current trend
The USD/JPY pair strengthens.
In late August, the price tested the local minimum, reversed and began to grow. In almost a month, the rate gained more than 300 points and passed some key resistance due to a decrease in demand for the overbought JPY and favorable US fundamental background. The Fed's interest rate cut did not significantly affect the instrument. The regulator's representatives did not agree on the appropriateness of the decline and gave a positive forecast for further improvement in the economic situation in the US.
Now, the pair moves within a new narrow ascending channel. In the middle of the week, it reached the upper limit of the range, after which it reversed to a downward correction.
Today, Japan released negative data on the national consumer price index but the price practically did not respond to it.
Support and resistance
Due to the lack of strong catalysts, the pair has been trading in a sideways consolidation for several weeks. In the future, the upward momentum will continue, and the price will reach the key resistance level of 109.00 but before, a deeper correction to the level of 107.50 is forecasted. JPY continues to lose demand accumulated over the past few months. Due to the reversal of the instrument, investors are closing a large volume of profitable short positions from the key and historical level of support.
On the daily chart, technical indicators changed the signal direction: MACD indicates further gain due to a significant increase in the volume of long positions, and Bollinger bands reversed upwards.
Resistance levels: 108.40, 108.60, 109.00, 109.30.
Support levels: 107.50, 107.15, 106.70, 106.40, 105.45.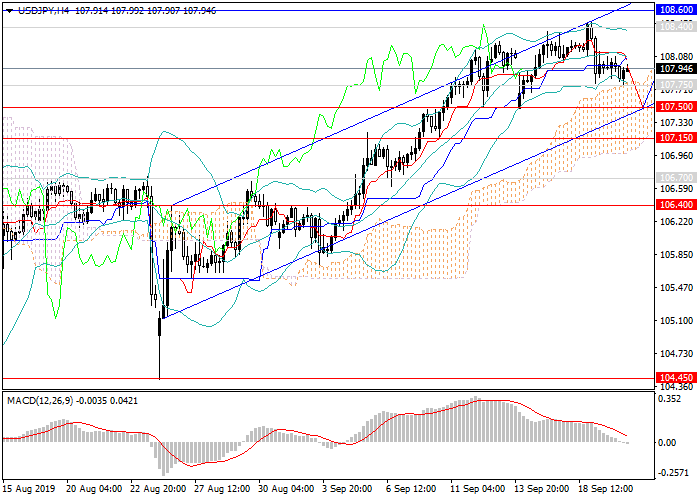 Trading tips
Long positions can be opened from the current level with the target at 109.30 and stop loss 107.20.