USD/JPY: the dollar is growing
12
September
2019, 10:03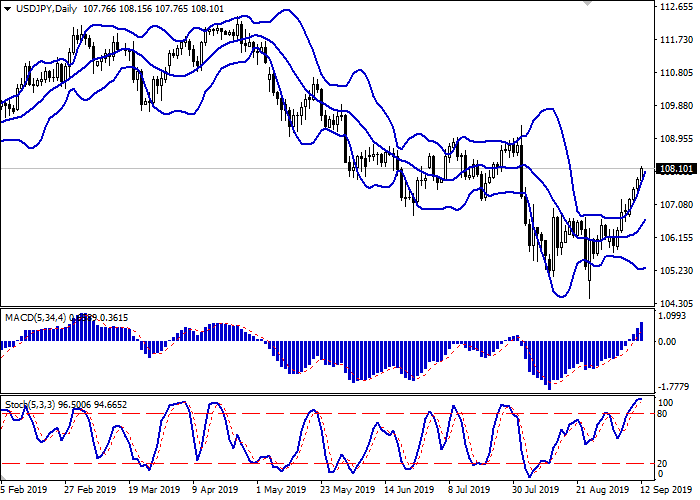 Scenario
Timeframe
Intraday
Recommendation
BUY STOP
Entry Point
108.20
Take Profit
108.74, 109.00
Stop Loss
107.52, 107.40
Key Levels
106.72, 107.22, 107.52, 107.78, 108.15, 108.52, 108.74
Alternative scenario
Recommendation
SELL STOP
Entry Point
107.70, 107.45
Take Profit
106.15, 106.00
Stop Loss
108.15, 108.30
Key Levels
106.72, 107.22, 107.52, 107.78, 108.15, 108.52, 108.74
Current trend
USD continues steady growth against JPY, updating local highs of August 1. USD is supported by moderately optimistic statistics on industrial inflation in the US. In addition, a slight improvement in the prospects for future US-Chinese trade negotiations contributes to increased demand for risk. China announced the abolition of part of import duties on American goods, and Donald Trump in response announced the postponement of new increased duties introduction. Thus, the market has received confirmation that the parties are preparing for a new round of negotiations in October and are interested in ending the conflict.
Today's Japanese statistics was contradictory and did not support JPY much. PPI in August fell by 0.9% YoY after a decline of 0.6% YoY last month. Analysts had expected decline by 0.8% YoY. Core Machinery Orders in July fell by 6.6% MoM after growth of 13.9% MoM last month. Analysts had expected the decline of 9.0% MoM.
Support and resistance
Bollinger Bands in D1 chart show moderate growth. The price range is expanding, but it fails to catch the development of the uptrend development at the moment. MACD indicator is growing keeping a strong buy signal (located above the signal line). Stochastic, having approached its highs, reversed into a horizontal plane, indicating overbought USD in the ultra-short term.
Existing long positions should be kept until the situation clears up.
Resistance levels: 108.15, 108.52, 108.74.
Support levels: 107.78, 107.52, 107.22, 106.72.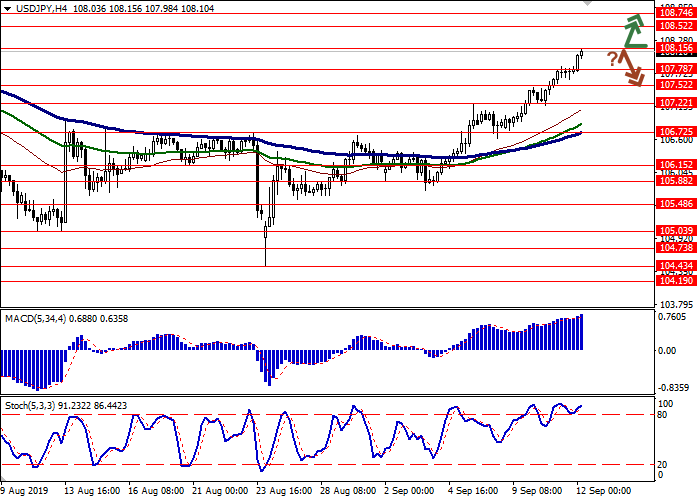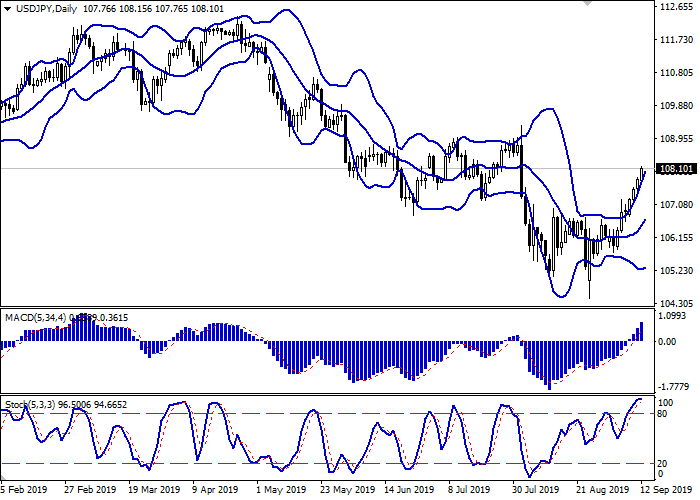 Trading tips
To open long positions, one can rely on the breakout of 108.15. Take profit — 108.74 or 109.00. Stop loss — 107.52 or 107.40.
The rebound from 108.15 as from resistance with the subsequent breakdown of 107.78–107.52 can become a signal to sell with target at 106.15–106.00. Stop loss — 108.15 or 108.30.
Implementation time: 2-3 days.