USD/CHF: the dollar is strengthening
12
September
2019, 09:58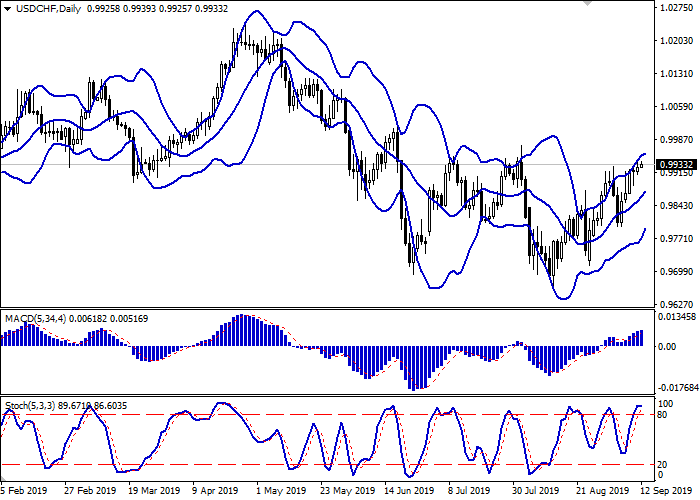 Scenario
Timeframe
Intraday
Recommendation
BUY STOP
Entry Point
0.9945
Take Profit
1.0000
Stop Loss
0.9905
Key Levels
0.9858, 0.9876, 0.9876, 0.9927, 0.9942, 0.9974, 1.0000
Alternative scenario
Recommendation
SELL STOP
Entry Point
0.9900
Take Profit
0.9835, 0.9800
Stop Loss
0.9942, 0.9950
Key Levels
0.9858, 0.9876, 0.9876, 0.9927, 0.9942, 0.9974, 1.0000
Current trend
Yesterday, the USD/CHF pair rose slightly with moderate support from macroeconomic statistics from the United States. The PPI excluding food and energy for August rose by 0.3% MoM after falling by 0.1% MoM for July. Also, it increased from +2.1% YoY to +2.3% YoY with a forecast of +2.2% YoY. MBA Mortgage Applications for the week of September 6 strengthened by 2.0% after a decrease of 3.1% over the previous period.
Investors were also optimistic about Donald Trump's decision to postpone the introduction of next import duties on Chinese goods from October 1 to October 15. Earlier, China announced the removal of part of import duties on US goods, which gives hope for the successful outcome of the next round of trade negotiations between the countries, which should begin in October.
Support and resistance
On the daily chart, Bollinger bands are actively growing. The price range is narrowing slightly, reflecting the ambiguous nature of trading this week. The MACD indicator is growing, keeping a poor buy signal (the histogram is above the signal line). Stochastic reached its highs and reversed into a horizontal plane, indicating that USD is overbought in the ultra-short term.
Until the situation is clarified, it is better to keep the current long positions in the short and/or ultra-short term.
Resistance levels: 0.9942, 0.9974, 1.0000.
Support levels: 0.9927, 0.9905, 0.9876, 0.9858.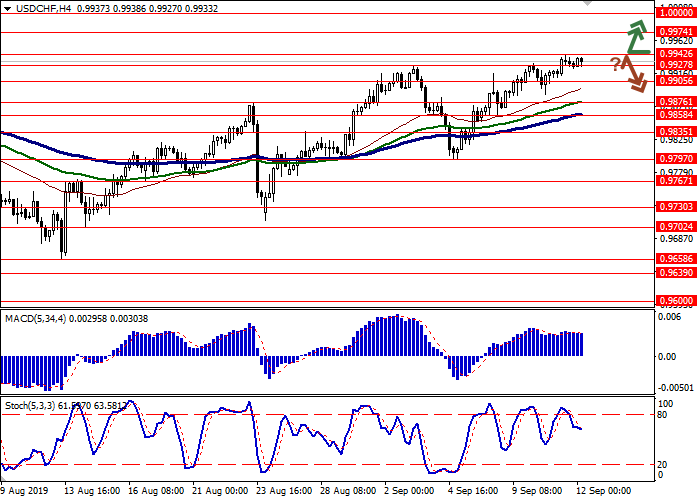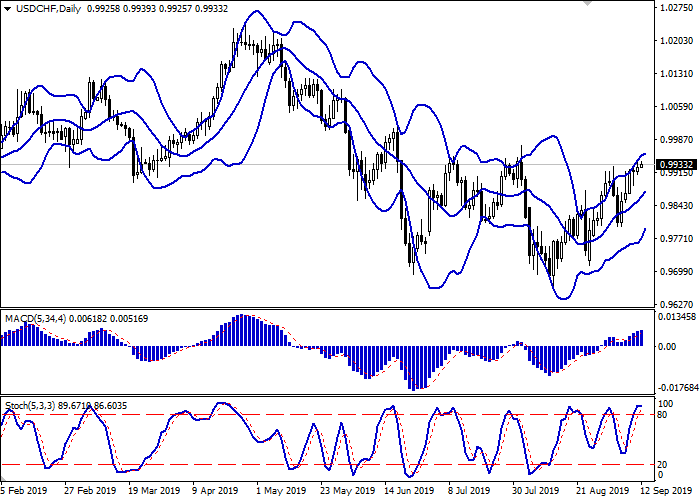 Trading tips
Long positions can be opened after the breakout of the level of 0.9942 with the target at 1.0000. Stop loss – 0.9905. Implementation period: 1–2 days.
Short positions can be opened after a rebound from the level of 0.9942 and a breakdown of the level of 0.9905 with the target at 0.9835 or 0.9800. Stop loss – 0.9942–0.9950. Implementation period: 2–3 days.