NZD/USD: the instrument is in the upward trend
10
September
2019, 10:15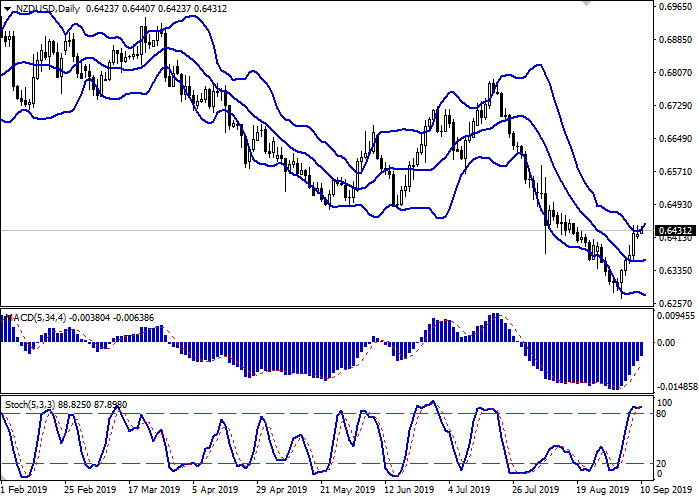 Scenario
Timeframe
Intraday
Recommendation
BUY STOP
Entry Point
0.6445
Take Profit
0.6532
Stop Loss
0.6400
Key Levels
0.6330, 0.6360, 0.6376, 0.6400, 0.6443, 0.6463, 0.6500, 0.6532
Alternative scenario
Recommendation
SELL STOP
Entry Point
0.6395
Take Profit
0.6330, 0.6300
Stop Loss
0.6443, 0.6450
Key Levels
0.6330, 0.6360, 0.6376, 0.6400, 0.6443, 0.6463, 0.6500, 0.6532
Current trend
Yesterday, the NZD/USD pair was growing uncertainly but managed to renew local highs of August 16. More confident "bullish" dynamics was hindered by poor macroeconomic publications from New Zealand. Thus, Q2 sales in the industrial sector decreased by 2.7% QoQ after an increase of 1.3% QoQ in the previous period.
Today, during the Asian session, the instrument is growing more confidently. NZD is supported by Electronic Card Retail Sales data. The index grew by 1.1% MoM after last month's zero dynamics and by 2.8% YoY in August after rising 1.6% YoY in July.
Support and resistance
On the daily chart, Bollinger bands are moving flat. The price range is expanding moderately, letting the "bulls" renew local highs. MACD is growing, keeping a strong buy signal (the histogram is above the signal line). Stochastic, approaching its highs, reverses into a horizontal plane, reflecting that NZD is overbought in the ultra-short term.
To open new trading positions, it is better to wait for the signals from technical indicators to be clarified and keep some of the current long positions for some time.
Resistance levels: 0.6443, 0.6463, 0.6500, 0.6532.
Support levels: 0.6400, 0.6376, 0.6360, 0.6330.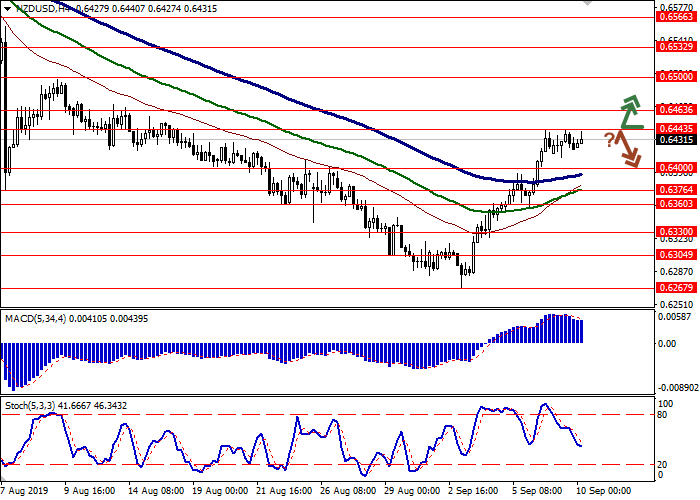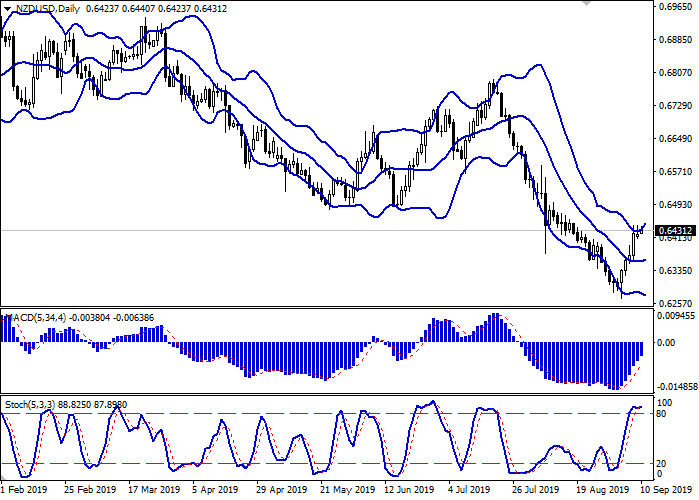 Trading tips
Long positions can be opened after the breakout of 0.6443 with the target at 0.6532. Stop loss – 0.6400.
Short positions can be opened after a rebound from 0.6443 and a breakdown of 0.6400 with the targets at 0.6330–0.6300. Stop loss – 0.6443–0.6450.
Implementation period: 2–3 days.