NZD/USD: ambiguous dynamics
12
September
2019, 09:41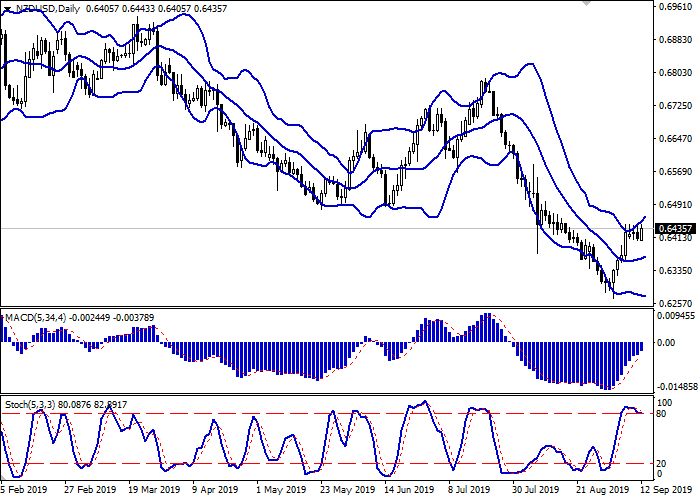 Scenario
Timeframe
Intraday
Recommendation
BUY STOP
Entry Point
0.6450
Take Profit
0.6532, 0.6550
Stop Loss
0.6400
Key Levels
0.6330, 0.6360, 0.6376, 0.6400, 0.6443, 0.6463, 0.6500, 0.6532
Alternative scenario
Recommendation
SELL STOP
Entry Point
0.6395
Take Profit
0.6330, 0.6304
Stop Loss
0.6430
Key Levels
0.6330, 0.6360, 0.6376, 0.6400, 0.6443, 0.6463, 0.6500, 0.6532
Current trend
Yesterday, the NZD/USD pair fell significantly but remains near its local highs, renewed at the beginning of the week. The weakening of NZD is due to the positive macroeconomic statistics from the US on industrial inflation. In turn, statistics from New Zealand prevented the emergence of a more confident decline. Thus, External Migration & Visitors indicator for July rose sharply by 2.0% YoY after gaining 0.6% YoY last month.
Today, during the Asian session, the instrument is actively growing. Despite the publication of a poor New Zealand Food Price Index for August, investor sentiment is supported by mutual concessions between the US and China in anticipation of a new round of trade negotiations. Donald Trump announced the postponement of the next introduction of import duties, and China had previously announced the removal of some existing duties from September 17.
Support and resistance
On the daily chart, Bollinger Bands are uncertainly growing. The price range is expanding, letting the "bulls" renew local highs. The MACD indicator is growing, keeping a strong buy signal (the histogram is above the signal line). Stochastic is near its highs, which indicate that the instrument is overbought in the ultra-short term, and is trying to reverse downwards.
It is better to wait for the clarification of trading signals from technical indicators to open new positions.
Resistance levels: 0.6443, 0.6463, 0.6500, 0.6532.
Support levels: 0.6400, 0.6376, 0.6360, 0.6330.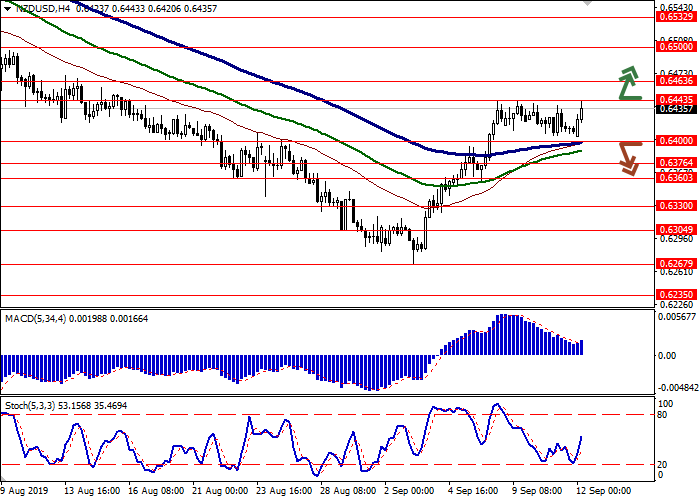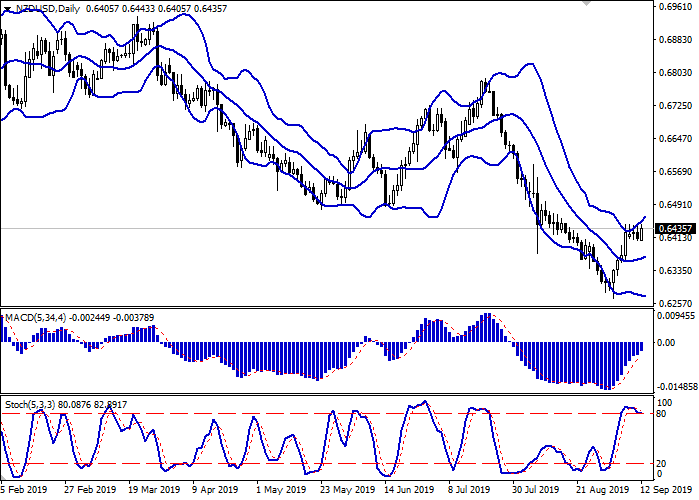 Trading tips
Long positions can be opened after the breakout of the level of 0.6443 with the targets at 0.6532–0.6550. Stop loss is no further than 0.6400.
Short positions can be opened after the breakdown of the level of 0.6400 with the targets at 0.6330–0.6304. Stop loss – 0.6430.
Implementation period: 2–3 days.