EUR/USD: general review
11
September
2019, 13:29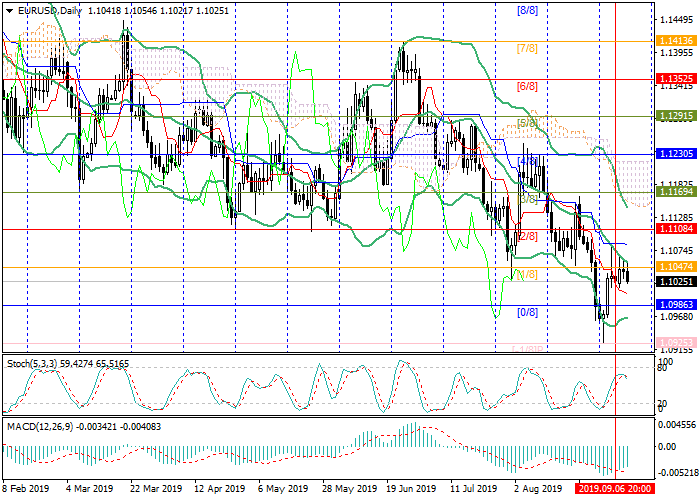 Scenario
Timeframe
Weekly
Recommendation
SELL
Entry Point
1.1020
Take Profit
1.0986, 1.0925
Stop Loss
1.1055
Key Levels
1.0925, 1.0986, 1.1047, 1.1108, 1.1170
Alternative scenario
Recommendation
BUY STOP
Entry Point
1.1050
Take Profit
1.1108, 1.1170
Stop Loss
1.1005
Key Levels
1.0925, 1.0986, 1.1047, 1.1108, 1.1170
Current trend
This week, the pair is trading within a narrow range of 1.1015–1.1060. Positive signals about the US-China trade relations do not allow the euro to weaken, and the uncertainty surrounding tomorrow's ECB meeting hinders the growth of quotes. US Treasury Secretary Steven Mnuchin announced the existence of a "conceptual agreement" on the protection of intellectual property, which is the most controversial trade issue between Washington and Beijing. Today, the Chinese Ministry of Finance announced plans to lift taxes on 16 types of American products from September 17, including livestock feed, cancer drugs, and lubricants. All this encourages the market before the resumption of negotiations in October.
Regarding the latest negative statistics, the ECB could announce a future interest rate cut and possibly return the QE program, especially since Mario Draghi announced in June that he was exploring the possibility of new stimulating measures. Recently, however, a number of regulator officials have opposed the introduction of a wide package of incentives, in particular, the QE program.
Support and resistance
Price has tested the midline of Bollinger Bands but cannot break through it. Judging by the downward reversal of Bollinger Bands and Stochastic, a decline to 1.0986 (Murrey [0/8]) and 1.0925 (Murrey [−1/8]) is possible soon. If the price consolidates above 1.1047 (Murrey [1/8]) and the midline of Bollinger Bands, growth may continue to 1.1108 (Murrey [2/8]) and 1.1170 (Murrey [3/8]). But so far this scenario seems less probable.
Resistance levels: 1.1047, 1.1108, 1.1170.
Support levels: 1.0986, 1.0925.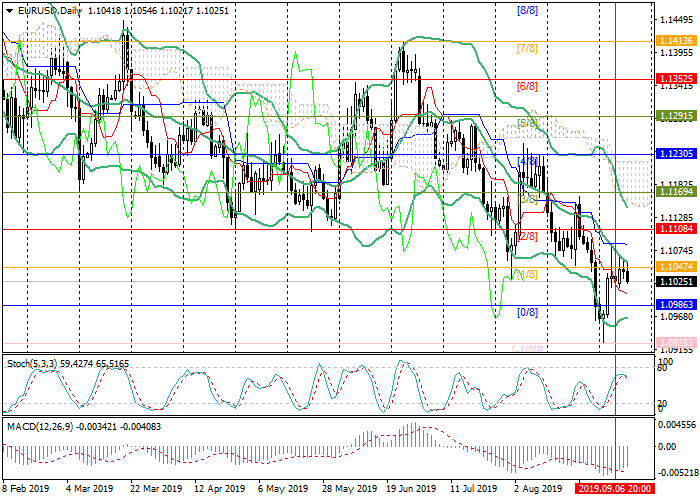 Trading tips
Short positions may be opened from the current level with targets at 1.0986, 1.0925 and stop loss at 1.1055.
Long positions may be opened if the instrument consolidates above 1.1047 with targets at 1.1108, 1.1170 and stop loss at 1.1005.
Implementation period: 4-5 days.