EUR/USD: the euro is strengthening
10
September
2019, 09:50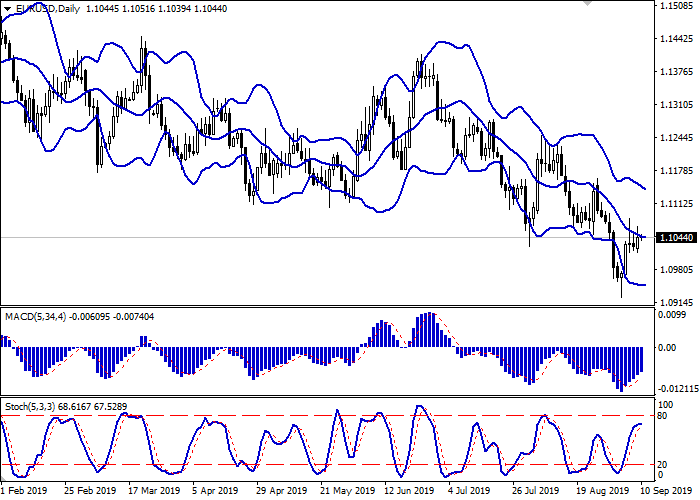 Scenario
Timeframe
Intraday
Recommendation
BUY STOP
Entry Point
1.1070
Take Profit
1.1133, 1.1163
Stop Loss
1.1028
Key Levels
1.0924, 1.0962, 1.1000, 1.1028, 1.1067, 1.1100, 1.1133, 1.1163
Alternative scenario
Recommendation
SELL STOP
Entry Point
1.1020, 1.0995
Take Profit
1.0924, 1.0900
Stop Loss
1.1040, 1.1067
Key Levels
1.0924, 1.0962, 1.1000, 1.1028, 1.1067, 1.1100, 1.1133, 1.1163
Current trend
EUR showed moderate growth against USD on Monday, approaching its local highs updated at the end of last week. EUR was supported by good data from Germany. Exports from Germany in July increased by 0.7% MoM after a decrease of 0.1% MoM last month. Analysts had expected negative dynamics to worsen to –0.5% MoM. Imports showed a steady decrease of 1.5% MoM for the same period after a rise of 0.5% MoM last month with a forecast of –0.3% MoM. All this led to an increase in German trade balance. In July, it reached EUR 20.2B against the previous EUR 18.1B. Experts predicted a decrease to EUR 17.5B. The "bullish" sentiment for the instrument was also supported by data on Investor Confidence from the euro area. In September, according to Sentix, the indicator showed growth from –13.7 to –11.1 points, which turned out to be better than expectations of –14.0 points.
Support and resistance
Bollinger Bands in D1 chart demonstrate a gradual decrease. The price range is slightly narrowed from below, remaining spacious enough for the current market activity. MACD indicator is growing, keeping a stable buy signal (located above the signal line). Stochastic maintains an uptrend, but also shows a tendency to reverse into the horizontal plane, which may signal growing risks of overbought EUR in the ultra-short term.
Existing long positions should be kept until the situation clears up.
Resistance levels: 1.1067, 1.1100, 1.1133, 1.1163.
Support levels: 1.1028, 1.1000, 1.0962, 1.0924.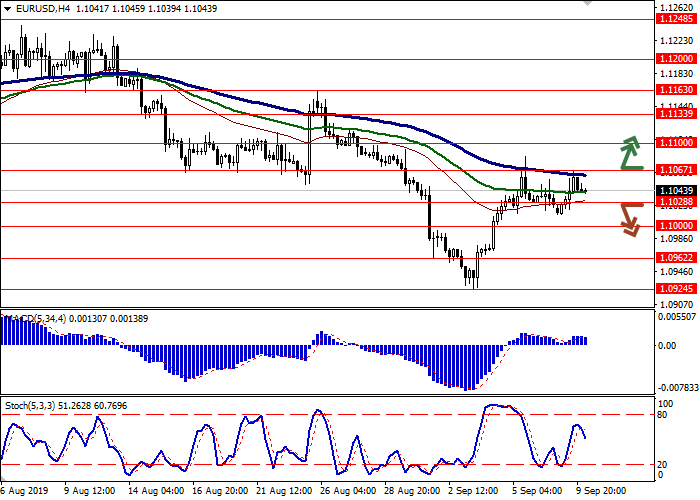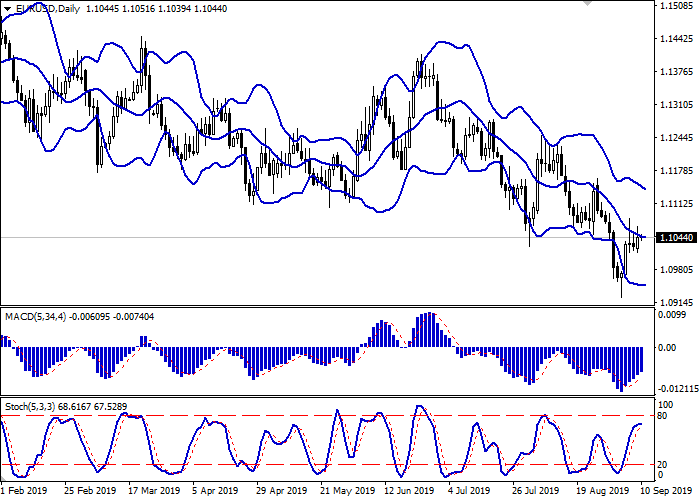 Trading tips
To open long positions, one can rely on the breakout of 1.1067. Take profit — 1.1133 or 1.1163. Stop loss — 1.1028.
A breakdown of 1.1028 or 1.1000 may be a signal for new sales with target at 1.0924 or 1.0900. Stop loss — 1.1040 or 1.1067.
Implementation time: 2-3 days.