EUR/USD: euro is recovering
13
September
2019, 10:05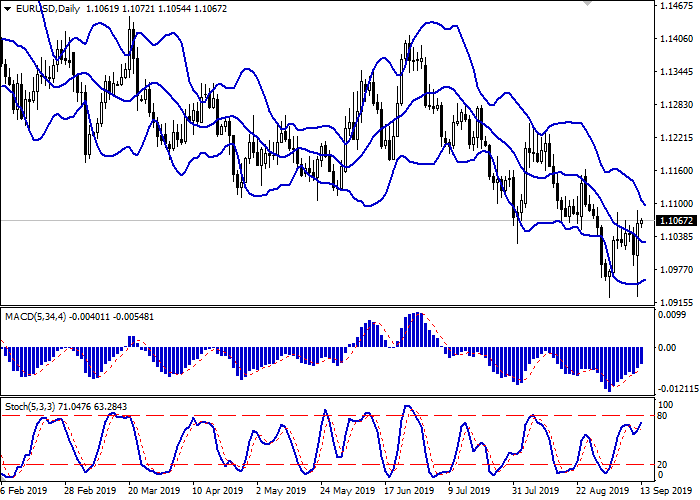 Scenario
Timeframe
Intraday
Recommendation
BUY STOP
Entry Point
1.1105
Take Profit
1.1163, 1.1180, 1.1200
Stop Loss
1.1060
Key Levels
1.0962, 1.1000, 1.1028, 1.1050, 1.1100, 1.1133, 1.1163, 1.1200
Alternative scenario
Recommendation
SELL STOP
Entry Point
1.1045
Take Profit
1.0962, 1.0924
Stop Loss
1.1100
Key Levels
1.0962, 1.1000, 1.1028, 1.1050, 1.1100, 1.1133, 1.1163, 1.1200
Current trend
Yesterday, the EUR/USD pair actively grew, renewing local highs from August 29. At the same time, during the day the instrument traded mainly with a decrease, and the published decision of the ECB on monetary policy led to a short-term collapse of the euro to the lows of September 3.
As expected, the European regulator kept the key interest rate unchanged at 0.0% and lowered the deposit rate to –0.50%. The ECB also announced the launch of a new quantitative easing program of 2.6 trillion euros at a rate of 20 billion euros per month in November. Even though the regulator's decision coincided with the forecasts, analysts note that there is a certain split within the ECB, and this may threaten new problems in the future. However, the European regulator is waiting for an update soon – Christine Lagarde, who now heads the IMF, will become the head of the ECB.
Support and resistance
On the daily chart, Bollinger bands move flat. The price range narrows, reflecting the appearance of ambiguous dynamics in the short term. MACD grows, keeping a strong buy signal (the histogram is above the signal line). Stochastic increases, approaching its highs, which indicates that the pair may become overbought in the ultra-short term.
Current technical indicators do not contradict the further development of the "bullish trend" for the euro in the short and/or ultra-short term.
Resistance levels: 1.1100, 1.1133, 1.1163, 1.1200.
Support levels: 1.1050, 1.1028, 1.1000, 1.0962.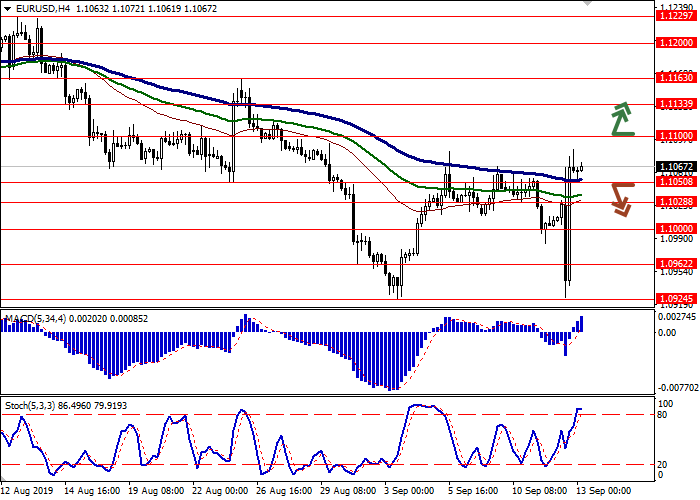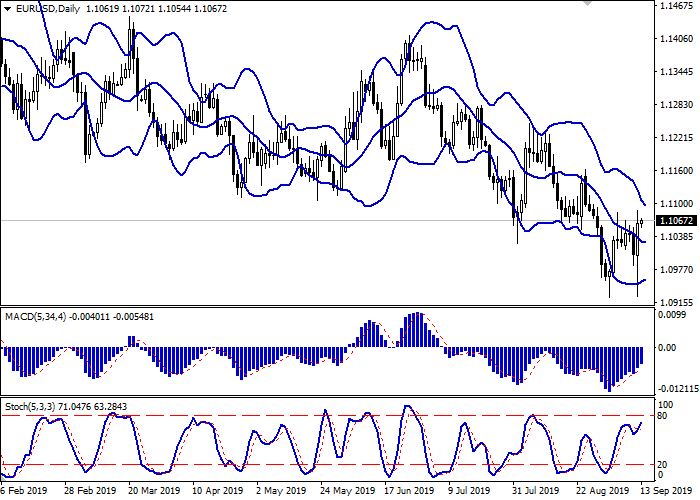 Trading tips
Long positions can be opened after the breakout of 1.1100 with the targets at 1.1163 or 1.1180–1.1200. Stop loss – 1.1060.
Short positions can be opened after the breakdown of 1.1050 with the target at 1.0962 or 1.0924. Stop loss – 1.1100.
Implementation period: 2–3 days.