Brent Crude Oil: oil prices are going down
13
September
2019, 09:59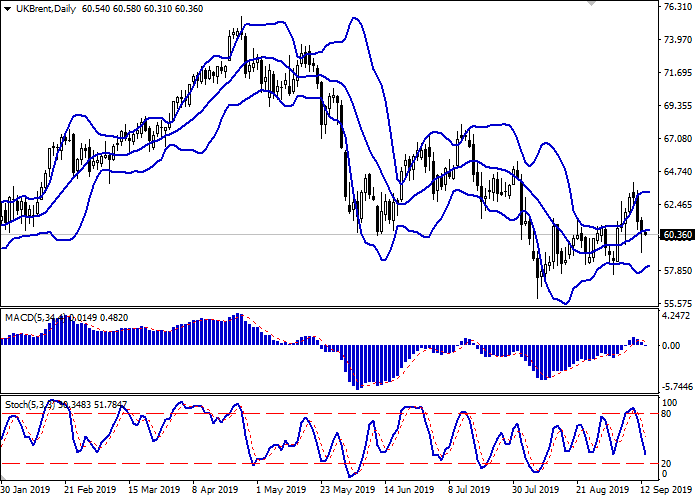 Scenario
Timeframe
Intraday
Recommendation
BUY STOP
Entry Point
60.75, 61.05
Take Profit
62.67, 63.00
Stop Loss
60.00
Key Levels
57.57, 58.28, 59.10, 60.00, 60.70, 61.51, 62.67, 64.00
Alternative scenario
Recommendation
SELL STOP
Entry Point
59.95
Take Profit
58.28, 57.57
Stop Loss
61.00
Key Levels
57.57, 58.28, 59.10, 60.00, 60.70, 61.51, 62.67, 64.00
Current trend
Oil prices fell on Thursday, responding to OPEC+ decision to leave the parameters for reducing oil production unchanged. The central place in the discussions was given to the production reduction in Russia, Nigeria and Iraq to the indicated levels, and it was decided to postpone the discussion of changing these levels at the December meeting of the cartel.
Additional pressure on the instrument was provided by the ECB decision of lowering deposit rates and launching a new quantitative easing program. Immediately after the publication of this decision, Donald Trump again criticized the Fed and demanded immediate action. It is possible that the Fed decision next week will be adjusted according to the example of the ECB, and the market will see a more active easing of monetary policy. Today, investors expect Baker Hughes Oil Rig Count to be published.
Support and resistance
Bollinger Bands in the D1 chart demonstrate flat dynamics. The price range is narrowing, reflecting ambiguous dynamics of trading in the short term. MACD is declining keeping a weak sell signal (located below the signal line). In addition, the indicator is trying to consolidate below the zero mark. Stochastic keeps a steady downward direction, but is rapidly approaching its lows, which indicates the growing risks associated with the oversold instrument in the ultra-short term.
Existing short positions should be kept until the situation clears up.
Resistance levels: 60.70, 61.51, 62.67, 64.00.
Support levels: 60.00, 59.10, 58.28, 57.57.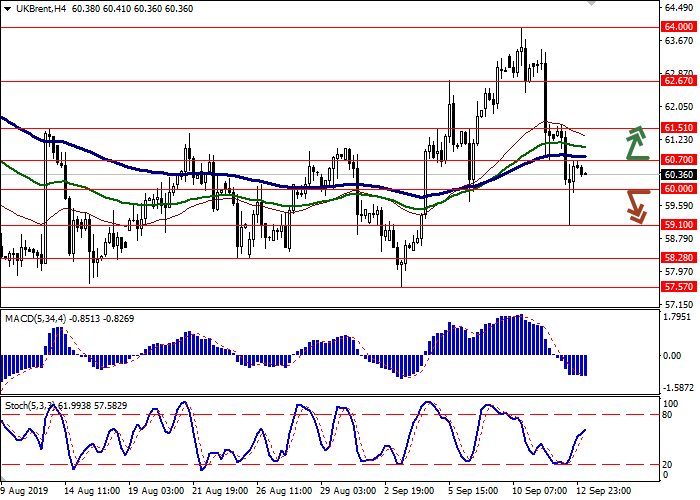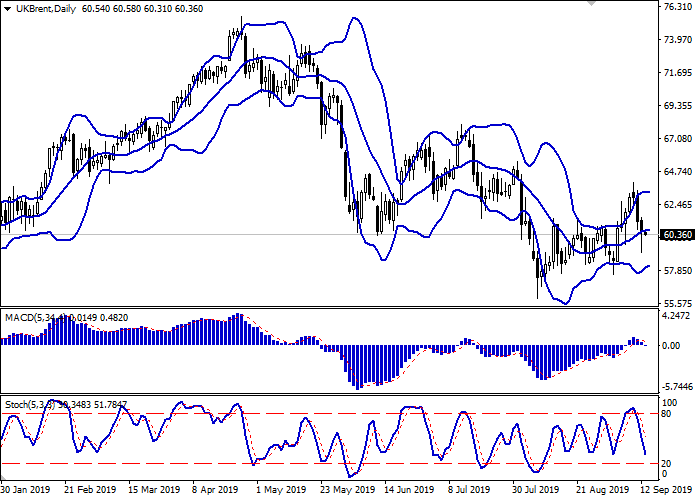 Trading tips
To open long positions, one can rely on the breakout of 60.70 or 61.00. Take profit — 62.67 or 63.00. Stop loss — 60.00.
A confident breakdown of 60.00 may become a signal to further sales with target at 58.28 or 57.57. Stop loss — 61.00.
Implementation time: 2-3 days.