Bitcoin Cash: technical analysis
12
September
2019, 10:39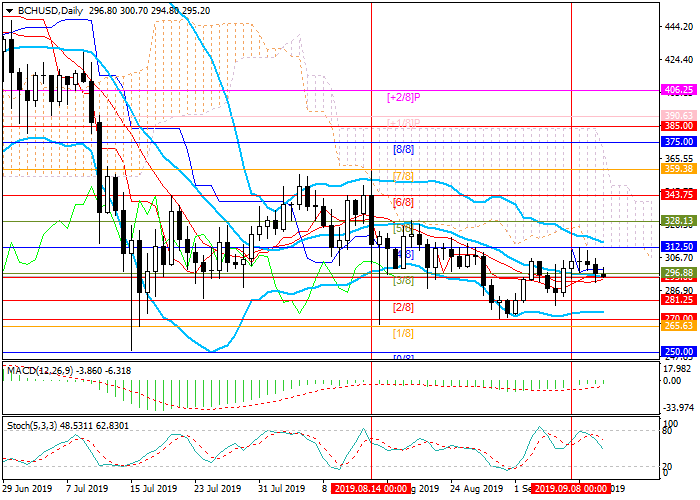 Scenario
Timeframe
Weekly
Recommendation
SELL STOP
Entry Point
293.00
Take Profit
281.25, 270.00
Stop Loss
303.00
Key Levels
270.00, 281.25, 295.00, 312.50, 328.13, 343.75
Alternative scenario
Recommendation
BUY STOP
Entry Point
315.00
Take Profit
328.13, 343.75
Stop Loss
305.00
Key Levels
270.00, 281.25, 295.00, 312.50, 328.13, 343.75
Current trend
This week, BCH quotes were corrected downwards and are now testing the middle line of Bollinger bands at 295.00. The consolidation of the price below it will give the prospect of a decline to the levels of 281.25 (Murrey [2/8]) and 270.00 (a two-week low). The key "bullish" level is 313.50 (Murrey [4/8], the upper line of Bollinger bands). After its breakout, the price will return to the positive zone of the Murrey trading range and will be able to rise to the levels of 328.13 (Murrey [5/8]) and 343.75 (Murrey [6/8]). However, this option of price movement seems less likely since the MACD histogram has stabilized in the negative zone, and Stochastic has reversed downwards.
Support and resistance
Resistance levels: 312.50, 328.13, 343.75.
Support levels: 295.00, 281.25, 270.00.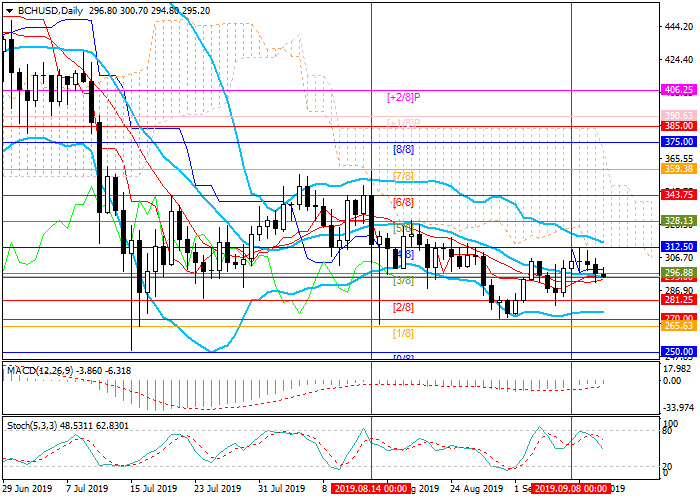 Trading tips
Short positions can be opened below the level of 295.00 with the targets at 281.25, 270.00 and stop loss 303.00.
Long positions can be opened above the level of 312.50 with the targets at 328.13, 343.75 and stop loss 305.00.
Implementation period: 4–5 days.