AUD/USD: general review
12
September
2019, 13:50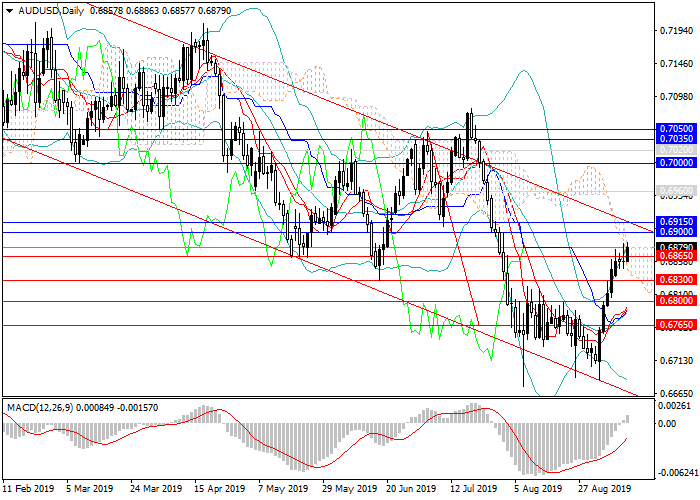 Scenario
Timeframe
Weekly
Recommendation
SELL
Entry Point
0.6877
Take Profit
0.6765
Stop Loss
0.6950
Key Levels
0.6700, 0.6730, 0.6765, 0.6800, 0.6865, 0.6900, 0.6915, 0.6960, 0.7000, 0.7020, 0.7050
Current trend
The Australian dollar moved to growth against the US one after a protracted fall.
In two weeks, by the beginning of August, the pair had lost more than 400 points, reaching the lower border of a broad downward range, and then moved to the lateral consolidation. After several unsuccessful attempts to break down the lower border of the downward channel, the instrument reversed and headed up. In two weeks, the pair gained more than 200 points and is now approaching a key resistance level, which is the upper border of the downward range. The upward movement was caused by the fixation of a large volume of short positions at local lows and a decrease in demand for USD.
Today, special attention should be paid to data on inflation and the US labor market; consensus forecasts indicate a decline in August.
Support and resistance
Confirmation of forecasts may put additional pressure on the US currency, and the upward momentum will strengthen. Soon, key resistance levels of 0.6900, 0.6915, which are the upper border of the range, will get in the way of the pair. Breaking them up without a serious catalyst will be hard. Perhaps, from them, the instrument will again go down with targets at 0.6800, 0.6785.
Technical indicators on the W1 chart confirm the decline forecast: MACD indicates the preservation of the high volume of short positions, and Bollinger Bands are pointing downwards.
Support levels: 0.6865, 0.6830, 0.6800, 0.6765, 0.6730, 0.6700.
Resistance levels: 0.6900, 0.6915, 0.6960, 0.7000, 0.7020, 0.7050.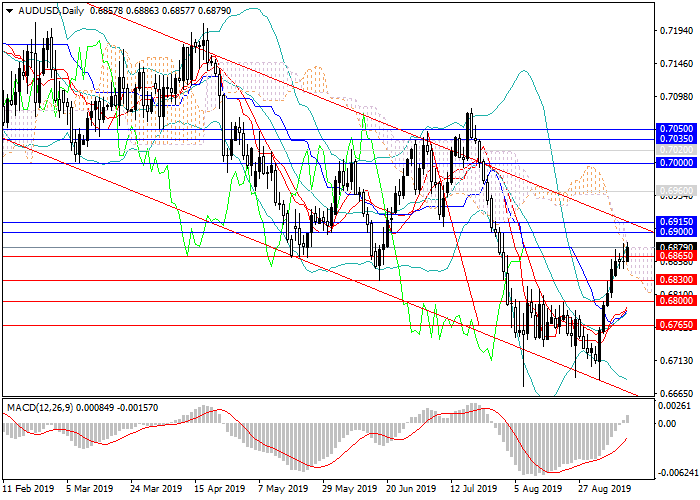 Trading tips
In this situation, short positions may be opened from the current level with the target at 0.6765 and stop loss at 0.6950.