USD/CHF: dollar declines
09
August
2019, 09:58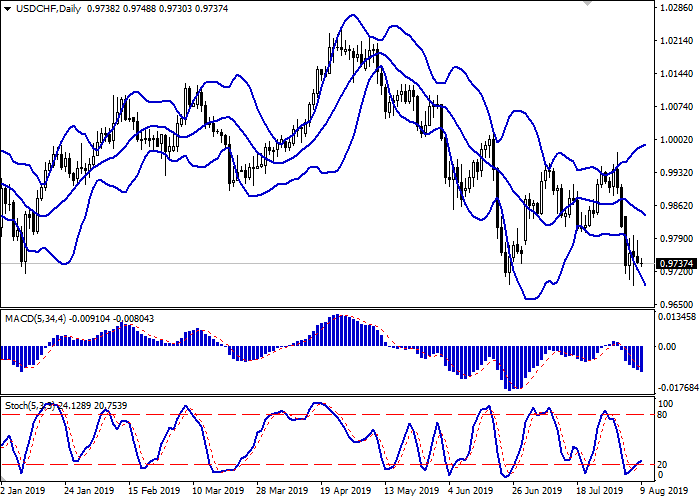 Scenario
Timeframe
Intraday
Recommendation
BUY STOP
Entry Point
0.9780, 0.9805
Take Profit
0.9860, 0.9887
Stop Loss
0.9760, 0.9740
Key Levels
0.9670, 0.9702, 0.9730, 0.9775, 0.9800, 0.9833, 0.9860
Alternative scenario
Recommendation
SELL STOP
Entry Point
0.9725
Take Profit
0.9670, 0.9650
Stop Loss
0.9760
Key Levels
0.9670, 0.9702, 0.9730, 0.9775, 0.9800, 0.9833, 0.9860
Current trend
The USD/CHF pair is developing an uncertain downward trend, approaching the lows since September 2018, updated on Wednesday. USD is under pressure of the trade conflict between the United States and China, which threatens another slowdown in the global economy. Also, China markedly depreciated the CNY to minimize the negative effect of US import duties. The low exchange rate of the Chinese currency also affects the Fed, which may decide to further reduce the interest rate, especially given the constant stream of accusations from Donald Trump.
Today, investors expect the publication of the unemployment rate in Switzerland for July. It is assumed that the index will remain at the previous level of 2.3%. The United States will release statistics on production inflation, which is unlikely to significantly affect the dynamics of the instrument.
Support and resistance
On the daily chart, Bollinger bands are moderately reduced. The price range is expanding, letting the "bears" renew the record lows. The MACD indicator decreases, keeping a moderate sell signal (the histogram is below the signal line). Stochastic is growing, retreating from its lows, which so far weakly correlates with actual market dynamics.
Corrective growth is possible in the short and/or ultra-short term.
Resistance levels: 0.9775, 0.9800, 0.9833, 0.9860.
Support levels: 0.9730, 0.9702, 0.9670.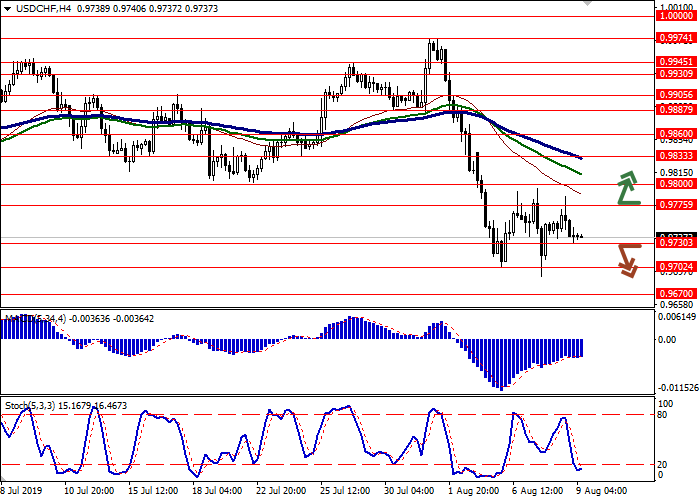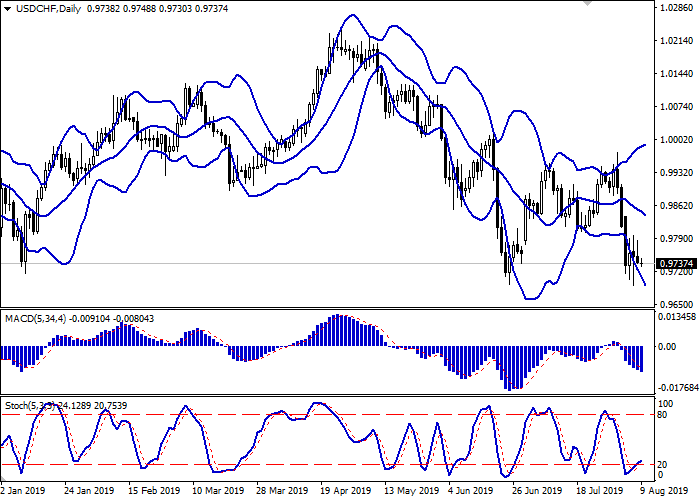 Trading tips
Long positions can be opened after the breakout of the level of 0.9775 or 0.9800 with the target at 0.9860 or 0.9887. Stop loss is 0.9760–0.9740.
Short positions can be opened after the breakdown of the level of 0.9730 with the targets at 0.9670–0.9650. Stop loss is 0.9760.
Implementation period: 2–3 days.