EUR/USD: general analysis
16
August
2019, 14:11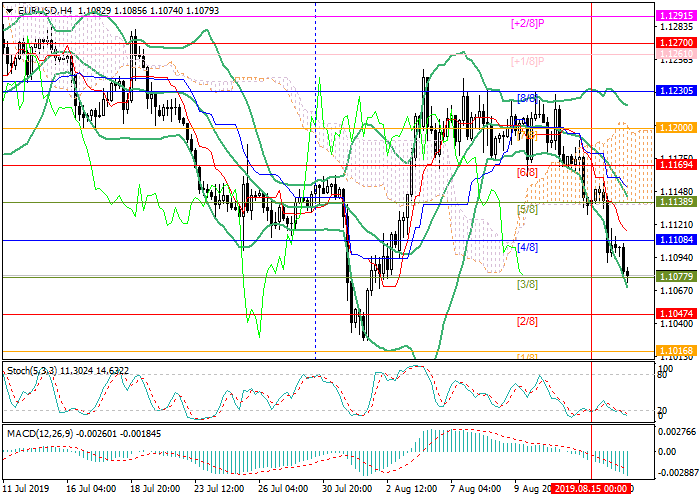 Scenario
Timeframe
Weekly
Recommendation
SELL
Entry Point
1.1076
Take Profit
1.1047, 1.1016
Stop Loss
1.1095
Key Levels
1.1016, 1.1016, 1.1078, 1.1108, 1.1138, 1.1169
Alternative scenario
Recommendation
BUY STOP
Entry Point
1.1110
Take Profit
1.1138, 1.1169
Stop Loss
1.1090
Key Levels
1.1016, 1.1016, 1.1078, 1.1108, 1.1138, 1.1169
Current trend
Yesterday, the EUR/USD pair was corrected to two-week lows around ​​1.1078 (Murrey [3/8]). Comments by the head of the Federal Reserve Bank of St. Louis James Bullard and US President Donald Trump supported USD. Bullard in an interview with Fox Business News noted that the inverted yield curve should remain for a certain period to be taken as a "bearish" signal. President Trump, after threats by the PRC authorities to retaliate for the introduction of new US tariffs, said that the US-PRC trade would be relatively short since China still wanted to conclude the deal. JP Morgan experts predict a 40% chance of a global recession in the next 6–9 months is China and the United States fail to agree.
During the day, July data from the US construction market will be released. Building Permits may increase from 1.232 to 1.270 million, and Housing Starts may increase from 1.253 to 1.257 million. The implementation of forecasts may additionally support USD.
Support and resistance
The price tests 1.1078 (Murrey [3/8]) and may fall to 1.1047 (Murrey [2/8]), 1.1016 (Murrey [1/8]). The upward correction is possible after a breakout of 1.1108 (Murrey [0/8]) and the price's return to the positive zone of Murrey trading range. It can rise to 1.1138 (Murrey [5/8], Bollinger bands' midline), 1.1170 (Murrey [6/8]). However, it seems less likely, as indicators reflect a decline. Bollinger Bands and Stochastic are directed downwards. The MACD increases in the negative zone.
Resistance levels: 1.1108, 1.1138, 1.1169.
Support levels: 1.1078, 1.1047, 1.1016.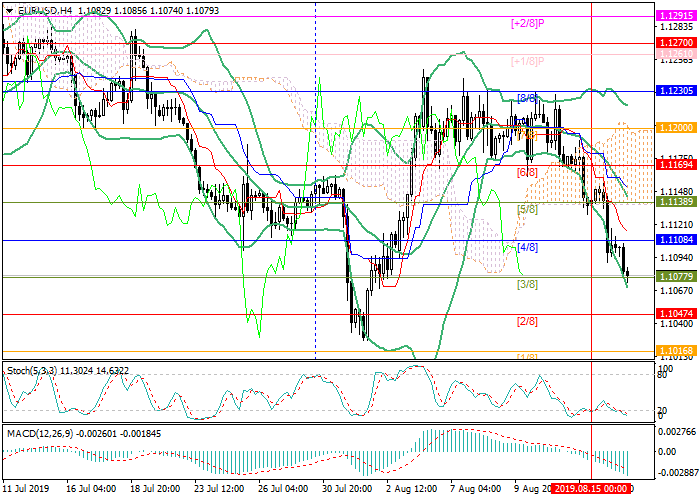 Trading tips
Short positions can be opened below 1.1078 with the targets at 1.1047, 1.1016. Stop loss – 1.1095.
Long positions can be opened after consolidation above 1.1108 with the targets at 1.1138, 1.1169. Stop loss – 1.1090.
Implementation period: 4–5 days.