Brent Crude Oil: oil remains under pressure
09
August
2019, 09:58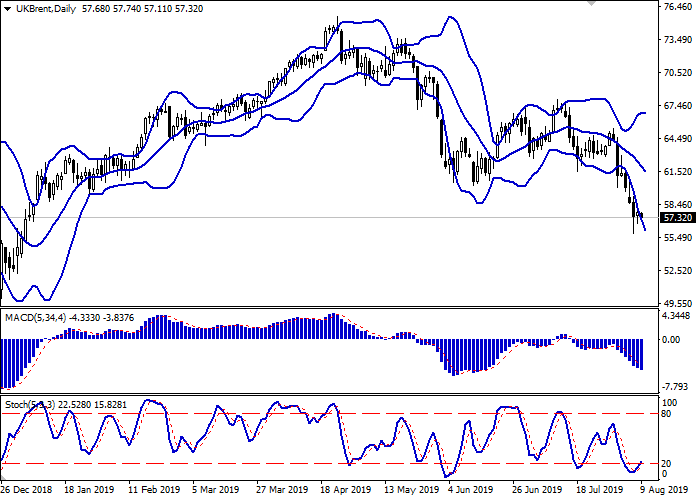 Scenario
Timeframe
Intraday
Recommendation
BUY STOP
Entry Point
58.20
Take Profit
60.64, 61.51
Stop Loss
57.00
Key Levels
55.00, 55.33, 55.88, 56.77, 58.17, 59.16, 60.00, 60.64
Alternative scenario
Recommendation
SELL STOP
Entry Point
56.70
Take Profit
55.00
Stop Loss
57.70
Key Levels
55.00, 55.33, 55.88, 56.77, 58.17, 59.16, 60.00, 60.64
Current trend
Oil quotes rose slightly on Thursday, receiving support from the expectation of a decrease in production volumes amid a prolonged decline in prices. In addition, the instrument was supported by strong macroeconomic statistics from China, which signals a slight improvement in global demand, despite growing pressure from the US. The market also reacted positively to statements by Saudi Arabia, which, in addition to the current OPEC+ agreement, calls on all oil exporters to discuss an additional reduction in prices in order to maintain a balance of supply and demand in the market. Today, investors are waiting for Baker Hughes US Oil Rig Count report.
Support and resistance
Bollinger Bands in D1 chart demonstrate a stable decrease. The price range is expanding, hardly conforming to the "bearish" trend development. MACD is going down keeping a moderate sell signal (located below the signal line). Stochastic reaching its lows gradually reverses upwards, pointing at the risks of corrective growth in the short or ultra-short term.
One can consider the possibility of opening new long positions in the short and/or ultra-short term, if the signals of technical indicators do not contradict this.
Resistance levels: 58.17, 59.16, 60.00, 60.64.
Support levels: 56.77, 55.88, 55.33, 55.00.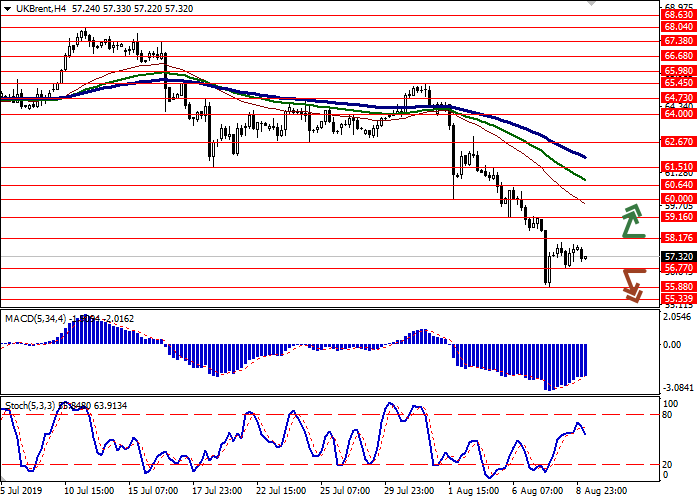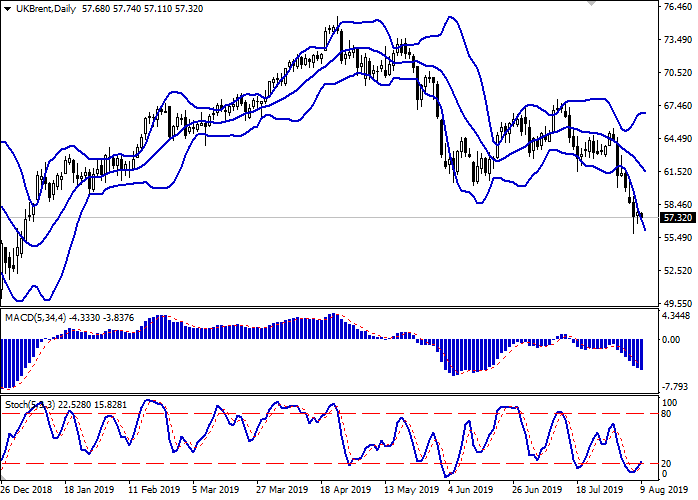 Trading tips
To open long positions, one can rely on the breakout of 58.17. Take profit — 60.64 or 61.51. Stop loss — 57.00. Implementation time: 2-3 days.
The breakdown of 56.77 may serve as a signal to new sales with the target at 55.00. Stop loss — 57.70. Implementation time: 1-2 days.