Bitcoin: technical analysis
12
August
2019, 10:22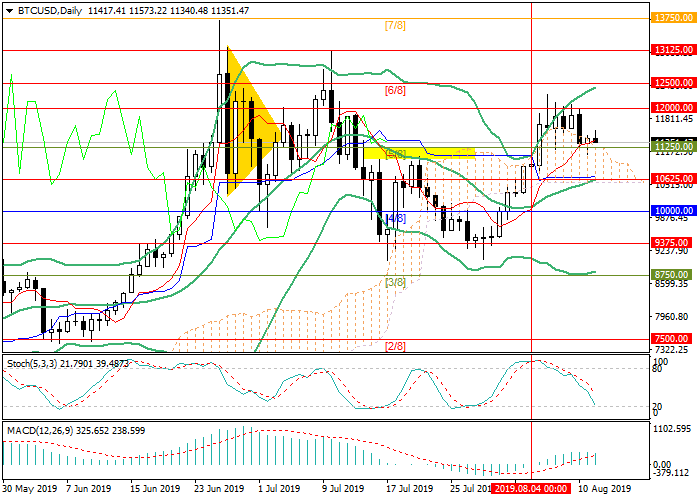 Scenario
Timeframe
Weekly
Recommendation
BUY STOP
Entry Point
11500.00
Take Profit
12500.00, 13125.00
Stop Loss
10950.00
Key Levels
10000.00, 10625.00, 11250.00, 12000.00, 12500.00, 13125.00, 13750.00
Alternative scenario
Recommendation
SELL STOP
Entry Point
10500.00
Take Profit
10000.00, 9375.00
Stop Loss
11000.00
Key Levels
10000.00, 10625.00, 11250.00, 12000.00, 12500.00, 13125.00, 13750.00
Current trend
Last week, the price of Bitcoin repeatedly tested the level of 12000.00 but failed to consolidate above it and was corrected to the level of 11250.00 (Murrey [5/8]). Consolidation below it will let the correction to develop to the levels of 10625.00 (the middle line of Bollinger bands, Murrey [2/8] H4) and 10000.00 (Murrey [4/8]). Otherwise, the price may grow to the levels of 12500.00 (Murrey [6/8]) and 13125.00 (Murrey [5/8] H4).
Technical indicators do not give a clear signal. Bollinger Bands are reversing upwards, confirming the relevance of the upward trend. The MACD histogram is stable in the positive zone. Stochastic is directed downwards but approaches the oversold zone, which does not exclude a limited correction. In general, in the near future, the instrument may resume its growth from current levels or the middle line of Bollinger Bands (10625.00).
Support and resistance
Resistance levels: 12000.00, 12500.00, 13125.00, 13750.00.
Support levels: 11250.00, 10625.00, 10000.00.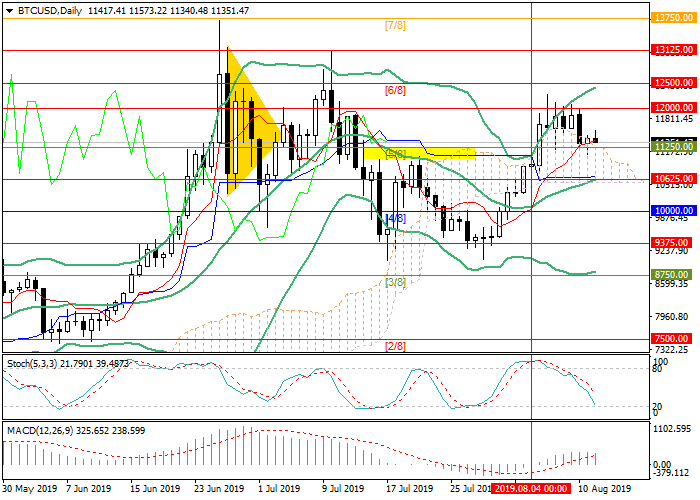 Trading tips
Long positions can be opened from the level of 11500.00 or 10625.00 with the targets at 12500.00, 13125.00 and stop loss 10950.00 and 10300.00, respectively.
Short positions can be opened below the level of 10625.00 with the targets at 10000.00, 9375.00 and stop loss 11000.00.
Implementation period: 4–5 days.