Litecoin: technical analysis
11
July
2019, 10:16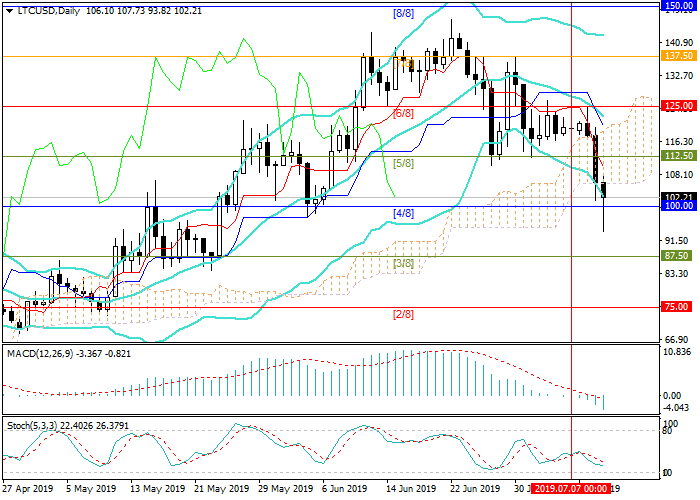 Scenario
Timeframe
Intraday
Recommendation
SELL STOP
Entry Point
98.00
Take Profit
87.50, 75.00
Stop Loss
108.30
Key Levels
75.00, 87.50, 100.00, 112.50, 125.00, 137.50
Alternative scenario
Recommendation
BUY STOP
Entry Point
114.00
Take Profit
125.00, 137.50
Stop Loss
105.00
Key Levels
75.00, 87.50, 100.00, 112.50, 125.00, 137.50
Current trend
This week, LTC quotes were corrected downwards and tested the level of 100.00 in the middle of the Murrey trading range. If the price consolidates below it, a continuation of the decline to the levels of 87.50 (Murrey [3/8]) and 75.00 (Murrey [2/8]) is likely. The key "bullish" level is 112.50 (Murrey [5/8]). Its breakout will give the prospect of returning to the middle line of Bollinger bands around ​​125.00 (Murrey [6/8]) and higher to the level of 137.50 (Murrey [7/8]). However, while this option of price movement looks less preferable since technical indicators confirm a decline. The Bollinger bands and Stochastic reversed downwards. The MACD histogram increases in the negative zone.
Support and resistance
Resistance levels: 112.50, 125.00, 137.50.
Support levels: 100.00, 87.50, 75.00.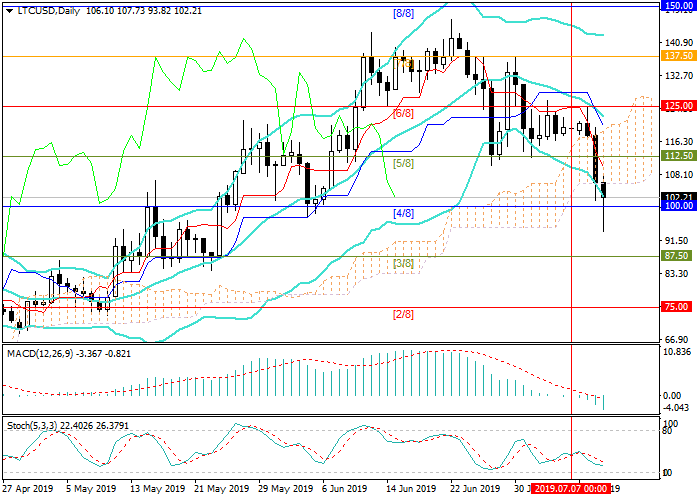 Trading tips
Short positions can be opened after the price consolidates below the level of 100.00 with the targets at 87.50, 75.00 and stop loss 108.30.
Long positions can be opened above the level of 112.50 with the targets at 125.00, 137.50 and stop loss 105.00.
Implementation period: 3–4 days.