GBP/USD: general review
15
May
2019, 11:36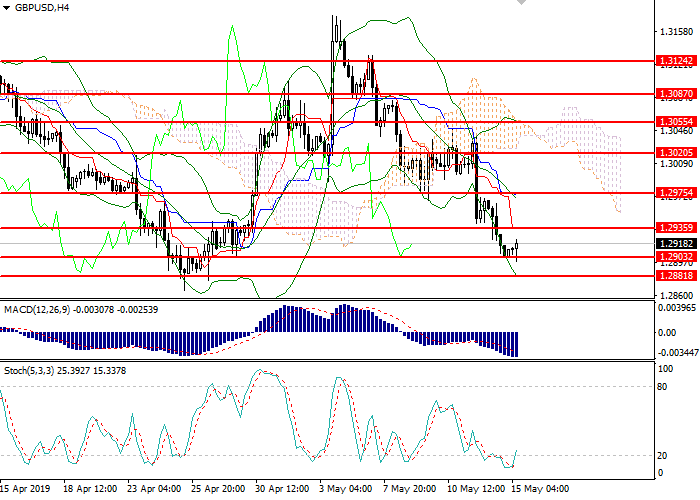 Scenario
Timeframe
Intraday
Recommendation
SELL STOP
Entry Point
1.2875
Take Profit
1.2800
Stop Loss
1.2910
Key Levels
1.2851, 1.2881, 1.2903, 1.2935, 1.2975, 1.3020, 1.3055, 1.3087, 1.3124
Alternative scenario
Recommendation
BUY STOP
Entry Point
1.2940
Take Profit
1.2975
Stop Loss
1.2920
Key Levels
1.2851, 1.2881, 1.2903, 1.2935, 1.2975, 1.3020, 1.3055, 1.3087, 1.3124
Current trend
GBP remains weak against the background of negative macroeconomic publications, as well as of uncertainty with Brexit.
Yesterday, the pair was under pressure from weak statistics on the UK labor market. The increase in Average Earnings + Bonus in March was 3.2%, against the forecast of 3.4%. At the moment, investors still allow monetary policy tightening after the implementation of Brexit.
At the same time, additional pressure on the pair is exerted by increased pressure on British Prime Minister Theresa May. Negotiations within the Parliament are not successful, which forms the threat of hard Brexit.
Today at 14:30 (GMT+2), the US Retail Sales data is expected to be released. The projected growth in retail sales across the industry will help reduce the instrument to the range of 1.2850–1.2800. In addition, at 15:15 (GMT+2) the data on industrial production in the USA is expected.
Support and resistance
On H4 chart the instrument corrected to a strong support level of 1.2900. Bollinger Bands are directed downwards, and the price range expanded, which indicates the continuation of the downtrend. MACD is keeping a weak sell signal. Stochastic has entered the oversold area; a buy signal can be generated during the day.
Resistance levels: 1.2935, 1.2975, 1.3020, 1.3055, 1.3087, 1.3124.
Support levels: 1.2903, 1.2881, 1.2851.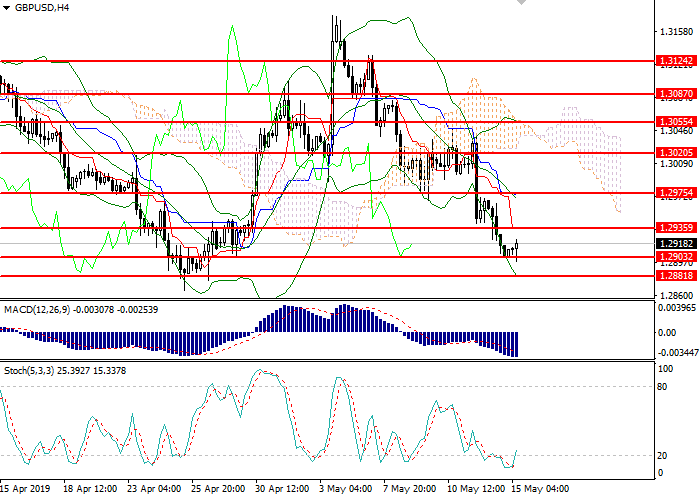 Trading tips
Short positions may be opened below the level of 1.2880 with target at 1.2800 and stop loss at 1.2910. Implementation time: 1-2 days.
Long positions may be opened above 1.2935 with target at 1.2975 and stop loss at 1.2920. Implementation time: 1 day.