AUD/USD: ambiguous dynamic
15
March
2019, 09:07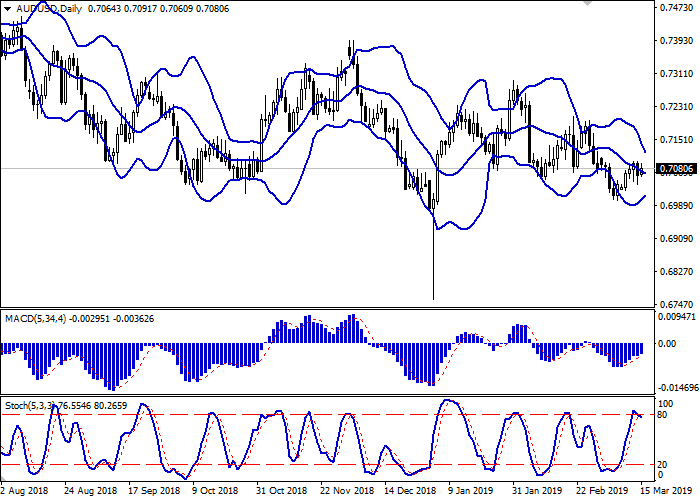 Scenario
Timeframe
Intraday
Recommendation
BUY STOP
Entry Point
0.7100
Take Profit
0.7142, 0.7159
Stop Loss
0.7078
Key Levels
0.7000, 0.7019, 0.7040, 0.7052, 0.7078, 0.7097, 0.7116, 0.7142
Alternative scenario
Recommendation
SELL STOP
Entry Point
0.7075
Take Profit
0.7052, 0.7040, 0.7019
Stop Loss
0.7100
Key Levels
0.7000, 0.7019, 0.7040, 0.7052, 0.7078, 0.7097, 0.7116, 0.7142
Current trend
AUD is consolidating near local highs, updated mid-week. Technical factors and the publication of poor macroeconomic statistics from the United States moderately support the instrument. In addition, investors began to gradually become disillusioned with the progress of negotiations between the US and China. The meeting of heads of countries, previously scheduled for the end of March, is likely to take place in April, and traders fear that it will follow the scenario with North Korea. In addition, Donald Trump has recently been quite tough with respect to the EU. In particular, he promised to apply strict economic measures if Brussels did not agree to negotiate.
Today, investors are focused on US industrial production statistics for February and the consumer confidence index from the University of Michigan in March.
Support and resistance
On the daily chart, Bollinger bands are steadily declining. The price range narrows, reflecting the emergence of ambiguous trading dynamics in the short term. The MACD indicator is growing, keeping a moderate buy signal (the histogram is above the signal line). Stochastic, approaching its highs, reversed into a downward plane, indicating the possibility of a corrective decline development in the super-short term.
Resistance levels: 0.7078, 0.7097, 0.7116, 0.7142.
Support levels: 0.7052, 0.7040, 0.7019, 0.7000.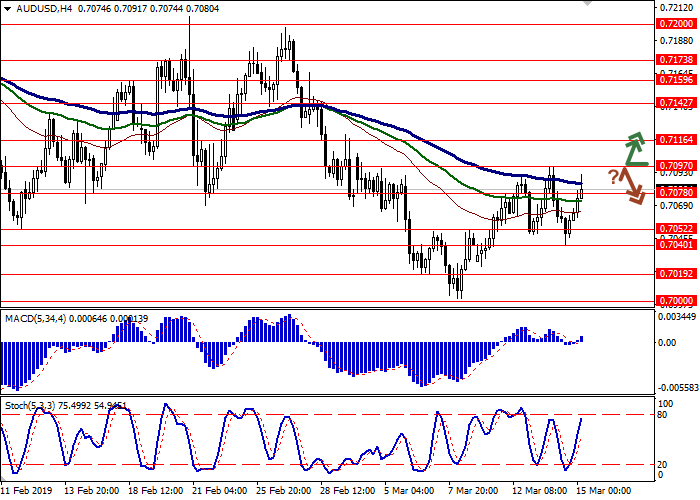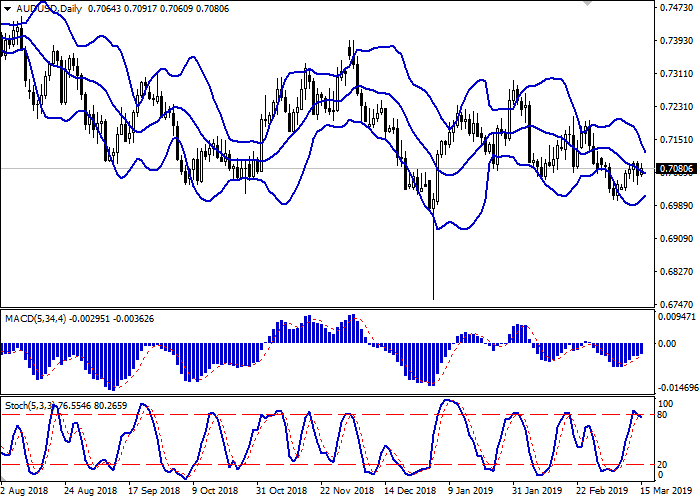 Trading tips
Long positions can be opened after the breakout of the level of 0.7097 with the targets at 0.7142–0.7159. Stop loss is 0.7078.
Short positions can be opened after a rebound from 0.7097 and a breakdown of 0.7078 with the targets at 0.7052–0.7040 or 0.7019. Stop loss is 0.7100.
Implementation period: 2–3 days.