GBP/USD: general analysis
26
February
2020, 13:50
Scenario
Timeframe
Intraday
Recommendation
BUY
Entry Point
1.2940
Take Profit
1.3020
Stop Loss
1.2925
Key Levels
1.2836, 1.2921, 1.2984, 1.3048, 1.3100, 1.3160, 1.3225, 1.3297
Alternative scenario
Recommendation
SELL STOP
Entry Point
1.2925
Take Profit
1.2890
Stop Loss
1.2960
Key Levels
1.2836, 1.2921, 1.2984, 1.3048, 1.3100, 1.3160, 1.3225, 1.3297
Current trend
Yesterday, the GBP/USD pair strengthened amid a poor US Consumer Confidence but today almost lost all of its progress due to a drop in mortgage lending in the UK.
Coronavirus continues to spread, slowing economic activity in Europe, the Asian region and the Middle East. Currently, investors are leaving the market, fearing a sharp fall in the global economy. USD becomes more vulnerable as the US Centers for Disease Control warned of a high probability of a pandemic in the country. The US stock market responded with a massive decline, Treasury bond yields declined. Despite the assurances of the Fed members about a stable monetary policy, the likelihood of lower rates in the near future increased. In the EU, some cases of the disease were confirmed. If the governments of European countries do not begin to restrict the movement of citizens, as well as implement budgetary and monetary stimulus, the panic in the market will intensify.
Today at 17:00 (GMT+2), US housing market data will be released. Tomorrow at 15:30 (GMT+2), US Q4 2019 GDP will be published, and on Thursday at 15:30 (GMT+2), US Durable Goods Orders will be released.
Support and resistance
On a 4-hour chart, the instrument tests Bollinger bands' MA, which acts as a key support. Bollinger bands are directed upward, and the price range remains wide, which indicates the resumption of growth from the current level. MACD does not give an entry signal. Stochastic formed a sell signal.
Resistance levels: 1.3100, 1.3160, 1.3225, 1.3297.
Support levels: 1.3048, 1.2984, 1.2921, 1.2836.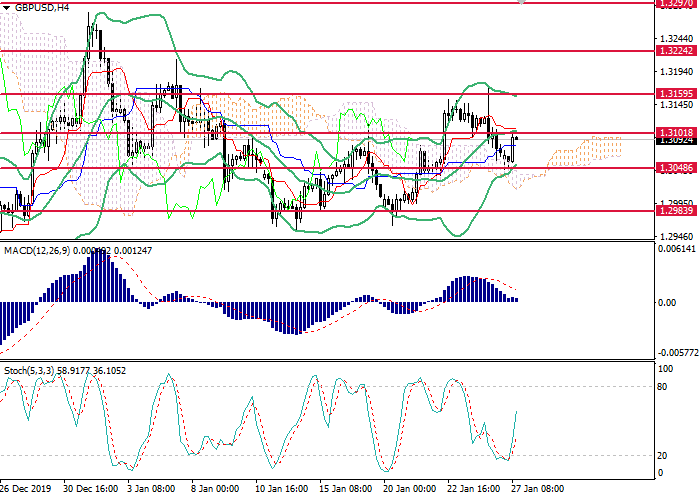 Trading tips
Long positions may be opened from the current level with the target at 1.3020 and stop loss 1.2925.
Short positions may be opened below 1.2925 with the target at 1.2890 and stop loss 1.2960.
Implementation period: 1–2 days.