XAG/USD: silver prices are recovering
12
June
2019, 09:44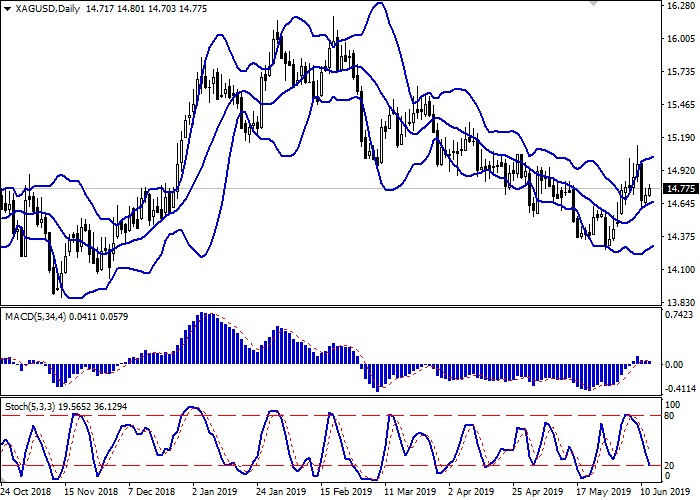 Scenario
Timeframe
Intraday
Recommendation
BUY
Entry Point
14.85
Take Profit
15.00, 15.12
Stop Loss
14.74
Key Levels
14.46, 14.53, 14.62, 14.82, 14.90, 15.00, 15.12
Alternative scenario
Recommendation
SELL STOP
Entry Point
14.68
Take Profit
14.53
Stop Loss
14.80
Key Levels
14.46, 14.53, 14.62, 14.82, 14.90, 15.00, 15.12
Current trend
Yesterday, silver prices rose slightly, partially offsetting a steady decline at the beginning of the week. The instrument is supported by a reduction in tensions in US-Mexican trade relations: after reaching agreement on illegal migration on June 10, Washington decided not to impose increased import duties on Mexican goods. Investors hope for the improvement of the US-China trade relations, however, news on this issue can only appear by the G20 summit, which will take place on June 28–29.
Silver is supported by the mild rhetoric of the Fed, constantly being criticized by Donald Trump, which makes it almost inevitable that the regulator will decrease interest rates in the second half of this year. Moreover, monetary easing may be repeated.
Support and resistance
On the daily chart, Bollinger bands are growing moderately. The price range is relatively stable but does not contradict the further development of the "bullish" dynamics. The MACD indicator tries to reverse upwards and form a buy signal (the histogram should be located above the signal line). Stochastic keeps downward direction and does not react to the appearance of an upward correction.
It is better to wait for confirmation of the development of the upward correction from the technical indicators.
Resistance levels: 14.82, 14.90, 15.00, 15.12.
Support levels: 14.72, 14.62, 14.53, 14.46.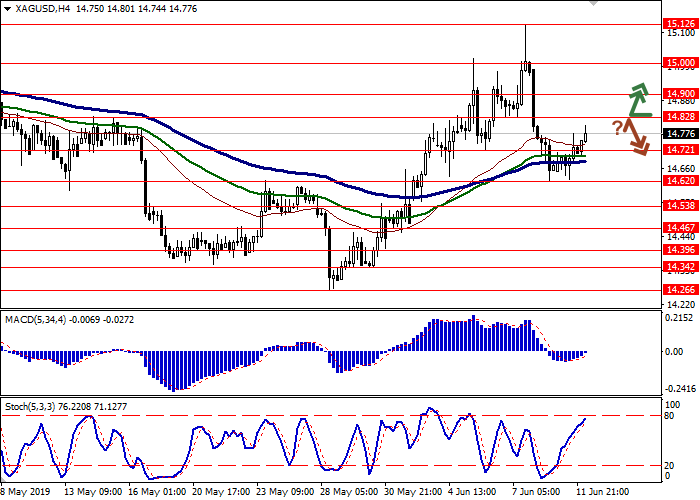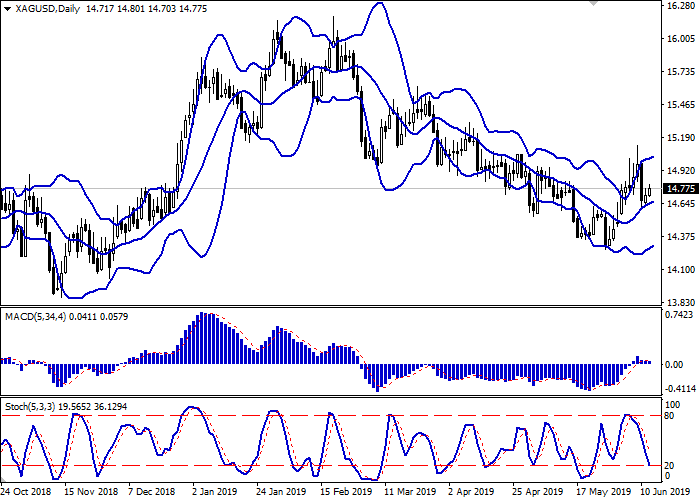 Trading tips
Long positions can be opened after the breakout of the level of 14.82 with the target at 15.00 or 15.12. Stop loss is 14.74.
Short positions can be opened after a rebound from the level of 14.82 and a breakdown of the level of 14.72 with the target at 14.53. Stop loss is 14.80.
Implementation period: 2–3 days.