USD/CHF: dollar strengthens
12
June
2019, 09:48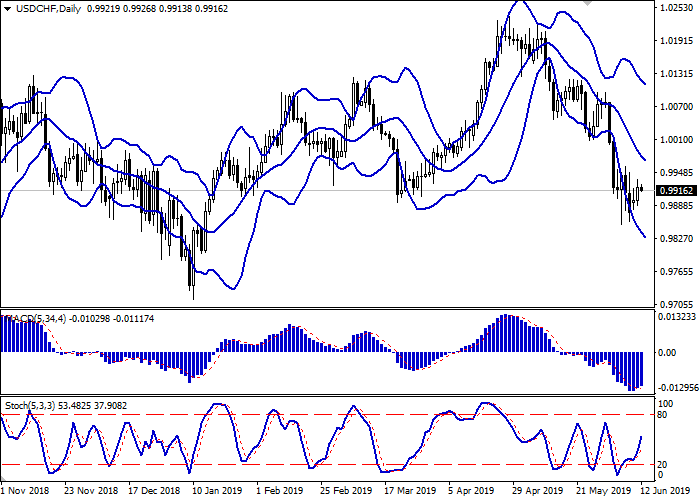 Scenario
Timeframe
Intraday
Recommendation
BUY STOP
Entry Point
0.9940, 0.9965
Take Profit
1.0020, 1.0047
Stop Loss
0.9920, 0.9900
Key Levels
0.9853, 0.9878, 0.9900, 0.9935, 0.9960, 1.0000, 1.0020
Alternative scenario
Recommendation
SELL STOP
Entry Point
0.9895
Take Profit
0.9853, 0.9820
Stop Loss
0.9930
Key Levels
0.9853, 0.9878, 0.9900, 0.9935, 0.9960, 1.0000, 1.0020
Current trend
Yesterday, USD rose moderately against CHF, partially offsetting a decline at the end of the last week. The growth was largely technical in nature since the macroeconomic background from the United States remained ambiguous, and there was very little key data from the EU.
Investors welcomed the growth of the US NFIB business optimism index from 103.5 to 105.0 points in May. At the same time, the index of economic optimism from IBD/TIPP for June dropped sharply from 58.6 to 53.2 points, while analysts predicted its growth to 59.2 points. The May inflation rate in the USA also slowed down a bit. In May, the producer price index increased by 0.1% MoM after increasing by 0.2% MoM in April. The indicator decreased from +2.2% YoY to +1.8% YoY, which turned out to be worse than the forecast +2.0% YoY.
Support and resistance
On the daily chart, Bollinger bands decline. The price range is almost unchanged and remains quite spacious for the current activity level. The MACD reversed upwards, forming a buy signal (the histogram is above the signal line). Stochastic reversed upwards, being above the middle of its working area. The current readings of the indicator reflect the potential for the development of upward dynamics in the super-short term.
It is possible to open long positions in the short and/or super short term.
Resistance levels: 0.9935, 0.9960, 1.0000, 1.0020.
Support levels: 0.9900, 0.9878, 0.9853.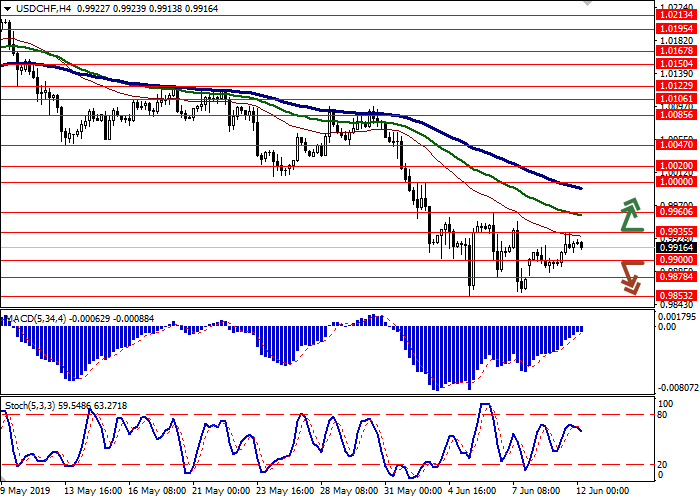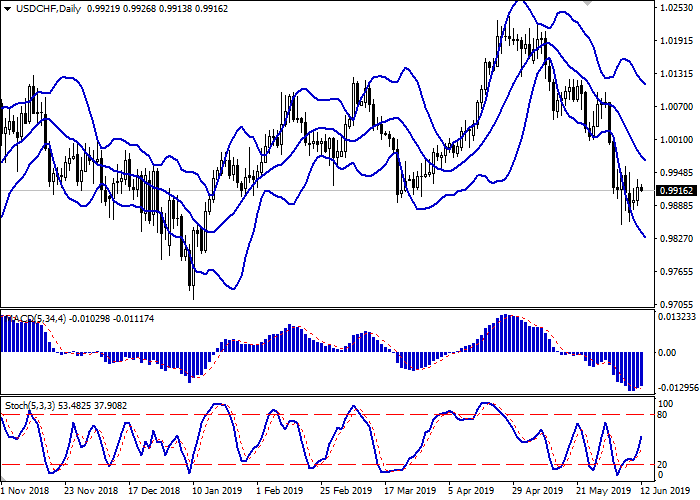 Trading tips
Long positions can be opened after the breakout of 0.9935 or 0.9960 with the target at 1.0020 or 1.0047. Stop loss is 0.9920 or 0.9900.
Short positions can be opened after the breakdown of 0.9900 with the target at 0.9853 or 0.9820. Stop loss is 0.9930.
Implementation period: 2–3 days.