GBP/USD: the pound will continue to fall
16
May
2019, 14:22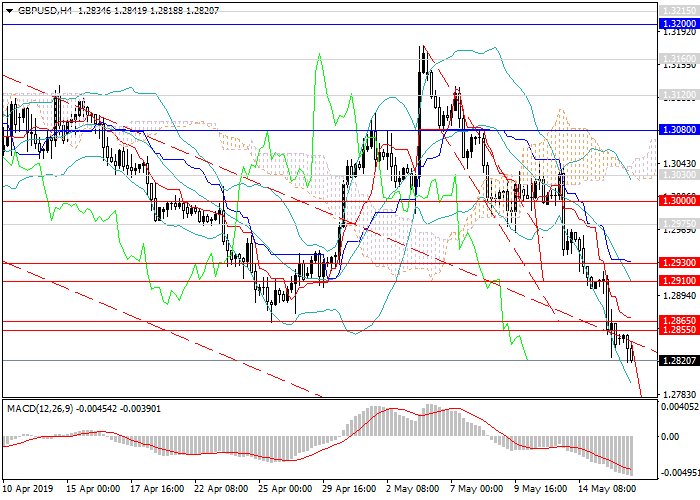 Scenario
Timeframe
Weekly
Recommendation
SELL
Entry Point
1.2818
Take Profit
1.2700, 1.2640
Stop Loss
1.2930
Key Levels
1.2395, 1.2530, 1.2600, 1.2640, 1.2700, 1.2750, 1.2775, 1.2855, 1.2865, 1.2975, 1.3000, 1.3030, 1.3080, 1.3200
Current trend
In the first half of May, GBP fell significantly against USD. During two trading weeks, the price has decreased by more than 350 points amid growing demand for USD and poor UK macroeconomic statistics. Technically, the pair returned into the downwards channel, where it has been moving from mid-March to late April. GBP is under pressure of the situation with Brexit, the decision on which cannot be postponed indefinitely, which negatively affects the economic situation in the UK and the national currency.
At the end of the last trading week, negative data on the growth rate of the UK economy were released, which increased the decrease. At the end of this week, the dynamics may weaken due to the lack of key releases in the US and the UK.
Support and resistance
Today and on Friday, the momentum may maintain due to the trading moods: USD will continue to strengthen, and the pair will go to the key supports at 1.2775, 1.2750. A further reduction to the key support levels of 1.2700, 1.2640 is possible. The instrument reversed into the downtrend after a significant increase in early May and may return to local lows of the end of 2018 at the levels of 1.2640, 1.2480 and 1.2395.
On the 4-hour chart and higher, technical indicators confirm the forecast for a further decline: the volumes of short MACD positions are growing, and Bollinger bands are pointing downwards.
Resistance levels: 1.2855, 1.2865, 1.2975, 1.3000, 1.3030, 1.3080, 1.3200.
Support levels: 1.2775, 1.2750, 1.2700, 1.2640, 1.2600, 1.2530, 1.2395.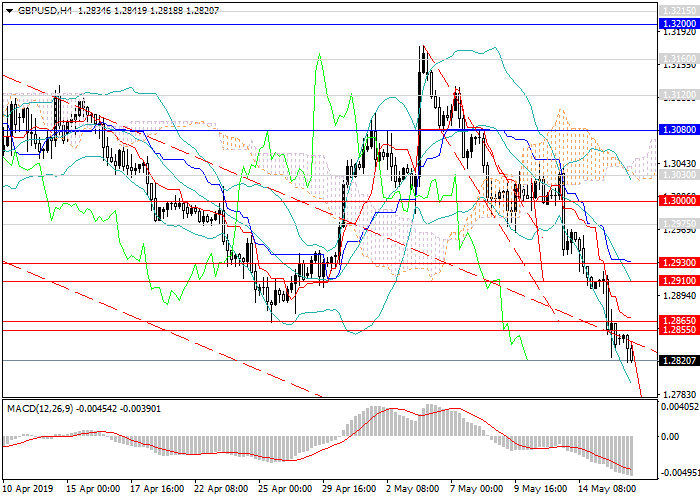 Trading tips
Short positions can be opened from the current level with the targets at 1.2775, 1.2700, 1.2640 and stop loss 1.2930.