Brent Crude Oil: oil prices are rising
15
May
2019, 10:16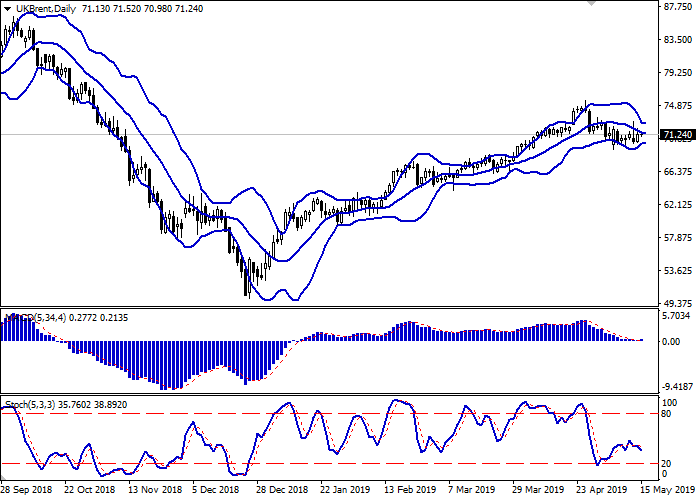 Scenario
Timeframe
Intraday
Recommendation
BUY STOP
Entry Point
72.05
Take Profit
73.62
Stop Loss
71.40
Key Levels
68.63, 69.31, 70.00, 70.62, 72.00, 72.55, 73.20, 73.62
Alternative scenario
Recommendation
SELL STOP
Entry Point
70.55
Take Profit
69.31, 68.63
Stop Loss
71.30
Key Levels
68.63, 69.31, 70.00, 70.62, 72.00, 72.55, 73.20, 73.62
Current trend
Oil prices continue to grow moderately, despite the aggravation of the situation in the Middle East. The day before, Saudi Arabia reported on the armed drone attack on oil production facilities owned by the state oil company Aramco. Previously, oil tankers off the coast of the UAE were also attacked, which heightened concerns about possible supply disruptions. However, Saudi Arabia claims that production and export volumes remain at the same levels. Additional pressure on prices on Tuesday was put by the API Weekly Crude Oil Stock report. For the week as of May 10, US Crude Oil Stock increased sharply by 8.600M barrels after an increase of 2.806M barrels in the previous period.
Support and resistance
On the daily chart, Bollinger bands reverse into a horizontal plane. The price range narrows, reflecting the ambiguous trading in the short term. The MACD smoothly reverses upwards near the zero line, forming a poor buy signal (the histogram is above the signal line). Stochastic barely reacts to yesterday's resumption of upward dynamics and is still directed downwards.
To open new trading positions, it is better to wait for the clarification of signals from technical indicators.
Resistance levels: 72.00, 72.55, 73.20, 73.62.
Support levels: 70.62, 70.00, 69.31, 68.63.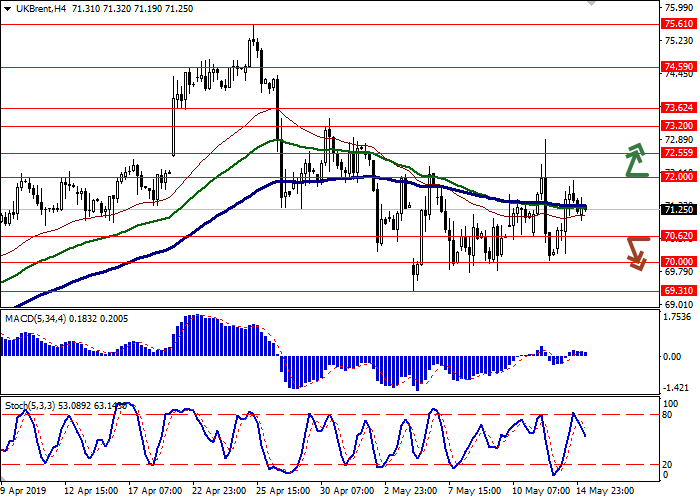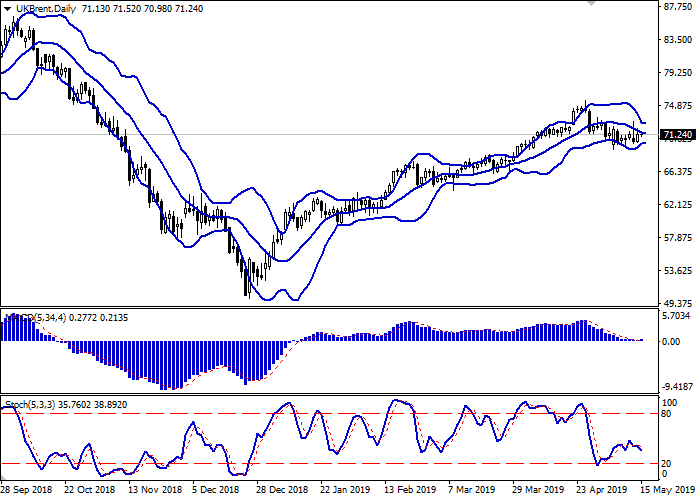 Trading tips
Long positions can be opened after the breakout of 72.00 with the target at 73.62. Stop loss is 71.40.
Short positions can be opened after the breakdown of 70.62 with the target at 69.31 or 68.63. Stop loss is 71.30.
Implementation period: 2–3 days.