XAU/USD: gold is strengthening
13
March
2019, 08:53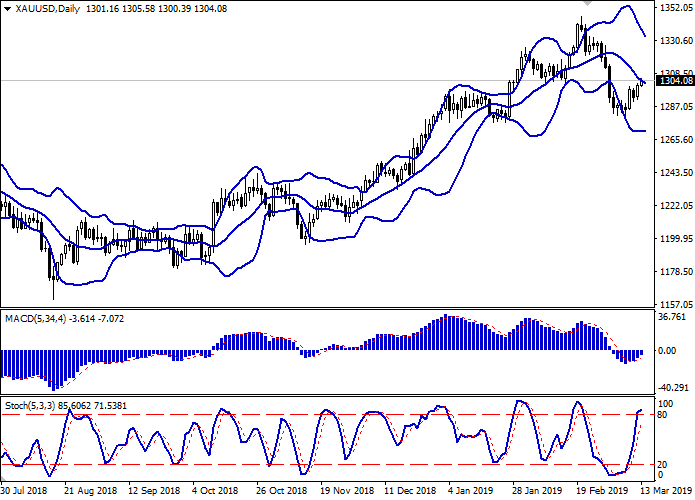 Scenario
Timeframe
Intraday
Recommendation
BUY STOP
Entry Point
1309.00
Take Profit
1320.87, 1326.05
Stop Loss
1302.00
Key Levels
1280.65, 1286.65, 1292.69, 1300.50, 1308.93, 1316.71, 1320.87, 1326.05
Alternative scenario
Recommendation
SELL STOP
Entry Point
1300.45
Take Profit
1286.65
Stop Loss
1306.00
Key Levels
1280.65, 1286.65, 1292.69, 1300.50, 1308.93, 1316.71, 1320.87, 1326.05
Current trend
Gold prices are showing a positive trend, recovering to local highs of March 1.
The growth of the instrument is supported by the weakening of the dollar after the publication of ambiguous data on inflation. In addition, technical factors are quite strong in the market. Additional support for gold as a safe asset was provided by the results of the British Parliament voting on the agreement with the EU. As expected, parliamentarians voted "against", despite the efforts of Teresa May, who managed to achieve the final amendments to the document. Now the UK will have to choose whether it will leave the EU without the deal or ask Brussels to postpone the withdrawal. In both cases, the internal political situation will be complicated, which may lead to a crisis.
Support and resistance
Bollinger Bands in D1 chart demonstrate a gradual decrease. The price range is narrowing, reflecting an upwards dynamics in the short term. MACD indicator is growing preserving a moderate buy signal (the histogram is above the signal line). In addition, the indicator is approaching the zero line. Stochastic has slowed down, approaching its maxima. Current showings of the indicator confirm the growing risks of the emergence of correctional dynamics.
One should keep existing long positions in the short and/or ultra-short term until the clarification of the situation.
Resistance levels: 1308.93, 1316.71, 1320.87, 1326.05.
Support levels: 1300.50, 1292.69, 1286.65, 1280.65.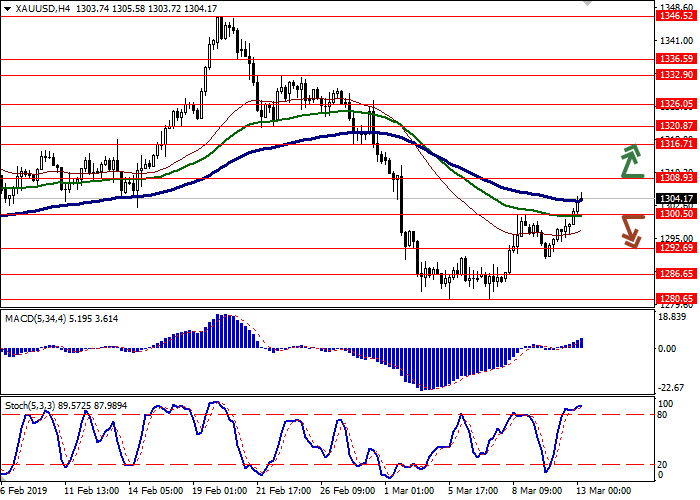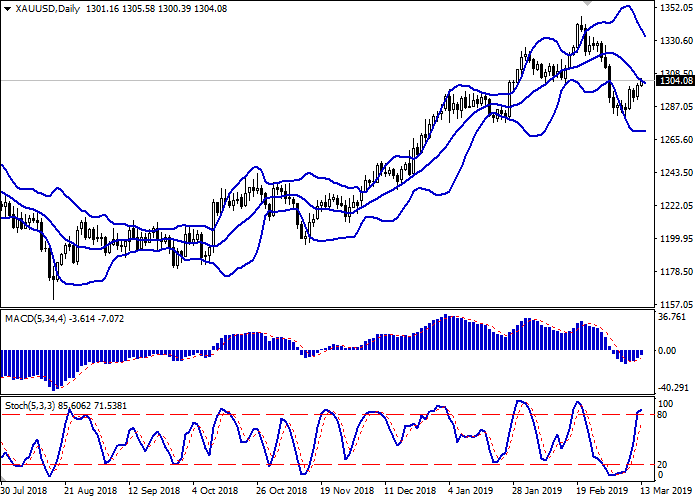 Trading tips
To open long positions, one can rely on the breakout of 1308.93. Take profit — 1320.87 or 1326.05. Stop loss – 1302.00.
The return of "bearish" dynamics with the breakdown of the level of 1300.50 may become a signal for sales with the target at 1286.65. Stop loss – 1306.00.
Implementation period: 2-3 days.